Recently a sewer emergency in Elmhurst Queens presented some special challenges. While all sewer line work requires a degree of skill and expertise, some repair work is especially challenging. In this particular case the house sewer was connected to a NYC built riser connection. A riser connection for a house sewer is a vertical pipe installed typically to an elevation of 12′ deep. This is done to avoid having to excavate down to the full depth of a city sewer that is unusually deep when a new connection, repair, or replacement is needed.
Two issues complicate the sewer replacement
At this job location in Elmhurst the roadway had been raised approximately 6′ after the city sewer had been built. That meant that the riser connection was about 17′ below the street instead of the intended 12′ deep, which created a much more difficult sewer replacement job.
Excavation becomes much more difficult after 12′ deep, and excavations must be sheeted up more carefully. It also becomes slower going for the backhoe to dig the required hole. Balkan is expert at performing deep excavations to proper safety code and completing sewer line and water main installations ahead of schedule and under budget.
The second major issue that was very unusual was that four(4) different houses were connected to the one city riser connection. While four houses being connected to one riser is a questionable plumbing practice, it was Balkans obligation to reconnect all four houses properly using extra heavy cast iron pipe. Working on four house connections in on excavation was time consuming and required expertise.
This Elmhurst Queens sewer job site became another example of the 'Balkan difference'. Balkan excavated much deeper than normally required and performed a great deal of additional work, yet completed the installation on schedule. In addition three neighboring houses had defective house sewer lines corrected at no charge. If these additional sewer lines were left in place each owner would have incurred a future sewer repair costing thousands of dollars.
Making the correct hiring decision when it comes to a NYC sewer contractor has many benefits. A long-lasting installation and a long-term guarantee that means something are two of them.
What is a riser connection?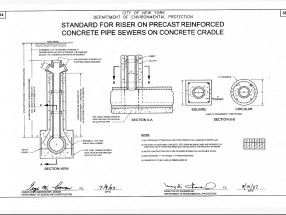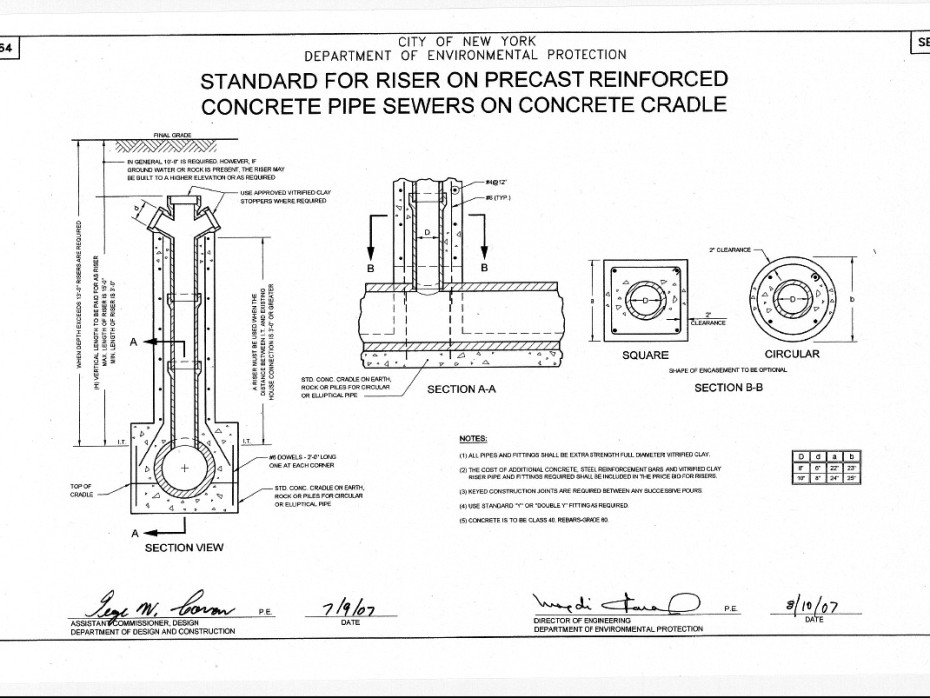 A riser connection is a vertical connection built on the top of a city sewer for use as a  connection for a house sewer. Depending on the size and type of the public sewer different designs are used in the construction of a riser. It is usual for such a connection to be required when the depth of the public sewer is greater then 13′ or if a groundwater or rock condition exists.  In these cases it is meant to alleviate the cost to  property owners of having to excavate to great depths or through groundwater and rock in  order to connect properly to the main sewer line.
A riser is also required when the difference in elevation from the point where the house drain exits the building to the city sewer is greater than the pitch that is allowed to be used. As sewers work on the principal of gravity, pitching the pipe is used so the waste-water runs off properly. Only a maximum of 1′ of pitch is permitted for every 4′ of run of pipe. Therefore a riser must be built sometimes when  the difference in elevation is too great to use allowable pitch. Risers must always be one size greater than the size of the connection size from the building. In NYC where the minimum size of a sewer connection is 6″ the size of a typical riser is 8″. [Read more about different types of sewer line connections]
A little bit about East Elmhurst
courtesy of wikipedia
East Elmhurst is a culturally diverse area in the northwest section of the New York City borough of Queens. It is located north of Jackson Heights and Corona and is bounded on the east and north by Flushing Bay. Residents are mostly moderate-income families, but there are also low-income areas. It includes Trainsmeadow, which is its western section. It is patrolled by the New York Police Department's 115th Precinct. The neighborhood is part of Queens Community Board 3. The zip codes of East Elmhurst are 11369 and 11370.

East Elmhurst and its southern neighbor Corona are often referred to jointly as "Corona/East Elmhurst". During the '50's and '60's the area was home to legendary African American musicians, civil rights leaders, professionals and athletes including Malcolm X, Dizzy Gillespie, Nat Adderley, Louis Armstrong, Jimmy Heath, Frankie Lymon, Charlie Shavers, Ella Fitzgerald, and Willie Mays. During the late 60′ and early 70's numerous New York Mets such as Ed Charles and Tommie Agee called East Elmhurst home.

The Corona East Elmhurst News, first published in 1959 by Kenneth and Corien Drew was located on Astoria Boulevard. It ultimately became the Queens Voice and was published for 1959 – 2002. The tabloid stye newspaper was a weekly publication that highlighted the social and political activities of the African American communities of Corona and East Elmhurst and the Borough of Queens. Notable columnists were Mary Gardner Lopez, William "Bill" Booth, Alma John [WWRL Radio ], Elenore Haynes, Guy R. Brewer, Marie Brewer, Robert Elkin and Queens District Attorney Richard Brown. Edward Moran and Jame L. "Jimmy" Hicks served as editors respectively.

East Elmhurst is the childhood home of US Attorney General Eric Holder and is home to Queens Borough President Helen Marshall. Jazz vocalist Norman Mapp also made East Elmhurst his home.