A broken sewer trap can create many different issues for a property owner. Besides waste water leaking out, and stoppages being created, sewer gases can escape. Sewer gases can fill an entire home with noxious odors, and create quality of life issues for you and your family. Unlike in the above video, in some cases a sewer trap can be repaired, as described below. This is another reason why a licensed professional should be called to the scene before any work is commenced on your property. A misdiagnosis can result in unnecessary, or excessive work being performed.
Commercial properties with this issue can impair work conditions for an entire workforce. In some cases a broken sewer trap does not have to be completely replaced, it can be repaired in a few hours or so. Trust a Licensed Master Plumber like the experienced professionals at Balkan Sewer And Water Main to determine when a sewer trap can be repaired or must be replaced. Read below to learn about a sewer trap repair performed by the Balkan Team.
Sewer gases escape into house: A case in point of Sewer Trap Repair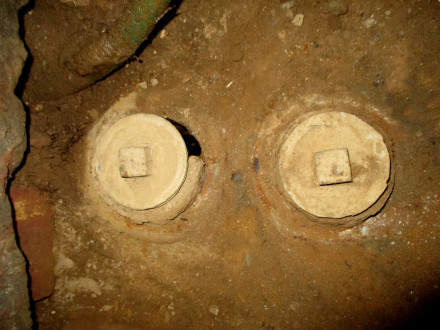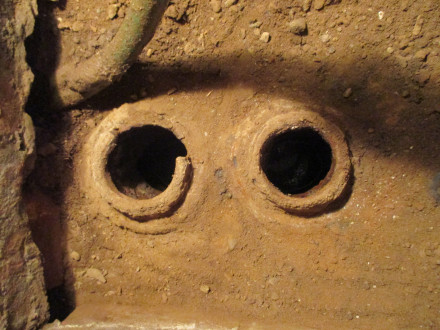 In some cases stopping sewer gases from escaping into a house is as simple as adding some water into a dried out trap, due to a plumbing fixture not being used for awhile. Adding water recreates the water barrier inside the trap.Sewer gases can be nauseating, create health issues, and obviously affect the quality of one's life. In this particular case an experienced Balkan Field Technician did a careful examination and found a partially broken sewer trap around the clean out feril. This was the sole cause of the sewer smell, and the only defect in an otherwise sound trap.
Repairing a broken sewer trap
Repairing a broken sewer trap is much less costly and intrusive than completely replacing one. In many cases when a trap is completely replaced the pit has to be broken up and the surrounding floor area as well. In some cases the work can actually take longer than one day, including the restoration of disturbed areas. However, even repairing a broken sewer trap requires expertise, proper tools, and specialty materials. Instances that require skill and expertise are when Team Balkan can be trusted most.
By carefully removing the old feril from the trap, the old lead joint could also be removed. Then a water tight neoprene gasket could be inserted with a new feril and brass clean out plug. The broken sewer trap was thus repaired without disturbing the pit, or any surrounding finished surfaces. In addition both clean outs on the trap were replaced, thus avoiding a call back at a later date. This particular job also exhibited why only a licensed, insured, and trusted professional should be used. Sewer access pits typically also contain other sensitive services such as water and gas lines. One wrong move or lapse in concentration can result in an emergency break, and costly repairs. Dealing with escaping sewer gas is far different than a flooded basement filling with mud, or having to evacuate a property due to a gas leak.
Balkan is your house sewer trap expert
No matter the issue, whether a broken or missing sewer trap, a sewer access pit needing to be rehabilitated, or even a code issue, Balkan is your NYC drain line expert. To learn more about the importance and functionality of  house sewer traps read:Why Is A Sewer Trap So Important?
When it comes to any water service line or house sewer issue, including drain cleaning, call Team Balkan at 718-849-0900. We offer free on-site assessments and free written work estimates 7 days a week, and even after hours. If you need expert advice please contact us. Most online requests are responded to within 1 hour!