Recently a broken sewer line in Far Rockaway Queens created an emergency situation. Not only did the building completely lose the use of their house sewer, but dirty waste water was flowing over the public sidewalk. There were health issues both for the occupants of the building and for the general public as well. In a situation like this knowing the right NYC sewer contractor to trust can be vitally important.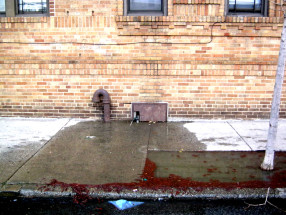 Typically drain line repair work on a house sewer has to go through a process of filling our permit applications and having the applications reviewed prior to approval. Then the permit must be generated and printed out. Only when physical permits exist can work be scheduled for the required DEP inspection. The typical paper permit process can take two to four days. However in this case an experienced sewer contractors expertise paid off.
Emergency NYC DOT Permits can be secured in minutes and electronic DEP permits can be secured in hours if a sewer contractor knows how.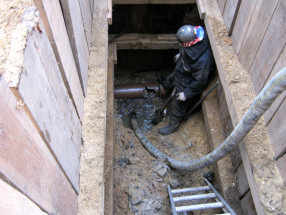 For this plumbing emergency in Far Rockaway, Joseph L. Balkan Inc was chosen as the sewer contractor to address the situation. Being highly familiar with what situations meet the DOT and DEP definition of an emergency, and the electronic permit process itself, Balkan was able to commence work within hours of  approval from the owner. Excavation began and the broken pipe was exposed. Once the roadway was excavated it was discovered that the existing house sewer was actually cut into the city sewer, and had broken the city pipe. The house  connection could not be reused, and sections of the NYC main pipe had to be replaced as well.
Sometimes unexpected situations arise when it involves buried pipes and water lines. Knowing how to handle these situations  and having the required material in stock is part of being an expert sewer contractor. In this case Balkan removed sections of the city pipe and built a new fold-in connection using material they had in stock – there were no delays associated with this unexpected condition. A fold-in connection is a term used for a specific type of house sewer connection. Balkan was able to work uninterrupted and seamlessly to perform a long-lasting sewer replacement for this property owner in Far Rockaway.
What is a fold-in house sewer connection?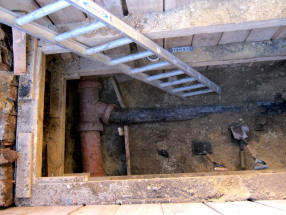 When the city sewer pipe is only one size larger than the house connection size required and no spur exists a sewer contractor must fold-in a new spur in most cases. This typically occurs when the public sewer is 8″, a size no longer legal for a public sewer system in NYC, and a 6″ connection is required. A 6″ connection is the minimum size connection allowed for a house sewer in NYC. A fold-in requires actually removing sections of the city pipe, then folding in new sections of pipe one of which is a Y to be used as the spur connection for the house sewer. All new sections of pipe must then be encased with an approved concrete mixture. Building a new fold in connection adds to the cost of a sewer repair or of a complete replacement. All work entailed in building this type of connection is carefully inspected by a NYC DEP Field Inspector.
There are various types of connections used to connect a house sewer to the NYC sewer. Balkan is expert at all types of sewer connections and how to build them or connect to them.
A little bit about Far Rockaway in Queens, NY
Geographically speaking Far Rockaway is located on the easternmost portion of the Rockaway Peninsula. It is part of the Borough of Queens which is located in New York City. It is on the eastern end of the Rockaways starting from the Nassau county border and generally accepted to end around Beach 32nd Street or so.
Housing is a mixed bag consisting of large NYC Housing Authority owned and privately owned housing complexes, various residences of mainly one and two family homes, and bungalow type residences from days gone by.  Virtually all of the bungalows that were originally built as summer homes were converted to full-time residences long ago. In recent times these same bungalows were routinely demolished to build multifamily developments changing the  nature of the community. During the building boom of the early 1990's and up to around 2008 much of the landscape and type of residences in Far Rockaway were greatly changed. New two and three family attached and semi-attached homes typically replaced one family homes.
Many Far Rockaway residents depend on public transportation in the form of buses and the elevated subway system to travel.  Shopping areas are located on the two main thoroughfares of Beach Channel Drive and Mott Avenue. Nearby to the East is the area of Nassau County referred to as Five Towns.