If you are reading this article, you are probably contemplating a sewer line replacement. For the typical property owner, it can be a daunting and expensive job. Our goal is to simplify the thought process for you, and likewise give you some idea of the expected cost. Of course every neighborhood and municipality is different. Therefore the following information should be used as a helpful guide, and is geared towards the Boroughs of NYC. But regardless of where you live, the following information will no doubt be helpful to you.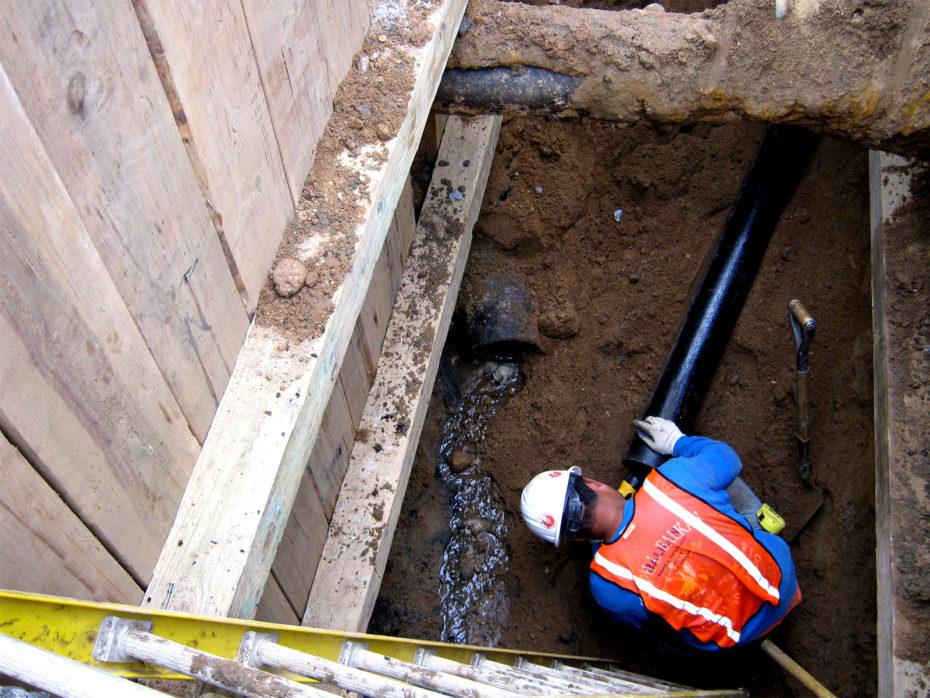 Let's first put things in a sensible order for you. The first thing to determine is when you'll need to do a sewer line replacement, secondly how it is actually performed. Lastly, perhaps most importantly to you, how much is the typical expected cost. So what follows is your complete guide to house sewer line replacement work.
When do You need a complete Sewer Line Replacement?
If you've had repeated blockages, or have a complete loss of sewer service, of course you know you need work done. However, certain particular sewer issues require a complete replacement, while with other issues a repair will do. Let's explain the 5 primary differences for you. That will be your first step in making the correct hiring decision.
5 Different types of sewer problems and what to do
While there can be a long list of particular sewer issues, most of them fall into 5 distinct categories. The 1st key is proper diagnostics, which means having a HD sewer camera inspection done. The price of a camera inspection will always pale in comparison to digging in the wrong spot, or a misdiagnosis.
1. Root problems:
Root infiltration can be isolated to just a section of your line, or encompass your entire sewer line. Your 1st step will be trying to cut out the roots, and then have a HD sewer camera inspection performed. If roots are isolated in just one bad section of pipe, you can probably do a spot repair. However, if you've waited too long, and roots are inside your entire run of pipe, you'll need a complete sewer replacement.
2. Grease clogs:
Grease clogs are similar to root problems, in that if you wait too long you may need your entire line replaced. A clog caused by grease is among the toughest to clear, and is indicative of a structural problem with your sewer. FOG (Fat, Oil, Grease) clogs are not a normal occurrence. The exception would be if you are operating a commercial establishment, such as a restaurant. An accumulation of grease can also be indicative of a dip in your line, or a backpitch (discussed below).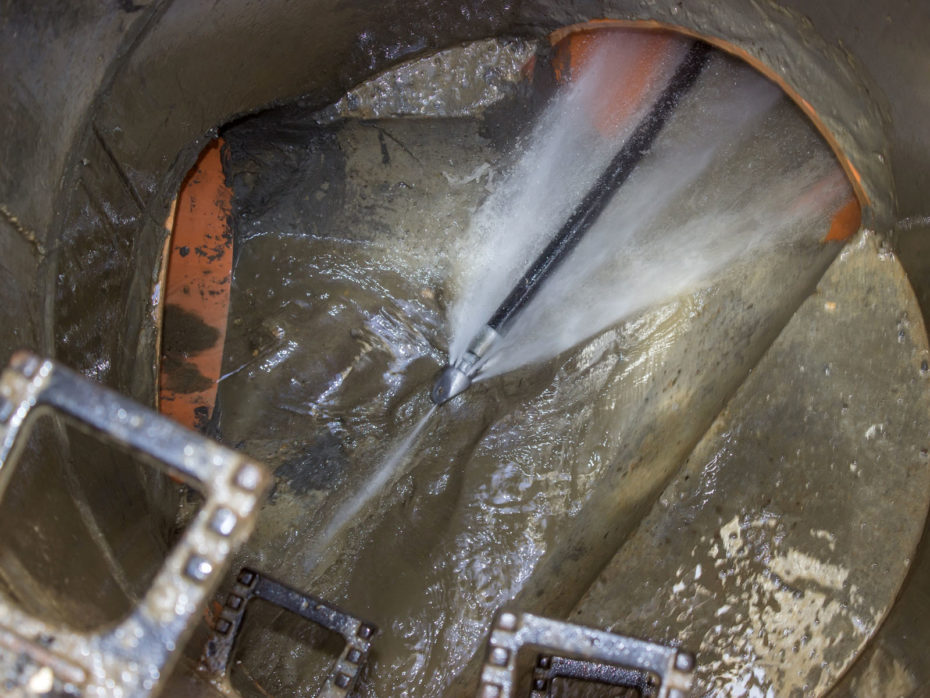 A high pressure water jet is your best bet to clear a fat, oil, or grease stoppage. Then, like described above, have a HD camera inspection done. A HD camera will show you whether the problem is in one spot, or you have an extensive grease issue. An extensive grease issue may only be able to be solved by a complete sewer line replacement. If you're operating a commercial establishment that generates grease, you may need to install a grease trap. In fact, a grease trap may be required by code in many jurisdictions.
3. Cracked and broken pipes:
Cracked or broken pipes can be confined to one bad section, or it can be that your entire sewer has met its useful life's end. Again, only a camera inspection can tell you for sure. Frequently only one section of pipe, either at the beginning, or the end of the run, are broken. These two spots are notorious stress points. In other cases, your piping will be in such poor overall condition, a complete replacement will be the obvious option.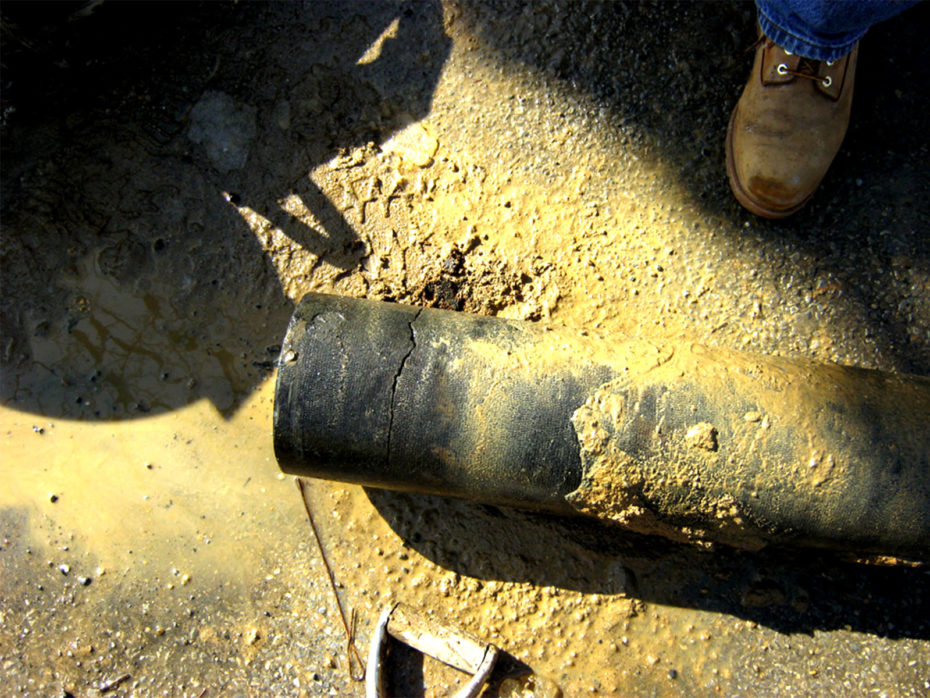 4. Backpitched piping:
A sewer backpitch problem is also called a lack of slope. It is always a touchy determination to decide whether to repair or replace when there is a pitch problem. Only in rare instances can a lack of pitch, or slope, be corrected with a spot sewer repair. In almost all cases at least 1/2 of your line will have to be replaced, which is still technically a repair.
The very last thing you want to do is a spot repair, and still have a backpitch problem. That would mean you just wasted 100% of the cost of the spot repair, and it will all have to be redone.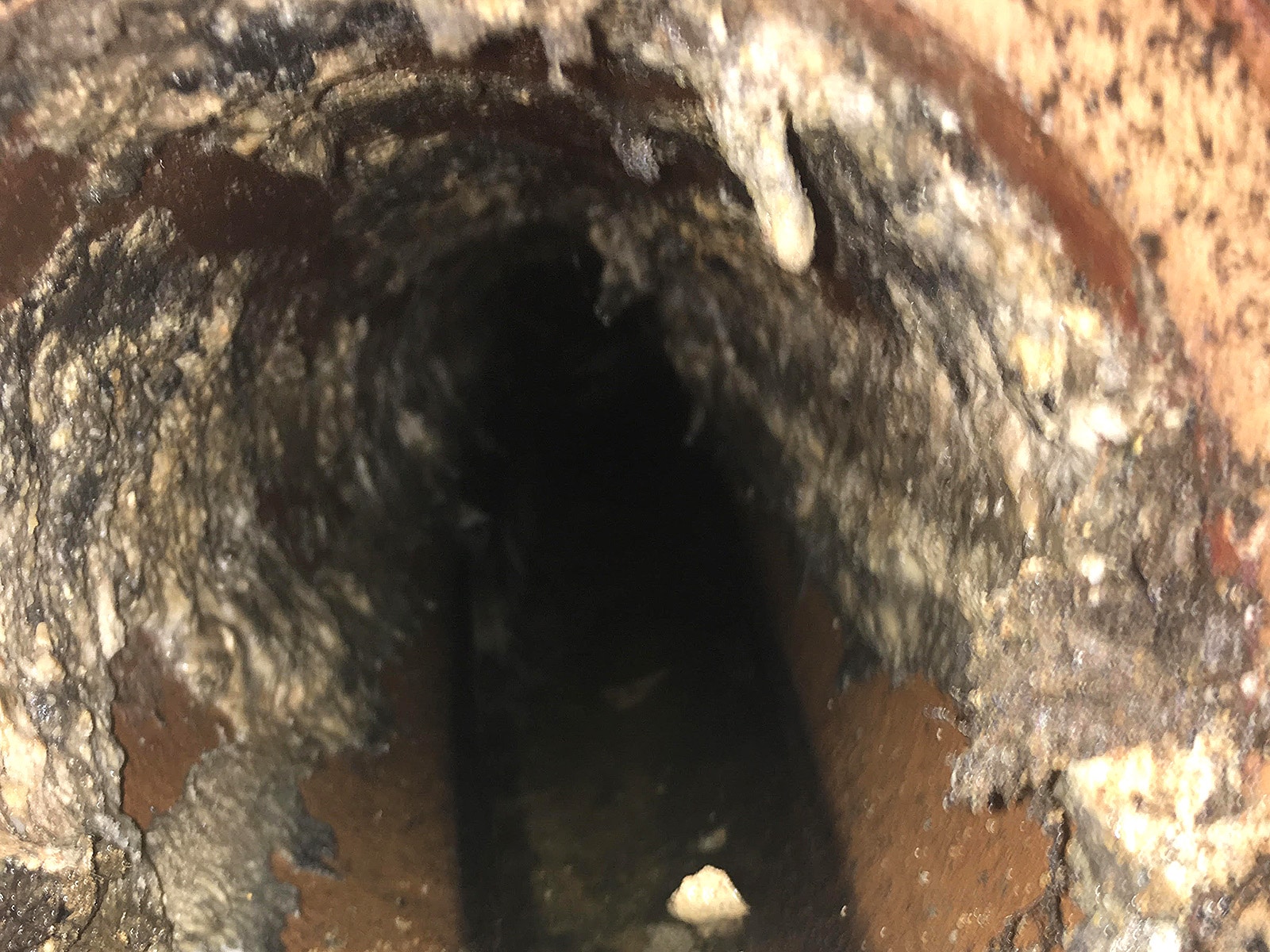 5. Illegal or Improper sewer connections:
In some cases you may have an illegal or improper sewer connection. Sometimes a dye test can be done, and your line may be leaking, or connected in the wrong manner. Dye tests have proven in certain cases that sanitary house sewers were connected to a Public Storm Sewer, which is big no-no. In other cases, two houses may me wyed together, another code violation in NYC.
Each particular case must be carefully considered by a Licensed and professional sewer contractor to determine the best course of action. A Licensed sewer contractor should be able to intelligently explain to your satisfaction your best options. As a property owner, it is highly unlikely you'll have the technical knowledge to make such a sewer line replacement or repair decision without professional advice.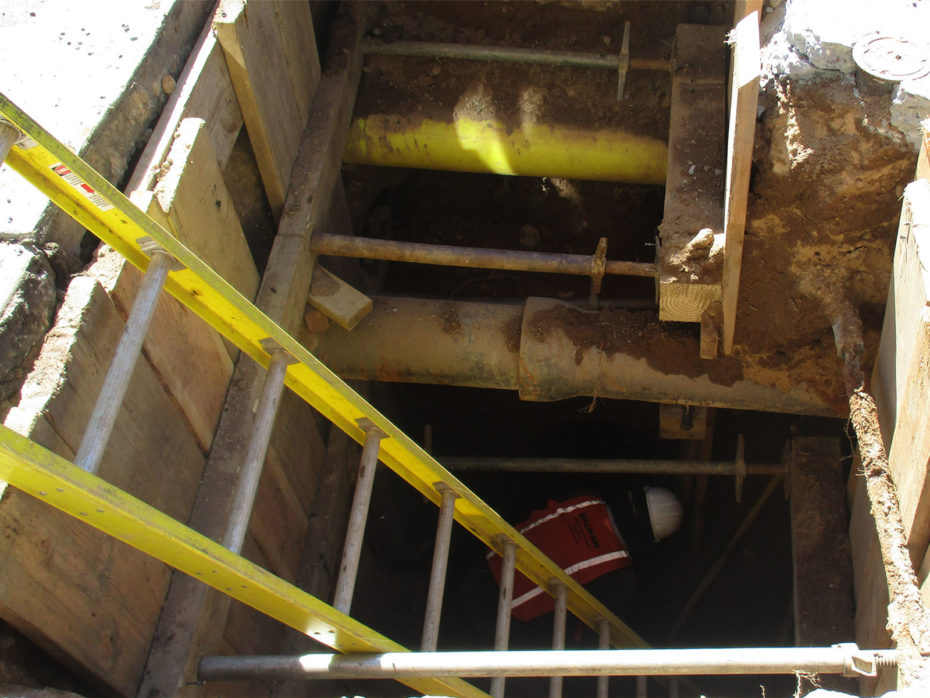 Always analyze the price difference between a repair vs. a full sewer replacement
The price differential between a repair and replacement, along with your budget, will always be a primary determining factor. A good rule of thumb is that a repair will cost between 40% and 60% of the cost of a full sewer replacement. No matter which way you're leaning, always get prices for both jobs before work commences. If the scope of work changes, it's always better the know the price ahead of time.
How a typical Sewer Line Replacement is performed
A typical home sewer replacement requires specialty equipment, such as a backhoe, air compressor, jackhammers, trench safety equipment, etc. It also requires permits, specialty insurance, and in some cases a bond. House sewer line replacements in NYC typically involve trench work using a backhoe. Tunneling is not typically permitted by code in NYC, unless there are utility obstructions.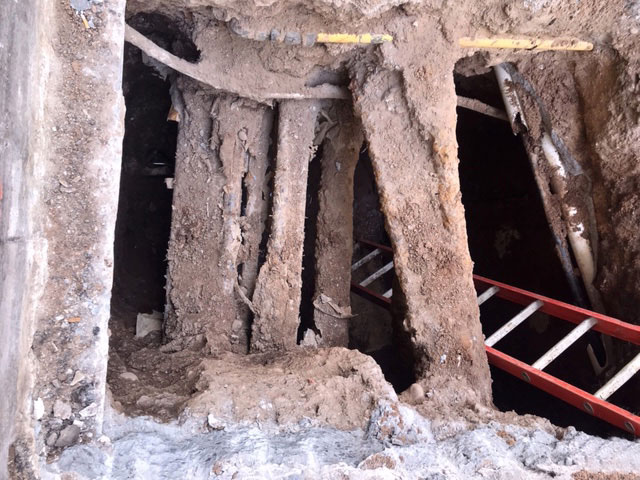 A complete replacement of your home sewer usually takes anywhere from 2 to 4 days. It usually depends on the length of the run, and the depth of the run. It also requires an inspection of the pipe that was installed. Every house sewer replacement should receive a sign off from the NYC DEP. Furthermore, it is your right as a Client to request a copy of the sign off, and the required permits.
The type of Sewer Pipe Material that is used
In almost all cases, extra heavy cast iron pipe is used for sewer replacement and repair work. In some unique instances clay or ductile iron pipe may be more advisable. Examples are when there is an unstable ground condition, or extreme vibration. In these cases ductile iron pipe may be advisable, or even required. Extreme vibration can occur if your sewer runs near an elevated or underground train line. A 2nd instance when extra cast iron may not be preferred is if there is extremely acidic or alkaline waste water. In that case clay pipe may have to be used. Clay is impervious to extreme water conditions, and chemicals. Whereas extra heavy cast iron can be worn away by chemicals, or extremely acidic or alkaline water conditions.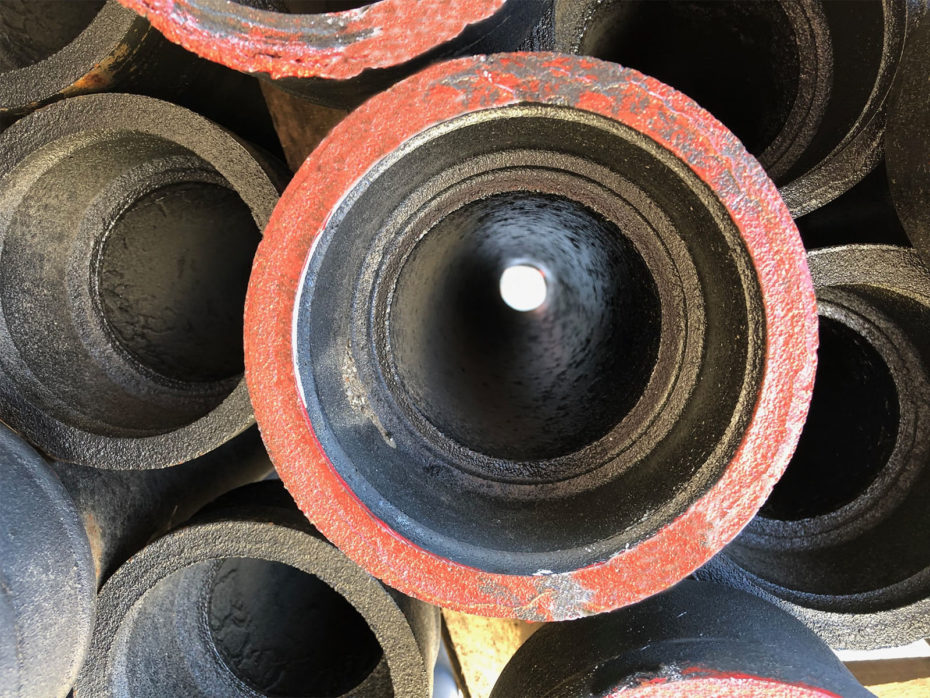 How Much Sewer Line Replacements will typically cost
In the outer Boroughs of NYC, which excludes Manhattan, the accepted average price range is $12,000.00 to $16,000.00. This is obviously a major expense, and you should consider it carefully. The cost factors and overhead of working within NYC are notoriously high. But what many people do not realize is that excavation work has even more of a cost burden. Besides expensive specialty equipment, and skilled workers, insurance costs are a major factor. It has gotten to the point that only a handful of insurance carriers are involved in the NYC subsurface insurance marketplace.
The 4 Factors that can affect cost of sewer work
There are four primary factors that will either increase pricing, or may bring you in on the low end of the cost spectrum. These should be readily understandable, and easily explained by your sewer contractor.
1. The length of the run of pipe
The typical length of run of pipe for a house sewer is 45′. That breaks down to about 30′ from the house to the curb line, and 15′ from the curb line to the city sewer. If your home has a lengthily set-back from the curb, or you're on a very wide street, that will add to the cost. Conversely, if you're lucky enough to have the City sewer located under your sidewalk, you'll have a shorter run of pipe. In this case, you'll come in on the low end of the price range, or even below it.
2. The depth of the run of pipe
Most house sewers exit a property between 5′ deep and 8′ deep. If a house sewer exits a property deeper than 8′ deep, that may add to the cost. Likewise, most City sewers are between 10′ and 12′ deep. If the City sewer you are connected to it more than 13′ deep, it can add to the cost.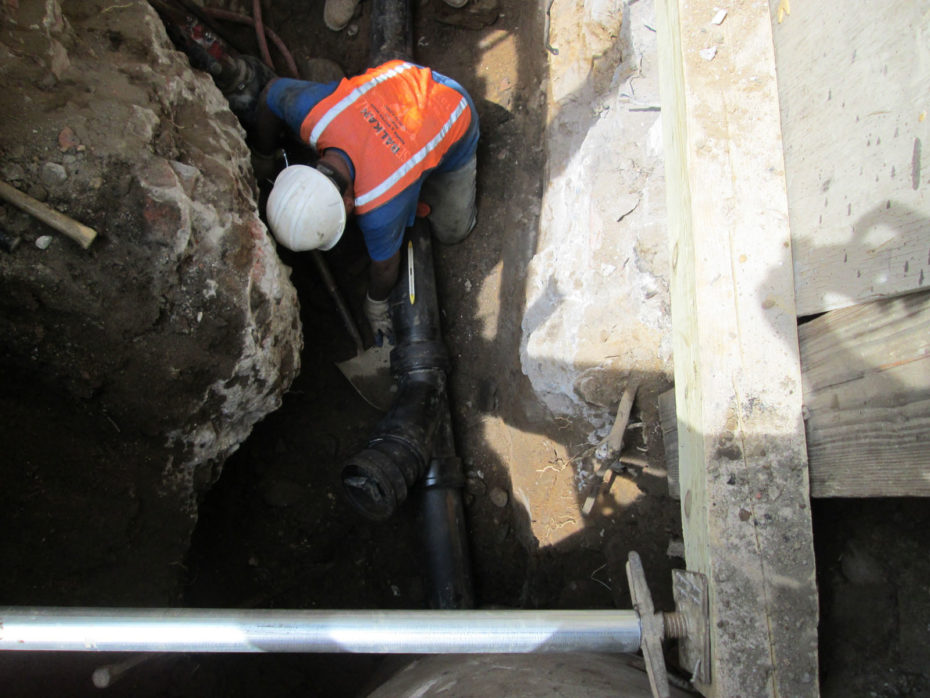 Interestingly, very shallow City sewers are very difficult to work on. That is because of underground utility obstructions. When a City sewer is less than 8′ deep, it is difficult to cross, gas, electric, and water lines. In rare cases, underground utilities must be moved in order to install a house sewer with proper pitch. When utilities must be moved, it is at the property owners expense.
3. Working on a busy thoroughfare
Working on a busy NYC street poses special challenges. Traffic control must be provided by trained and certified traffic control personnel. In addition, the NYC DOT may limit permitted work hours, or restrict work to Nights or Weekends only. All of these factors affect the cost. In the Borough of Manhattan, work hours are limited on a routine basis.
4. Excessive cement or roadway restoration
The average sewer line replacement price is based upon 2 or 3 flags of cement, and a hole in the street approximately 7′ wide x 13′ long. Obviously if your house runs under your concrete driveway, more cement will be broken. Of course if the City sewer is in the middle of a very wide roadway, the roadway restoration will cost more as well. These should be easily understood and explainable cost items. But, better you understand them ahead of time.
Who to Hire For Your Sewer Work in NYC
Being a sewer contractor is a niche within the NYC Licensed Plumbing industry. Literally a handful or so of contractors do the vast majority of the sewer work in NYC. Likewise, they have been at it for decades, or even generations. That in itself speaks volumes about their devotion to their trade. Naturally, it is always best to deal direct for such a job. That should be your 1st priority, find a reputable and long-standing sewer contractor.

Secondly check the reputation of your sewer contractor. In this day and age it is so much easier than in the recent past to check reputation. Yelp, Google, Angie's List, the Better Business Bureau, and Trade Associations all provide readily available ways to check on a contractor's reputation. As a matter of fact, Balkan Sewer And Water Main Service has a stellar reputation, and is a member of both the NYC Master Plumber Council, and the NYC Subsurface Plumbers Association. Balkan is accredited by the Better Business Bureau, and a repeated winner of Angie's List and Yelp annual awards. While you may feel you have limited choices of who to hire for your sewer line replacement, you certainly have one great choice. Contact the Balkan Team any time for expert advice, or a free on site visit.