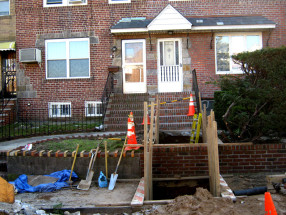 A house sewer in Queens recently needed thousands of dollars in sewer repairs when the next door neighbor installed an illegal sewer liner. Contractors continue to ignore that lining a house sewer or any other fresh water or waste pipe in NYC is illegal. The results of illegal liners are costly, aggravating, damaging, and with little recourse other than to pay for the proper sewer repair that should have been done in the first place.
What happened to this Queens house sewer?
One of the many drawbacks of a pipe lining is that they cut off any branch line connections. In this particular case there were two semi-attached houses sharing the same house sewer. When one of the houses had their house sewer pipe lined it cut off the connection for their neighbor at the point they were Y'ed together. The neighbor no longer had sewer service from their house drain. In addition once a  sewer pipe is lined in NYC it is a violation and subject to investigation.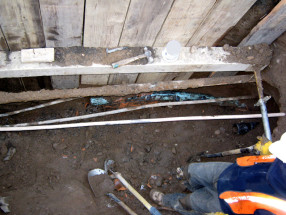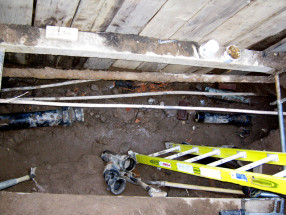 How was the house sewer problem resolved?
Unfortunately once a liner is installed it cannot be removed without excavating – Which means essentially performing the same sewer repair that was needed originally. This meant securing permits and arranging for required NYC DEP inspections to ensure a sewer repair done properly and to code. When a house sewer lining is done there is no oversight, no NYC DEP inspection, and little assurance of a proper or long-lasting sewer repair. Sewer repair or sewer replacement work in NYC typically costs a minimum of  $3,500.00, but is frequently less than the cost of an illegal pipe lining.
They cut off branch line connections.
Decrease the interior opening of the pipe, restricting the flow of water.
Fail to correct crushed pipe.
Fail to correct back-pitched pipe.
Are illegal according to the NYC Department of Buildings.
Are illegal according to the NYC DEP.
Are frequently installed around root intrusions – thereby serving no purpose.
Are performed by unlicensed contractors with unsupervised personnel.
A final word about NYC sewer repair work
Sewer line repair or replacement work is costly no matter who performs it or by what means – even illegal means such as a pipe lining is costly. Do it right the first time and always verify a sewer contractors license, insurance, bonding, and reputation. Re-doing an incorrectly performed sewer repair is more costly and damaging to property than excavating properly the first time. Not to mention the original cost of the improper sewer repair or replacement.