Queens sewer repair work has important factors that a typical homeowner may overlook. Recently a homeowner made a hiring decision based solely on price. They did not carefully compare the scope of the sewer work offered with what other sewer contractors offered. The sewer contractor hired offered to replace the house sewer from the outside front of a front porch to the city sewer – they did not include replacing the pipe into the basement itself.
There is a reason why more New Yorkers trust Balkan to repair and replace their house sewers than any other sewer contractor.
The price of the sewer replacement was lower than other sewer contractors quotes. That was because it did not include replacing the sewer pipe that was located under the front porch. There was approximately 12′ of old sewer pipe left in place under the front porch. This is poor plumbing practice to leave old sewer pipe in place. At least the integrity of that pipe should have been checked prior to completing the job.
Joints on clay sewer pipe frequently leak. Leaking sewer pipe joints can cause foul sewer water to leak into a basement.
Unfortunately for the homeowner another sewer repair was required shortly afterwards because the pipe under the front porch failed. Properly performing Queens sewer work typically means completely replacing the entire line at once, including pipe located under an unexcavated front porch. Once an open trench exists up to the front of a house the labor involved to tunnel into the front of the basement is minimal. However after the trench has been backfilled and compacted the labor involved to return at a later date is extensive. In the case of this Queens sewer line repair the cost to perform the work at a later date was triple the price if it had been done all at once. Another point is the aggravation of having to go through the hiring process twice and the disruption of house sewer all over again.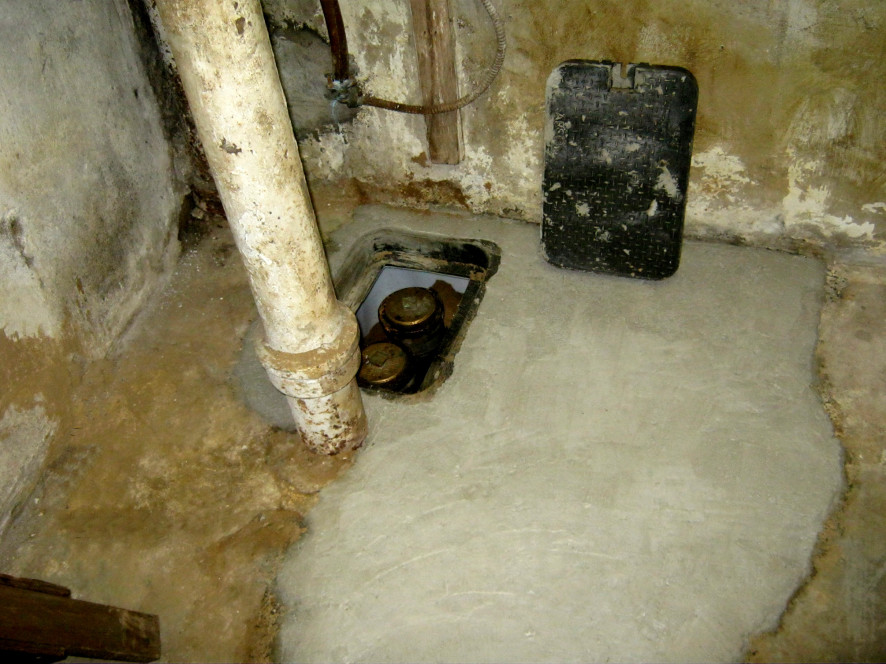 A new sewer line replaced into the basement with a new house trap and a new sewer access pit. A fitted cover, new cement, and broom clean job-site are all part of a quality Balkan sewer installation.
[button link="/contact-balkan-plumbing/" bg_color="#EA6E24″ window="yes" size="xl"]Get a FREE no-obligation site visit today![/button]
Repairs on house sewer pipe can get complicated
Obviously from the above story it should be clear that Queens house sewer work has its complications. There are other issues to keep an eye out for such as knowing the type of house sewer that is being worked on. A combined house sewer may have a connection outside the house that connects in a pipe taking the storm water flow. If there are separate storm and sanitary city sewers in the roadway there may be two separate sewer lines running alongside each other. Care must be taken to always reconnect branch line connections and not to disturb and other underground pipe systems.
Why replace the sewer pipe under a front porch?
When it comes to Queens sewer work, or any house with a front porch, there are many reasons to replace the old sewer pipe under a front porch. Besides the long-term cost savings homeowners should also consider the following facts.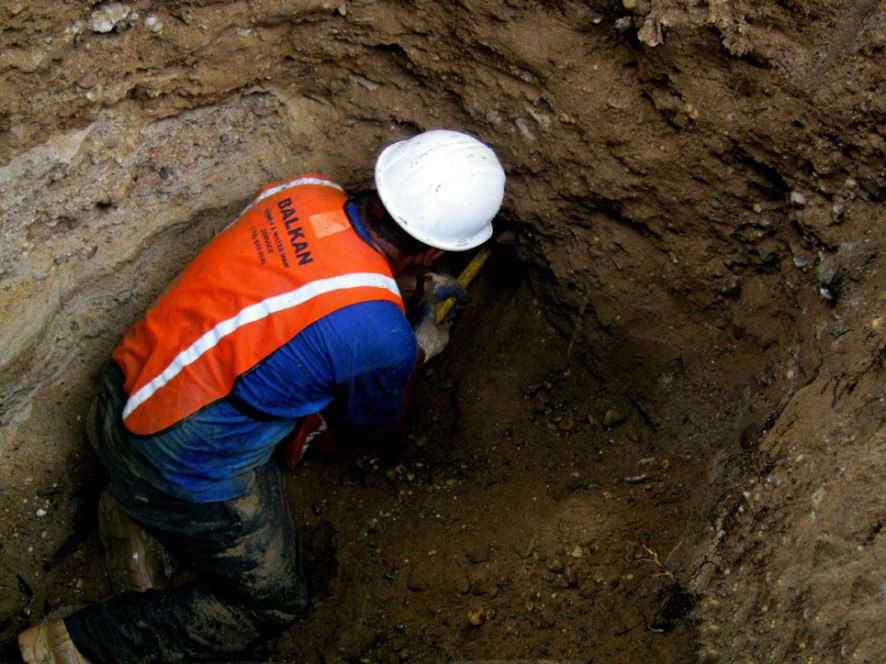 On older houses where vitrified clay sewer pipe was used the extra heavy cast iron transitions to clay under the porch. The transition is typically three or four feet out from the house trap. The two different materials were usually connected together using some oakum and a handful of cement – which is not a great way to join pipe together. Over the years the joint connecting the two unlike materials usually leak washing away the soil under the pipe. This can cause settlement of the sewer pipe and foul waste water to leak into the basement. This is also a point prone to have root growth that will cause blockages. All of these issues would require a sewer pipe repair. If the porch on the front of the house was built after the house itself it can also be a point where the sewer pipe has been damaged, disrupted, or prone to settlement.
Sewer replacement work under a front porch of a house should not cause any damage to the porch itself. Tunneling and careful excavation by hand results in a long lasting installation.
A little bit about Kew Gardens in Queens, NY
Kew Gardens is located in central Queens County. Is bounded by the Van Wyck Expressway on the East and Forest Park on the West. The Jackie Robinson Parkway borders it on the North and Hillside Avenue borders it on the South.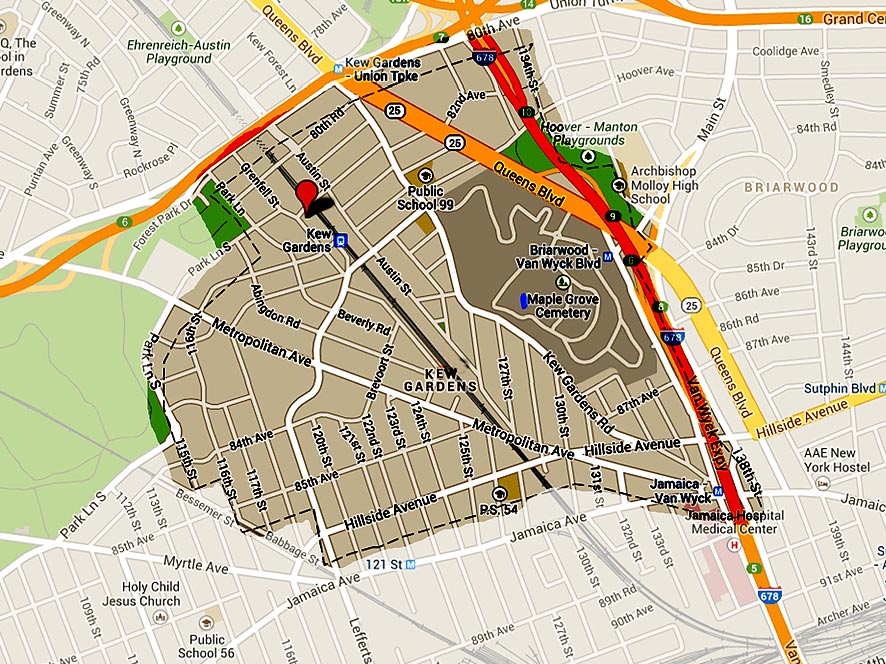 Kew Gardens is an upper middle class community whose main commercial strip is Lefferts Boulevard. Other commercial strips includes Queens Boulevard and Metropolitan Avenue. It is one of Queens most easily accessible communities as it is bounded by various parkways and expressways. In addition public transportation is available via numerous bus or train lines. Although many well kept private homes exist the community is more noted for multi-story apartment buildings. Like many Queens communities Kew Gardens is home to a wide spectrum of nationalities. Due to its close proximity and short travel time to both JFK and Laguardia airport many airport employees also call Kew Gardens their home.
[button link="/contact-balkan-plumbing/" bg_color="#EA6E24″ window="yes" size="xl"]Get a FREE no-obligation site visit today![/button]
Why choose Joseph L. Balkan for Queens sewer work?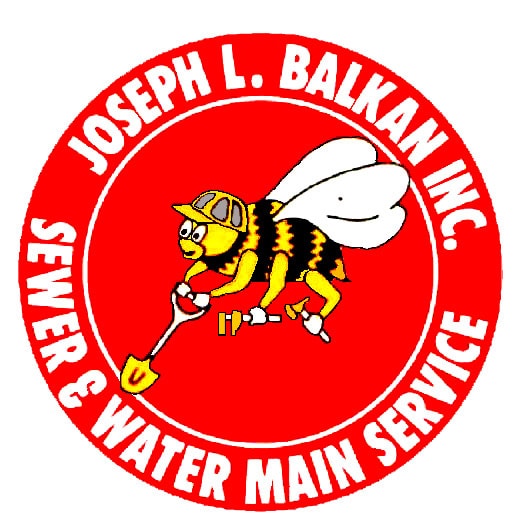 Joseph L. Balkan Inc. is centrally located in Richmond Hill in Queens. Richmond Hill actually borders Kew Gardens and is just minutes away from any Queens neighborhood. With over 60 years of expertise performing subsurface plumbing, Balkan is trusted to perform more Queens sewer and water main work than any other NYC plumber. The Balkan family are lifelong Queens residents, as your neighbors they take extra special care on each and every job.
[credit]