A Bronx house sewer line recently failed due to a problem with the sewer pipe slope. Sewer pipe slope is commonly also referred to as pitch of the pipe.  Many times a house sewer can function for many years with a problem with the slope, only needing occasional maintenance. However in most cases the sewer line will eventually fail. This will typically occur when it becomes completely blocked with grease accumulation and other hardened sediment. That is what happened at this Bronx sewer job location. Such a situation cannot be corrected by a spot repair, correcting sewer pipe slope properly is typically much more involved.
What is sewer pipe slope?
Sewer pipe slope refers to the angle the pipe is laid to allow for waste water run-off. As stated previously this is also more commonly referred to as pitch in the plumbing trade. A general rule of thumb is that 1/4″ of pitch is needed for every 1′ of run of pipe. The NYC DEP limits the maximum pitch it will allow on a house sewer to 3″ for every 1′ of run of pipe – or 1′ for every 4′ of run. [Read more about pitch on a sewer line]

Correcting sewer pipe slope requires a professional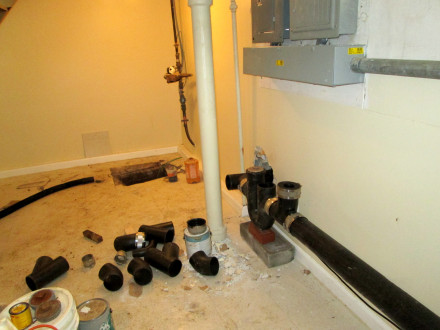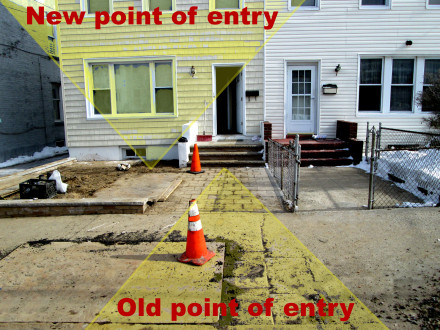 When a property owner is forced to perform corrective sewer work, the last thing they need is a temporary fix or a spot repair. In almost all cases involving improper sewer pipe slope the issue exists over an extensive length of the run. In the case of this Bronx sewer job the house sewer was back-pitched for about 25′ of the run.
Because there was not adequate slope available from the house drain under the basement floor to the city sewer itself, a complete sewer relay was required. Resolving the sewer problem permanently also required raising the house drain inside the basement from under the floor to above the floor. By raising the house drain another 3′ of pitch (sewer pipe slope) became available to correct the problem. Unfortunately for this Bronx homeowner, the house drain should never have been installed below the basement floor without the use of a sewer ejector pump. Most homeowners do not wish to maintain and deal with a pump for their home sewer system.
Because Balkan raised the inside house drain the point at which it exited the basement could be changed from where it was previously. By changing the point the sewer line exited the house, damaging a brick paver walkway was completely avoided. The new line was run under a grass front yard area. This saved the client money and aggravation. As part of the new installation a new double vent house trap was installed, along with an additional clean-out.
As is required by code Balkan Sewer And Water Main secured both DOT and DEP permits. Required DEP inspections were arranged, and all work was carefully witnessed by an experienced DEP Field Inspector. The sewer installation was signed off and a certificate of inspection was received.
Proper bedding for house sewer pipe and backfill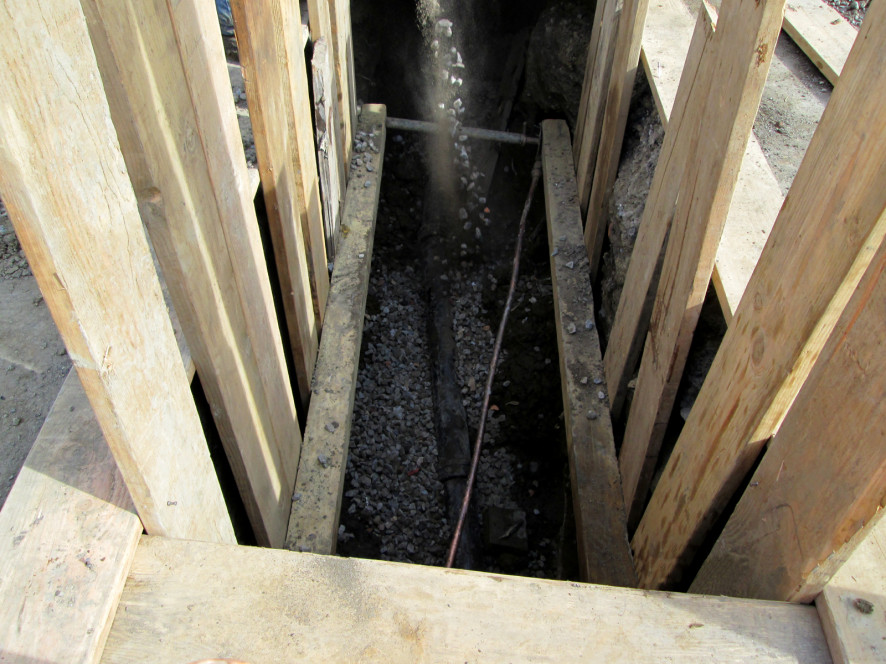 If proper stone bedding is not installed and proper back-fill is not performed even a sewer installation installed properly can fail. New line lines must be supported properly at the pipe joint in particular. But in addition it is usually a good idea to install an approved crushed stone bedding under the entire run of sewer pipe. Back-fill and compaction of the excavations is also important. In the case of the Bronx sewer job all excavated material was trucked away by Balkan. Clean and DOT approved material was trucked to the site.  It was then carefully put in place and compacted in lifts to ensure that no future settlement would occur. Settlement of an excavation can cause future pot holes and other unsafe conditions to arise. Settlement of an excavation can also disrupt the sewer pipe slope after the problem has already been corrected.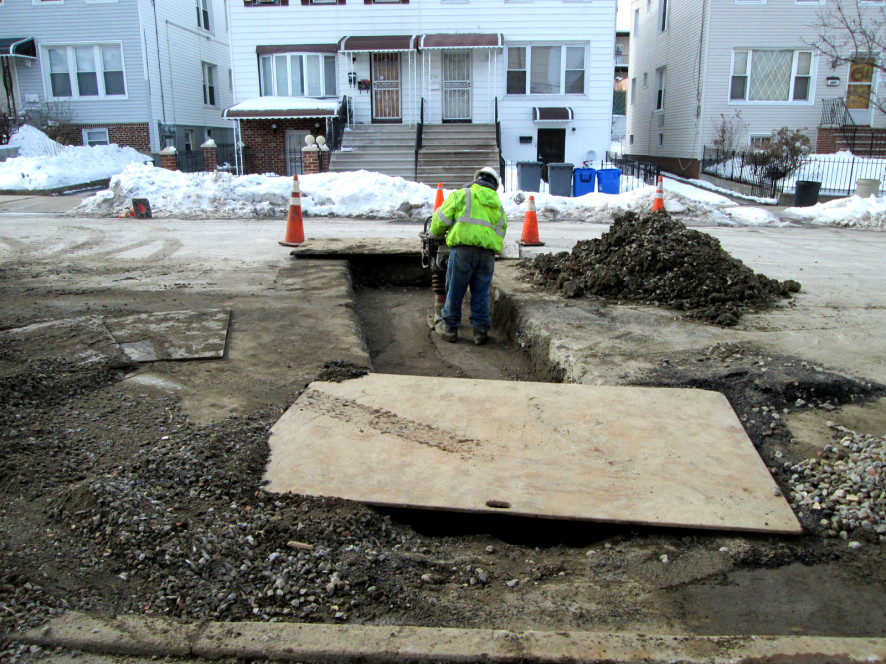 Can two house sewers share one sewer line?
Unless specifically approved and properly filed two house sewers cannot share the same line. However if such a condition already exists it is typically 'Grandfathered in' – no violation is issued. In the case of this Bronx sewer replacement Balkan Sewer And Water Main found that the neighbors house was wyed into the line they were working on in the roadway area. Following typical protocol, and as directed by the DEP, Balkan reconnected the neighbors house back into the shared line. Failure to do so would have left the neighboring house without sewer service. In some cases a Homeowners Association allows for multiple homes to share the same common sewer line. Such a drain system has to go through a careful and time consuming approval process.
Count on Balkan Sewer And Water Main for answers not excuses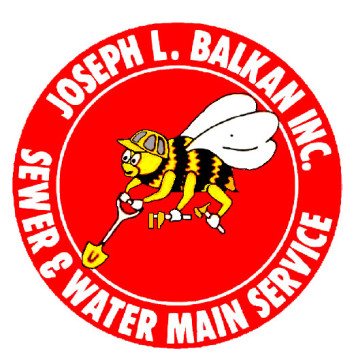 No matter how simple or complicated your sewer or water main problem may be, count on Balkan for a quick response and correct solution. From an emergency break, to planned work, to technical issues such as sewer pipe slope, Balkan provides high quality installations at the lowest rates in the NYC plumbing industry.
From the 2nd generation of family ownership, an expert office staff, and experienced field personnel, you will be treated professionally and with courtesy. Balkan is trusted by more Bronx, Manhattan, Queens and Brooklyn property owners than any other subsurface firm. Since 1952 licensed, bonded, insured, and dedicated to service.
[credit]