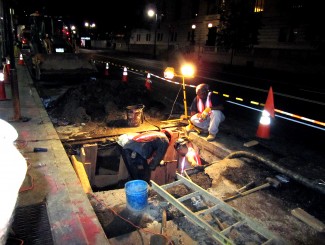 New York sewer work in Manhattan frequently poses many unusual issues. When a prominent midtown Manhattan building recently required a sewer repair, Balkan Sewer And Water Main Service was called to the scene and had to deal with many challenges.
Due to the size of the building and it's corresponding need for other utility services, such as a full bank of electrical lines, all utilities had to be protected from damage. Balkan did this by first having all utility lines carefully marked out prior to starting excavation work. They then excavated by hand until all underground lines were exposed.
Accurate work orders
Due to scaffolding for other work being erected on the sidewalk Balkan had to ensure the exact location of the house sewer connection and that the problem was in the roadway. Balkan did this prior to excavating by using a specialty tool called a sewer sonde.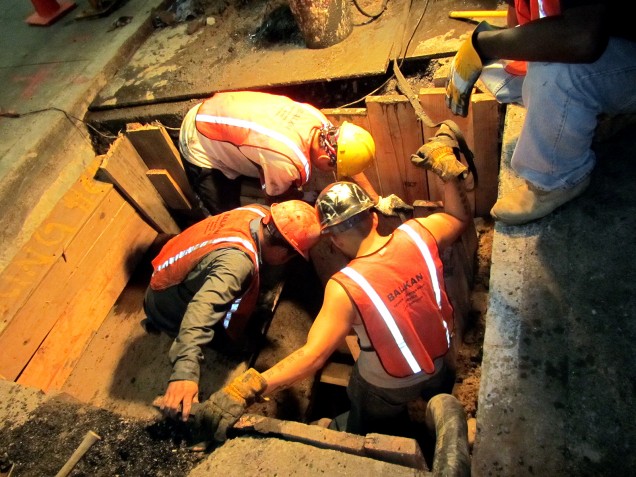 Flexible work hours and customer care
Due to the sewer repair being needed in midtown Manhattan all work was performed off-hours at night to avoid disruption to the neighborhood and the tenants. In addition all sewer excavation was performed by hand to avoid unnecessary damage and disruption to surrounding areas. In addition the client received timely job-site updates and status reports throughout the process.
There is a difference in sewer contractors
When Balkan exposed the sewer problem their original findings were found to be correct. The problem was in fact exactly in the location that had been marked out. The sewer repair was needed because an improper connection the the NYC sewer was made years ago by another sewer contractor and had collapsed. By working together with the NYC DEP a solution was reached that entailed purchasing a specialty fitting and having it over-nighted for a speedy resolution to the sewer repair issue.
Providing long-term solutions on sewer repair and sewer replacement work is why Balkan is The trusted name in the New York sewer industry. Some plumbers bury their mistakes – Balkan provides answers and solutions, not excuses.
About Joseph L. Balkan, Inc.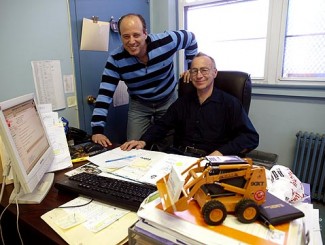 Balkan Sewer And Water Main is the largest sewer & water main replacement company in NYC. We are licensed, bonded, and insured. As a family run business in continuous operation for over 50 years. Our 10 year unconditional guarantee on replacements means that we continue to stand by our work, long after the job is done. We are expertly equipped, from our 48,000 square foot facility to dozens of trucks, heavy moving equipment, backhoes and pneumatics. Choose Balkan Sewer And Water Main for your next sewer repair, water main installation, water repair, water line leaks, NYC DEP violations, sewer replacement, water line replacement, sewer trap, backwater valve, hydrants, manholes, specialty water main work, area drain, and trench drains. Contact Balkan Sewer And Water Main today.