When it comes to sewer replacement and water main replacement work a contractor can make all the promises they want, but in the end it's the clients opinion that counts the most. Recently a Brooklyn homeowner needed both a sewer replacement and water main replacement. At the conclusion of the sewer and water work this is what they had to say about Balkan Sewer And Water Main Service:
"I had to write and tell you about the outstanding job Sal and his crew did in replacing both our water and sewer lines; a job that needed to be done, but which I dreaded. They came on time, worked efficiently and finished the sewer and water job in 3 days – A fact I find astounding!

Vinnie, Jay, and your office staff were also equally helpful in acquiring all the necessary permits and answering all the questions I had about the many facets of this sewer and water project. Thank you again for a job that had me so nervous that I almost was "sewercidal". Every aspect, from beginning to end, was done exactly as we were told it would be."
Sincerely, M. Neumann
It is unsolicited and sincere praise such as this that makes the staff of Balkan Sewer And Water Main Service so proud. Working hard for complete client satisfaction when a sewer replacement or water main replacement are needed is a company-wide goal from the owners down to the most recently hired field laborer. When one of our valued clients takes the time to show their appreciation for the effort it makes it so worthwhile. That is why we like to say 'Balkan Stands On It's Reputation' – We urge all property owners in need of any subsurface plumbing services to check online reviews by visiting Google, CitySearch, AngiesList, and the Better Business Bureau but to name a few. We are proud of our reputation – the more you know about Balkan the better we look!
About Joseph L. Balkan, Inc.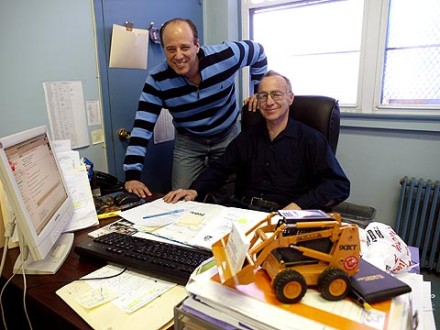 Balkan Sewer And Water Main is the largest sewer & water main replacement company in NYC. We are licensed, bonded, and insured. As a family run business in continuous operation for over 50 years. Our 10 year unconditional guarantee on replacements means that we continue to stand by our work, long after the job is done. We are expertly equipped, from our 48,000 square foot facility to dozens of trucks, heavy moving equipment, backhoes and pneumatics.
Choose Balkan Sewer And Water Main for your next sewer repair, water main installation, water repair, water line leaks, NYC DEP violations, sewer replacement, water line replacement, sewer trap, backwater valve, hydrants, manholes, specialty water main work, area drain, and trench drains. Contact Balkan Sewer And Water Main today.