House sewer collapses underneath an apartment buildings floor in Queens. Sewer Repair needed on an emergency basis. When an apartment building has their house sewer collapse under their basement floor, over 100 families were affected. Expert and immediate sewer repair service work was needed.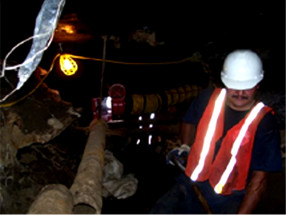 Choosing the right sewer replacement company to excavate and replace over 60′ of underground sewer pipe was vital. Choosing an inexperienced sewer company would result in hundreds of unhappy tenants. Having the right tools, equipment, and using the highest grade materials were requirements for the sewer contractor chosen to perform this sewer replacement.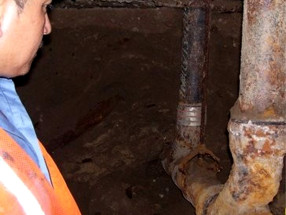 In addition the building managers wanted to ensure a long-lasting sewer repair, they did not want to ever have to do a sewer replacement again. Balkan Sewer and Water Main Service was chosen over other sewer companies due to its experience, vast inventory of specialty tools and equipment, professional staff, and guarantee of next day service.
Working seamlessly and safely the entire sewer repair was completed without interrupting service to the building for any extended periods of time. Only American made extra heavy cast iron was used to ensure a long-lasting sewer replacement. Balkan Sewer and Water Main Service works hard to build on its well earned reputation each and every day. Each and every sewer or water main installation is backed by the trusted Balkan family name.
Operating out of a 48,000 square foot facility containing every conceivable piece of equipment, tool, materials, trench boxes, and specialty equipment doesn't hurt!