Sewer Replacement Cost – How Much Does A House Sewer Cost In NYC? A common question when a property owner is faced with a sewer problem is what is the typical sewer replacement cost. A NYC sewer replacement has many set cost factors. But various other factors make a site visit by a licensed sewer contractor mandatory for an accurate quote.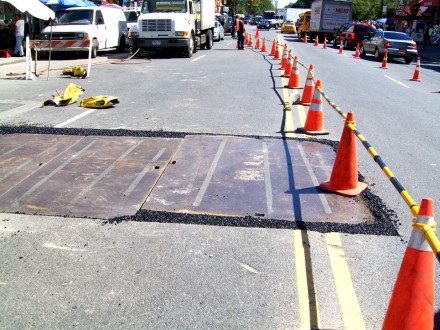 Because of such factors such as traffic control, and pedestrian safety, a sewer replacement in the outer boroughs will take a minimum of two workdays to perform the installation safely. In addition, the work must be in compliance with various rules and regulations. Sewer line replacements in Manhattan are much more complicated, and typically take as least twice as much time.
Because there are so many variable factors, there is not an accurate 'per foot' price for a New York City house sewer repair or replacement. Some of the sewer replacement cost factors are as follows:
Some roadways are wider than others and some buildings have a longer set-back from the property line.
Some roadways contain more underground utilities and require greater care during excavation and backfill.
A surprising number of areas are land marked and need special permission and have specific regulations to be followed prior to permits being issued by the NYC Department of Transportation.
Every property has a varied amount of concrete that will have to restored after completion of the sewer line replacement.
Any excavation under the drip line of a tree requires a Parks Department permit and an Arborist to be present.
The depth of the sewer at the building, and the connection to the public sewer, can vary greatly.
The length of the run of pipe will vary form location to location.
The actual location of the public sewer. As an example, some public sewers are located under the property owners sidewalk. This makes most sewer work less expensive.

An important issue to always keep in mind in NYC for a house sewer replacement or repair is that both the NYC Department of Buildings, and the NYC Department of Environmental Protection, expressly state that sewer liners and trenchless house sewers are illegal in NYC. Neither agency deems them an approved repair method. They furthermore state that there will be repercussions for home owners who have sewer liners installed.
It is typical in the New York City sewer line replacement industry that estimates and site visits are free of charge and without obligation to hire.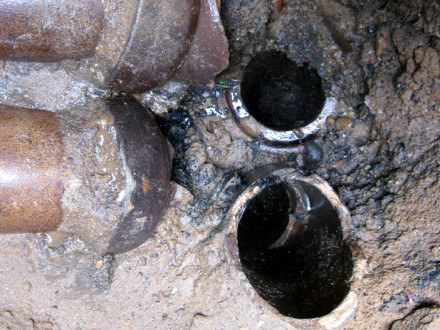 Another important point is that there are major set costs such as permits, restoring disturbed concrete and asphalt areas, and a crew for a day. Therefore only in extremely rare cases does it make any financial sense to do "patch work" on a house sewer line. Frequently a sewer line does not run straight as one would expect, and there may not be accurate NYC sewer records.
Because the direction and location of a house sewer can be unknown, it is strongly recommended that sewer line work commence from the outside front of the building. Doing so eliminates the possibility of excavating in the wrong area, and constantly changing the scope of work and pricing. Replacing complete sections of a sewer line is an assurance of a long lasting sewer line installation.
Another viable alternative is to utilize sewer locating equipment, and sewer video cameras before excavation begins. Hiring a professional to use these modern pieces of equipment can both pinpoint the problem, and the location of the problem. This can also save on unnecessary excavation work, and save on sewer replacement cost.
Typical Home Sewer Replacement Cost
The DEP itself estimates that a typical house sewer replacement costs between $10,000.00 to $15,000.00 city wide, however the cost varies greatly. Many sewer replacements in the Boroughs of Queens and Brooklyn can cost less than $10,000.00. In some cases Brooklyn and Queens sewer replacement cost can be as low as around $8,000.00. Yet work in Manhattan will typically cost much more. As stated above various other factors come into play making a site visit by a sewer contractor mandatory for an accurate price quote.