Modern sewer tools are now available that make spot sewer repairs more possible than they were previously. In the not so distant past excavating in one area to locate and repair a broken sewer line was a chancy affair. As frequently as not excavations were made in the wrong location. Sewer lines frequently veered off on an unforeseen angle, or the actual defect in the pipe was in a different location. This firm, Joseph l. Balkan Inc., actually adhered to a policy of full sewer replacements for many years for these very same reasons.
Like any tool, it is only as good as the person using it. Placed in the right hands the following tools used in combination can frequently pinpoint a sewer problem. This may allow for a spot sewer repair that will last for many years, which may not have been practical in the past.
Traditional sewer cleaning machine
Even a traditional sewer cleaning machine needs a skilled operator to be effective. In the wrong hands a sewer cleaning machine can get stuck inside a sewer line, or be forced out of a broken pipe and become irretrievable. An unskilled person using the wrong machine or the wrong blade will be unable to clear stoppages that a skilled person will easily clean out. Furthermore they may disrupt a pipe that is in fragile condition.
Like with many tools, brute force is not the answer. Only an experienced sewer cleaner will have a feel for the machine and avoid making a sewer problem even worse than it was before.
Water jetting
The availability of various water jetting machines has become a great aid in clearing out various stoppages that a sewer cleaning machine cannot. Besides that particular point, a water jet can clear out sewer stoppages to provide temporary relief even when a drain pipe replacement is needed.  This is vitally important for an active business such as a restaurant or a multi-family residence.
In other cases, such as grease stoppages, a water jet can totally clear out the problem. Used in conjunction with a sewer cleaning machine, a water jet can blow out roots or debris previously loosened with the machine.
A sewer video camera inspection
A sewer camera is increasingly a vital part of diagnosing a sewer problem correctly. What a sewer cleaning machine can only feel, a camera can see. Whereas in the past a technician had to guess if a pipe was back-pitched or broken, a camera gives concrete proof and an exact distance.
A key point to note is the digital readout provided by modern sewer video equipment that gives an exact distance where the problem is located. In the past a sewer cleaner was frequently left to make an educated guess of where a problem was. Many times this resulted in a sewer contractor excavating in an incorrect location leaving an exasperated property owner and contractor alike.
[button link="/contact-balkan-plumbing/" bg_color="#EA6E24″ window="yes" size="xl"]Get a sewer video camera inspection today![/button]
A sewer sonde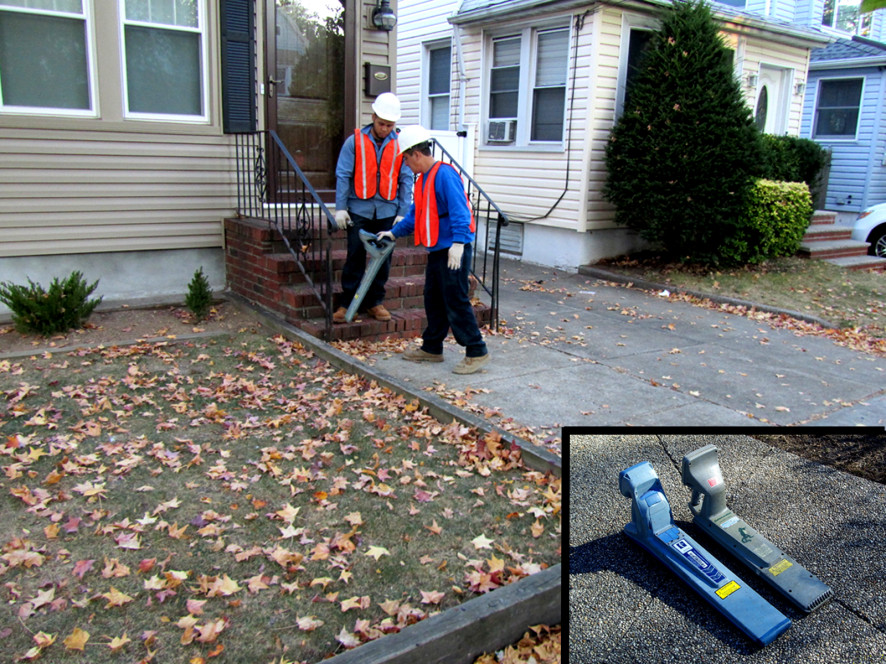 A sonde locates underground drain pipes
The final piece of the puzzle that allows for spot sewer repairs to be effectively performed is the sewer sonde. Even properly utilizing all of the above sewer tools leaves the  great possibility of not being able to easily locate an underground sewer line. While a sewer cleaning machine can indicate a problem, and a camera can verify it, only a sewer sonde can definitively locate the underground pipe. The above three sewer tools coupled with a sewer sonde allow for precisely locating and repairing a sewer pipe.
While a sewer sonde is fairly costly, just one use can save a property owner sewer repair costs that exceed the purchase price of the sonde itself. A sewer sonde is a highly sensitive device that requires patience and skill to properly operate. If used improperly a sewer contractor can still be prone to incorrectly excavate in the wrong location.
A change in Balkan Sewer And Water Main philosophy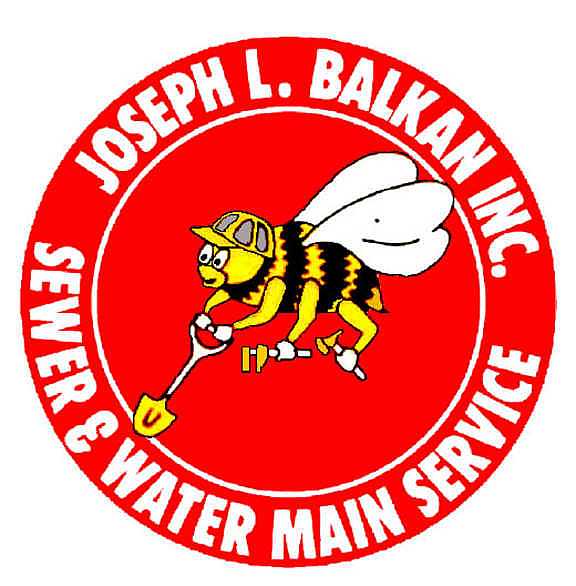 As with all aspects of its operation Balkan constantly invests in new sewer tools, technologies, and upgrades to its equipment.  Recent experimentation with using the above recently acquired sewer tools has yielded very positive results for Balkan clients. Balkan has been able to provide long-lasting sewer repairs for clients who in the past were not good candidates for such work. The typical price difference between a sewer repair and a sewer replacement is around 50%, or between $4,000.00 to $6,000.00. Quite a bit of money for the typical property owner.
In many cases the overall condition of a house sewer line may be very good. But in some cases the connection to the city sewer may fail, or roots may grow into a specific joint of the pipe. In other cases a sewer line may sag in just one area, such as over an old septic tank. In all of these cases a spot repair may just be the correct solution. Only a sewer contractor and sewer technician that is highly trusted and experienced should be used in such situations. Joseph L. Balkan Inc. has been serving New Yorkers since 1952. Balkan strictly specializes in sewer and water main work and only employs highly trained and dedicated employees.
[button link="/contact-balkan-plumbing/" bg_color="#EA6E24″ window="yes" size="xl"]Get a FREE no-obligation site visit today![/button]
Sewer tools in action – a case in point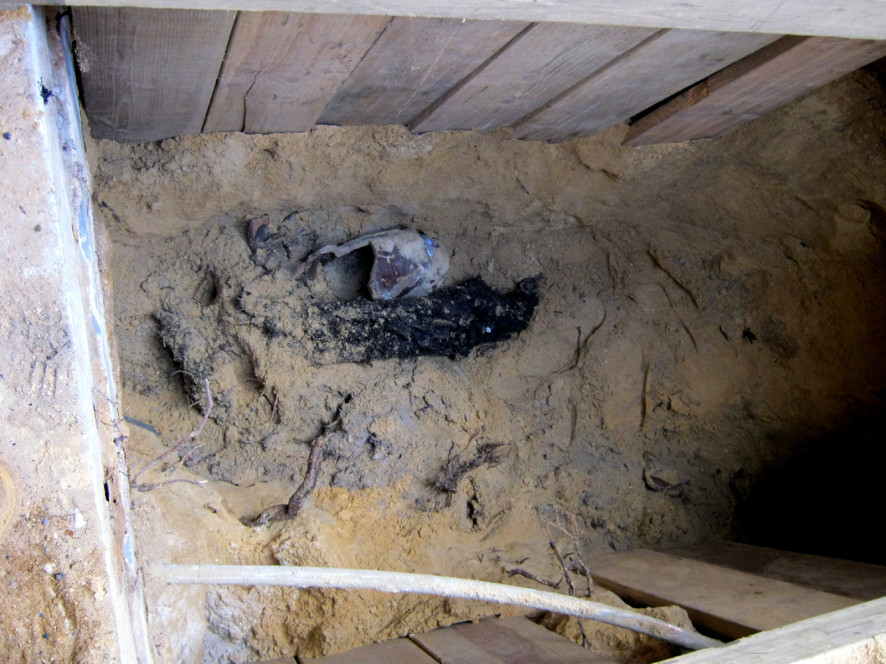 A homeowner in Far Rockaway was suffering with sewer problems for quite some time. They had tried various times to clean out the sewer, only for sewer backups to re-occur. A complete sewer line replacement in their case would have cost approximately $11,500.00 due to the length of the sewer run.
By utilizing all of the above sewer tools the location and type of the problem was verified. This meant correct excavation due to predetermining that the sewer line ran at an angle, and avoiding having to excavate in the roadway or front yard.  This long-lasting sewer repair was performed by installing 10′ of new extra heavy cast iron pipe in place of the existing clay pipe. The existing vitrified clay sewer pipe from the property line to the curb line had roots inside of it. The rest of the house sewer line was free and clear of defect. The integrity of the rest of the line was carefully verified by a visual inspection of the other portions of the house sewer by the Balkan installation crew. Count on the Balkan Team for accurate and cost effective solutions for any sewer line or water main issue in Queens, Brooklyn, Bronx, or Manhattan.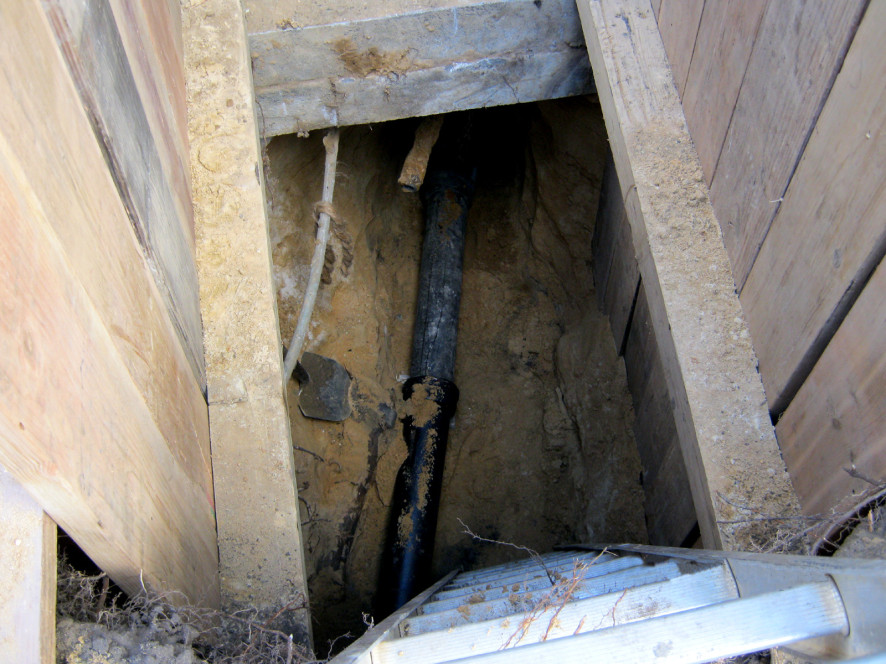 [credit]
[is_single]
[/is_single]