When it comes to making an eyesore and trip hazard into a safe and professional plumbing installation Balkan is the company of choice. In the above video a new house trap (also called a sewer trap), was installed along with a backwater check valve, inside an airtight and water tight pit equipped with an anti-slip locking cover.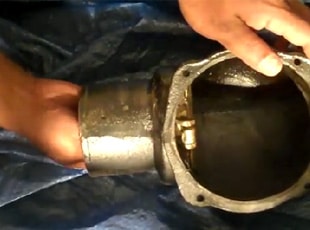 A new sewer trap with air tight and water tight caps eliminates any chance of foul water, noxious gas, insects, or rodents entering into a basement.
A backwater check valve installed after the house trap eliminates any chance of a public sewer back up from entering into a basement and causing extensive damage. A backwater check valve works automatically and requires very little maintenance.
A new precast house sewer pit with locking cover prevents possible trip hazards, slip and falls, and tampering. In addition is eliminates an unsightly hole in the floor, replacing it with a flush, clean looking, and safe surface.
Put it all together and this Joseph L. Balkan Inc. installation adds value to your property, and prevents damage from back ups that easily exceed the total cost of this plumbing installation that includes a new house trap, a backwater check valve, and is completed in one workday. Another reason why people say 'Balkan Provides Answers Not Excuses'.