Do you need a fast plumbing quote on your next sewer, water main or drain issue? Balkan Sewer And Water Main is proud to provide fast plumbing quotes to our NYC customers. Let us admit it; an efficient and seamlessly operating plumbing system is every homeowner's desire. It grants you access to clean water – which, as they say – is life. Your plumbing system enhances convenience to modern living, and facilitates energy-savings as well. The Balkan Rapid Plumbing Quote System factors in a multitude of possibilities, and provides an on-point price to you, typically in 1 hour or less. Our efficient and well though out quoting process also streamlines the time it take in-house to quote a job. This in turn results in defined saving for our clients. Faster quotes at a lower price seems like a win-win for everyone.
Without a properly functioning water main, drainage system, or sewer line, it would be challenging to undertake everyday household chores. Plus, life in general would be quite uncomfortable. Therefore, as a homeowner, it is your solemn responsibility to address the repair and maintenance needs of your plumbing system. Prompt attention and action eliminates the chance of a total breakdown.
That means calling in a plumber who, of course, will charge you a specific rate for their services. Most plumbers quote their rates according to the time spent working on your system. Of course this will vary depending on the magnitude of what is getting repaired.
What information is required to get you fast plumbing quotes?
Of course, before a plumber gives a quotation, you may think certain information is required. As a homeowner, you'd think the plumber must look into your pipes, and assess their condition. Being on site may be required to determine how easy or difficult it would be to get to these pipes. And that is where a misunderstanding may arise as there may be unprecedented working hours. This can result in inflated client charges or a loss/profit for you.
For that reason, we have prepared a post outlining some additional expenses that you might need to factor in. We've also added in actionable tips on how to draft a quotation for your plumbing job. So let us get the show on the road.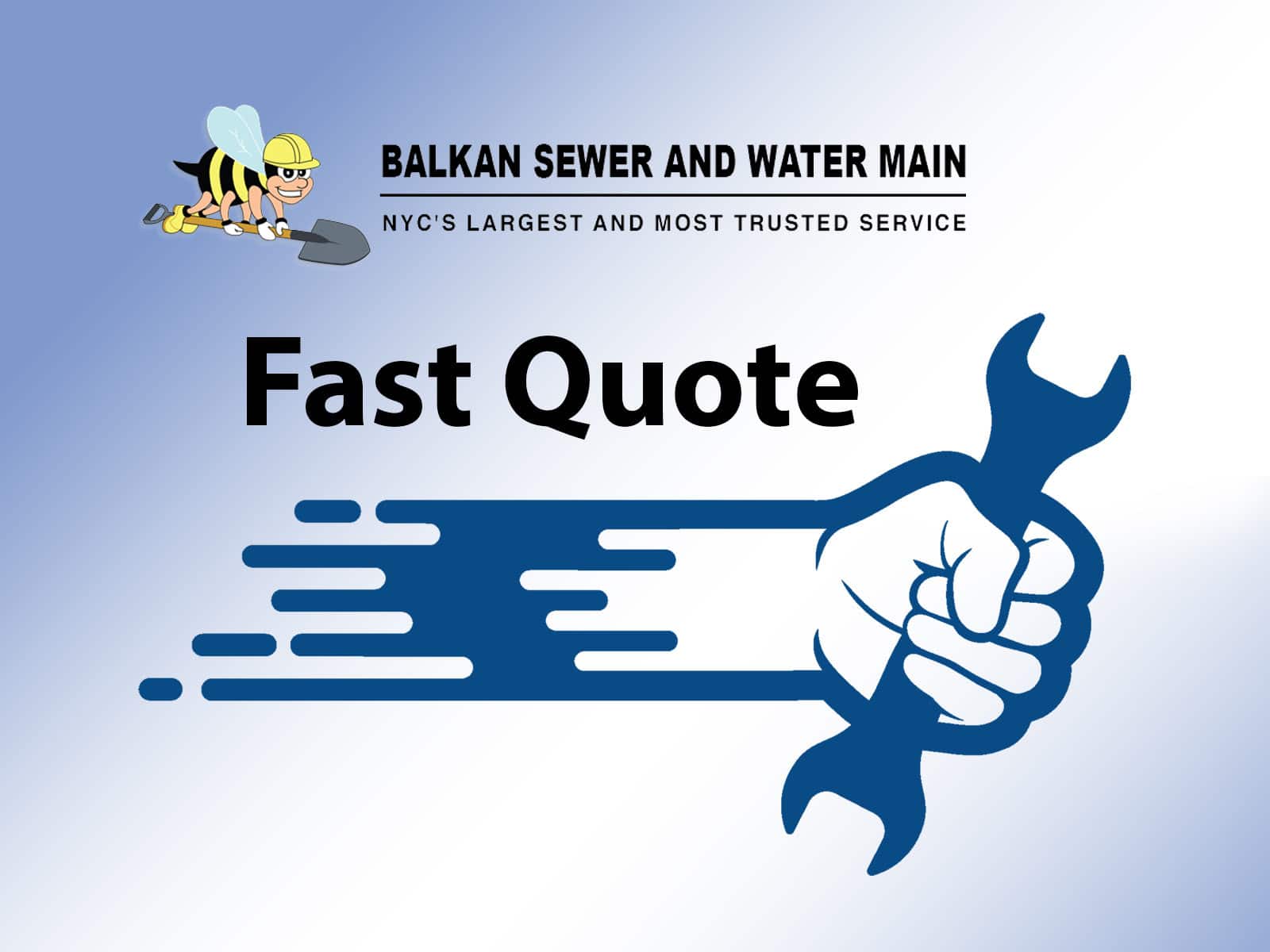 Fast Plumbing Quotes That Factor In Additional Expenses
As a plumber, it is your responsibility to help fix a client's plumbing system. You also have to make a living out of it by keeping your job profitable. As such, cutting some expenses out of your quote may hurt profitability despite committing your time and energy to perform the tasks. Here are a few common elements that the Balkan Rapid Quote System factors in:
On-site dumpsters and debris removal
Unless the homeowner calls in a general contractor to supply an on-site dumpster, you may have to do all the dirty works by yourself. We are talking about collecting all the site spoils and transferring them to an approved transfer station. Trucking fees such as these are always factored into a Balkan Rapid Quote.
Correcting any plumbing code violations
If you are working on older or neglected homes, it is overly essential to confirm that the plumbing codes are consistent with the current regulations. If not, you should make the necessary adjustments and communicate the additional expenses incurred to your client. As matter of course, the Balkan Team will always apprise you of any potential existing plumbing issues. Getting fast plumbing quotes doesn't have to mean that important details are left unattended to.
Protecting other homeowner's belongings
Let us assume you are fixing the pipes in the kitchen when suddenly, there is a pipe burst in the basement that damages the floor. In this case, you would be held liable for the damages unless there is proper communication with the client. You can always count of Balkan preparing you, the client, for exposure to work areas. You'll be advised which areas need to be cleared or covered.
Removing or replacing degenerated piping
As a plumber working on older homes, you may come across deteriorated metal piping that need improvement. If you think it is wise to update the old pipes with an approved material, you should be sure to communicate the idea to your client. let the customer know you've priced out the materials needed and the potential additional expenses ahead of time.
Actionable Tips for Drafting Fast Plumbing Quotes
Having learned about the plumbing elements that may cause extra expenses (on top of the basic fixtures and materials), let us now move to the real pricing. There is a straightforward way to quote a sewer, water main, and drain repair/replacement:
Establish your base hour working rates
Balkan Rapid Quote offers a quicker, automated formula that independent plumbers can leverage to determine their hourly rates accurately. But for the reserved folks who prefer a step-by-step work-out, the ideal approach would be to work backwards with reference to your desirable weekly take-home.
Let's for instance say you want to take home $800 working 40 hours per week. You will determine your actual rates as follows. For starters, you must set aside at least 30% of billable hours performing non-productive tasks like running errands and taking care of admin activities. That means you will have 28 hours of active productivity.
Breaking down the $800 projected payment per week would be equals to $28.57 per hour. However, you will also need to factor in additional bills like taxes, insurance, pension, and other labor burdens. And that rounds up to approximately $40 per hour.
Work out your overhead costs and profit margin
Having established your base hour working rates, now it is time to calculate your overhead expenditure, i.e., any cost needed to perform your job as a plumber. These may include marketing, fueling your truck, lighting your shop, etc. If you add all that up, it may account for at least 30% of the base hourly rate, that is, (30% x $40) = $12, bringing the net charges per hour to $52.
Remember that is just the amount you need to break even, i.e., compensate for all expenses incurred and labor. Now it is time to make some profits. Assuming your ideal profit margin is 25%, you will add that to your fully-loaded hourly rate, so ($52 x 25%) = $13. Adding everything up, you will come up with a net hourly rate of $65. Though hypothetical, that would be fair and competitive pricing for plumbing services in New York City.
Gather all the costs
The worst mistake you can make as a plumber is to take a job without finding out how much it would cost to acquire the needed materials. You also need to feature subcontracting costs (if need be), any required permits, and all the extra expenses we discussed above. Let us assume these add up to $750.
Calculate your total labor hours for the job
Earlier, we put a hypothetical figure of $65 per hour. As a professional, you need to figure out the total number of hours it would take to get the job done exhaustively. Assuming it would take 12 labor hours, you multiply that by your base rate, which in this case would result in $780.
Adding up the cost of total labor plus materials, that would be ($750 + $780) = $1,560 + taxes. And that is what would feature in your plumbing quote. That is enough to purchase all the required materials (tax-inclusive), provide your desired/projected weekly wage, accommodate your overhead, and earn adequate net profit to keep you motivated.
Advance Your Quoting with Balkan Rapid Quote
There is no denying that the plumbing quoting formula above is a lot to digest, and may overwhelm a customer in distress. Perhaps another downside is that it takes lots of time to create, and as you know, that (time) is a valuable asset for plumbers as it can be turned into billable hours. Therefore not only is getting fast plumbing quotes via the Balkan Rapid Quote System helpful to you the client, but it actually lowers the cost of the job itself.
But that is water under the bridge now as we have got a solution for you. With Balkan Rapid Quote, you can receive fast plumbing quotes in one hour or less for any sewer, water main, or drain line work. Balkan provides lump sum pricing, and carefully points out any extra changes ahead of time.This takes the stress out of making a plumbing hiring decision. The best part is that our team comes on-site to conduct firsthand assessments free of charge. As if that is not enough, the site visits are usually available seven days a week, as well as after-hours.
So do not get left behind! Request a rapid quote today, and you will see more plumbing jobs worth more money coming your way. Cheers!