When an emergency water main leak occurs panic can set in. Emergency water main leak repair and replacement work is a specialty, so there is the question of who to call. Of course there is the question of what the repair cost will be to resolve a water main leak emergency. So there you have it – the 'big three' issues are quality, service, and price.
Usually when choosing a contractor of any sort, there is a trade-off between quality, level of service, or cost of the job. It's quite unusual in any field to find a contractor that excels in each area of concern. If an emergency water main leak occurs in Manhattan, Brooklyn, Queens or the Bronx there is one water main contractor that exceeds expectations.
Expert advice and free on-site visits any day and any time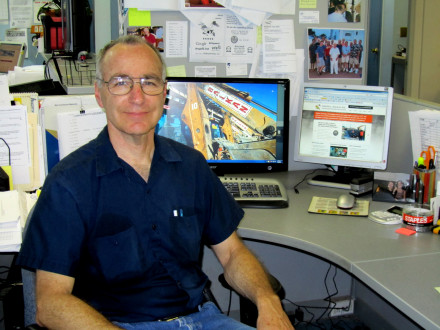 Expert advice is available at no obligation seven days a week, typically even after hours. When you have an emergency water main leak it's nice to know that an expert water main contractor is available to advise you with 'no strings attached'.  It is Balkan's pleasure to help out property owners in a time of distress. On a daily basis people are guided in the right direction by our expert staff when faced with a plumbing dilemma.
Balkan also provides free on-site visits seven days a week, frequently after hours. Water leaks can be tricky and hard to diagnose – there is nothing as helpful as an on-site visit from a professional.  If your plumbing issue is not water main related, we know other trusted and licensed plumbing professionals in your neighborhood. There is never a commission fee for us directing you to the proper professional if we can't handle the situation.
[button link="/contact-balkan-plumbing/" bg_color="#EA6E24″ window="yes" size="xl"]Get a FREE 0n-site visit today![/button]
QUALITY repair or replacement work for any water main leak
Regardless of the degree of emergency, or the size of the water line, count on Balkan to utilize materials that meet or exceed plumbing code requirements. Our 48,000 square foot facility houses a full array of materials and specialty fittings to resolve any emergency water main leak.
Our expert field forces are familiar with how to work on any type or size of water line. From a 3/4″ copper main to a 12″ main water line, Balkan has the know-how, tools, and material to promptly restore service in the timeliest of  manners.
Fast SERVICE in NYC for any water main leak emergency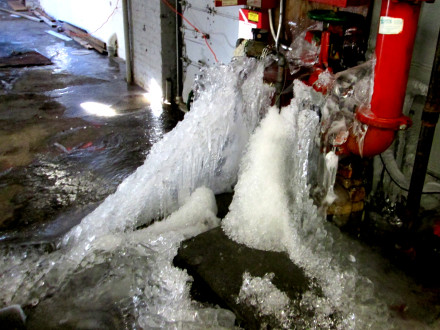 Balkan has over twelve installation crews on-hand to promptly respond to any emergency water main leak. For severe emergency situations Balkan routinely provides same-day service. Balkan Sewer And Water Main Field Representatives are available  seven days a week. On Monday through Friday Field Representatives are on call from 5:30am to 10pm. On weekends there is always a Field Representative on call. No matter the day of the week on-site visits are always free and with no obligation to hire.
Our support staff includes an expert office staff, highly experienced in-house mechanics, and in-house permit expeditors as well. Our complete team of professionals is your assurance of quality and service.
Lowest PRICE structure in the NYC subsurface plumbing industry
Balkan is the largest sewer and water main contractor in New York City. That means that Balkan has economy of scale that other plumbers do not. In addition Balkan takes full advantage of bulk purchasing, and at times deals directly with manufacturers. Through its reputation of paying bills promptly in any economy Balkan also receives the best prices possible at all times. All of these various cost-saving advantages are passed along to our clients.
The major cost of attending to any emergency water main leak or other subsurface issue is labor. By carefully coordinating our work force, and utilizing a fleet wide GPS system, our work force is fast and efficient. By closely monitoring our work force we are in a position to pass along cost savings to our valued clients.
Read about Balkan responses to a water main leak emergencies
On a daily basis New Yorkers turn to Balkan Sewer And Water Main Service when they need quick response for an emergency water main leak. Balkan routinely provides same-day response and service that exceeds the clients expectations. Our job site reports are a testament to our commitment to service.
Day or night and in any Borough we are here for you. We encourage you to read reports about the level of service we have provided recent past clients.
[posts-by-tag tags = "water main emergency" date = TRUE number = 5]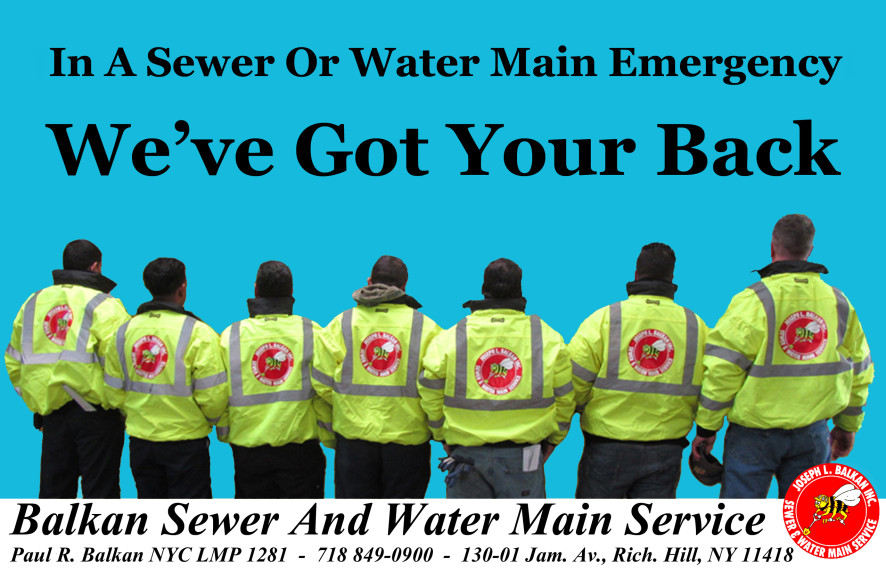 A Family devoted to service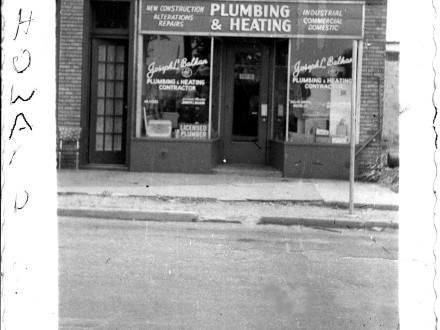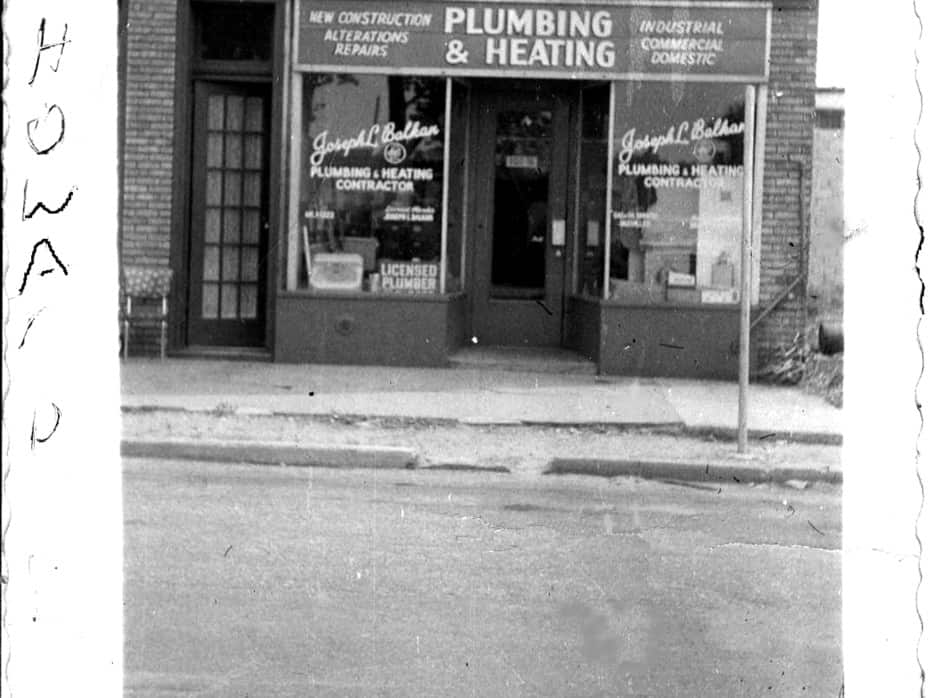 From our founding on Blake Avenue in East New York by Joseph L. Balkan in 1952 to the present day, we are a family devoted to service. That devotion is instilled in every Balkan Team Member.  Our past and future success is based upon exceeding expectations, and providing solutions – not excuses. This is why we are the go-to NYC plumber for any sewer and water main issue.
From planned work, to an emergency water main leak, Balkan Sewer And Water Main Service is your one-stop-shop. Trusted by more New Yorkers than any other subsurface plumbing firm for over 60 years.
[button link="/contact-balkan-plumbing/" bg_color="#EA6E24″ window="yes" size="xl"]Get a FREE site on-visit today![/button]
[credit]