New York, USA (MARCH 25th 2010) FOR IMMEDIATE RELEASE:
Emergency Water Main Replacement Needed In Brooklyn:

The Sisters of the Good Shepherd suffered an emergency water main break which required next day service. Who would this charitable and esteemed 150 year old organization trust to do the job promptly, safely, expeditiously? The Sisters of the Good Shepherd contacted Balkan Sewer and Water Main Service, which arrived the very next day. That same day work was completed with the property suffering no damage and a minimal interruption of service. Another Balkan water main installation completed to the satisfaction of its valued Client – Results, Not Promises.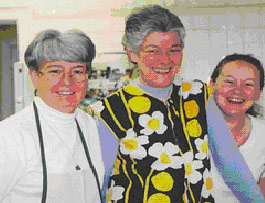 ABOUT THE SISTERS OF THE GOOD SHEPHERD
The Apostolic Sisters of the Good Shepherd commit ourselves to listen to the weary, often muted voices of the poor and the disadvantaged — especially women and children and then do something about what they have heard.
We let their hearts be softened and shaped by the people we serve. We directly confront the "structures of our world, which devalue the dignity of the human person."
We see the suffering face of God in the undocumented immigrant or the reviled prostitute, and hear the laughter of angels in families we have reconciled. Rather than grieve for an opportunity gone, we start afresh with whatever is at hand, no matter how small, like the shine of a star in a muddied pool.
We are focused women with a will to learn mercy and compassion from the heart of the Shepherd, to whose heart we again and again return for comfort, strength and direction.
The ministries and services of the Sisters of the Good Shepherd are many and varied for our desire to serve is limited only by the walls of our expanding world. This expanse, have you seen where it ends?
Is God calling you to love with the of a Good Shepherd?