A faulty drain line, and trench drain system, for a loading dock can be the cause of many problems. Because loading docks and driveway areas leading up to loading docks are subjected to heavy truck traffic and movement of cargo the pipes are prone to become disjointed. In addition because all sorts of  debris and materials can become lodged in the system the pipes can get clogged. In some cases sinkholes appear from the sub base getting washed out from the defective drain system.
The end result of a failed drainage system for a loading dock can result in standing water that poses both health issues and personal injury issues. In addition worker productivity suffers and the general overall appearance of the business suffers as well. It is hard to calculate lost productivity, injuries, and an unimpressed clientele. But is is fair to say that over the course of time the cost of repairs to the sewer system are less than the cumulative losses that result from a non-functioning system.
A case in point
Balkan was recently called to a location in Astoria where a bustling trucking firm had been struggling with stagnant and pooling water for a long period of time. In particular after heavy rains the condition caused work delays and serious trip hazards. Because the system was never designed properly, simply replacing the existing piping would not be enough. Thought had to be used on how to address all of the water problems at this location. In addition areas disturbed on and around a loading dock must be repaired to a very high level due to the great weight they must support on a regular basis.
Not just a drain system repair, but improvements as well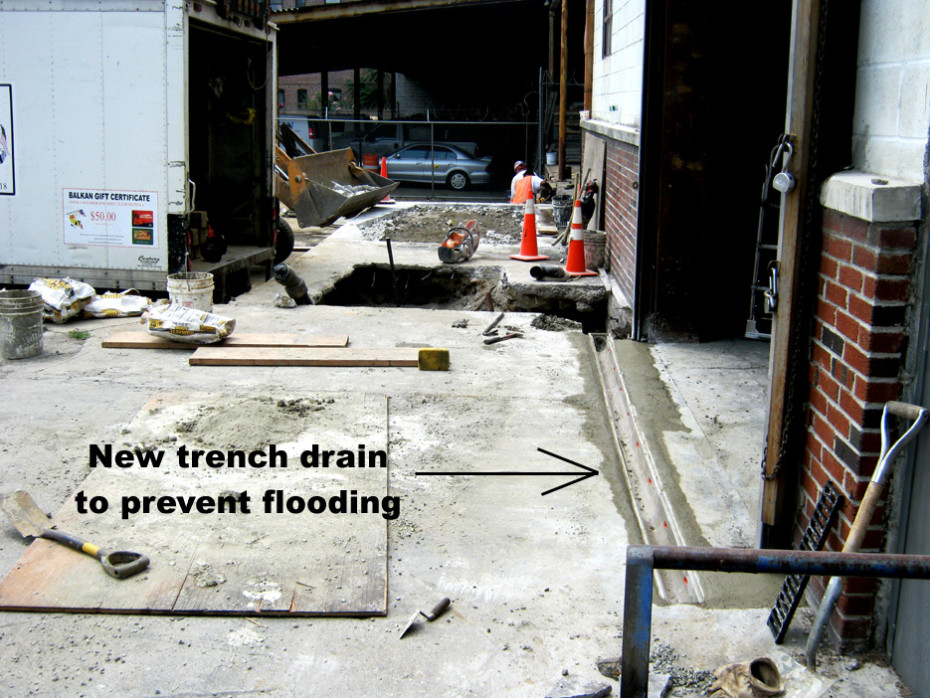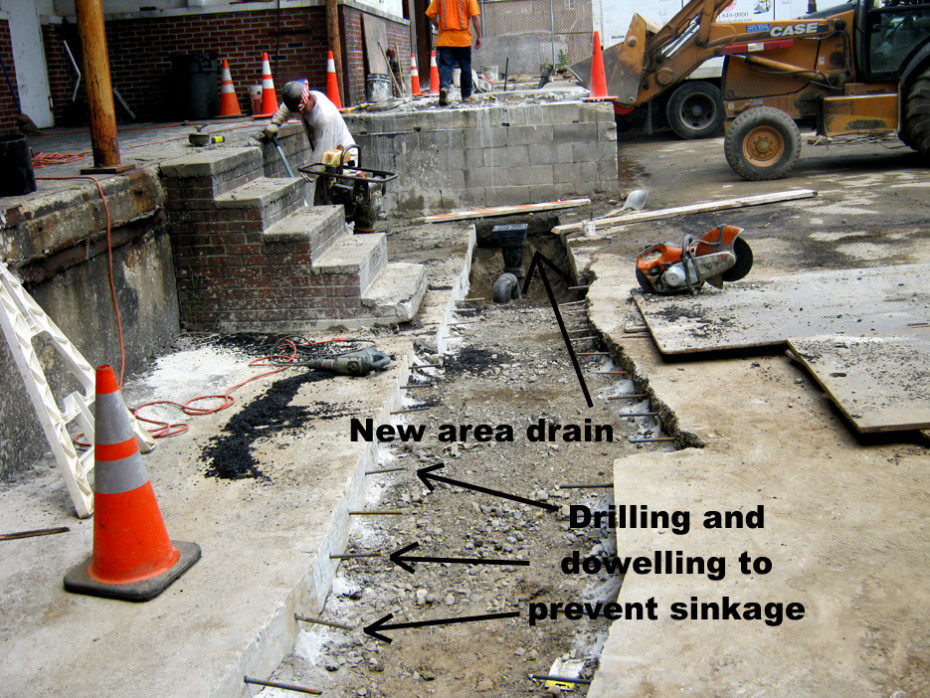 To fully address all of the drainage issues at this location Balkan made added two important pieces of hardware. After heavy rainfall large amounts of water would accumulate in front of one of the overhead doors and also in an areas of the driveway. To address these problems Balkan professionally install a 12′ long trench drain, and a new area drain. Both of these pieces of hardware were connected to the newly installed drainage pipe. With a minimum of maintenance these drains will completely eliminate pooling of water and quickly dispose of water from any rainstorm.
Professional and high grade restoration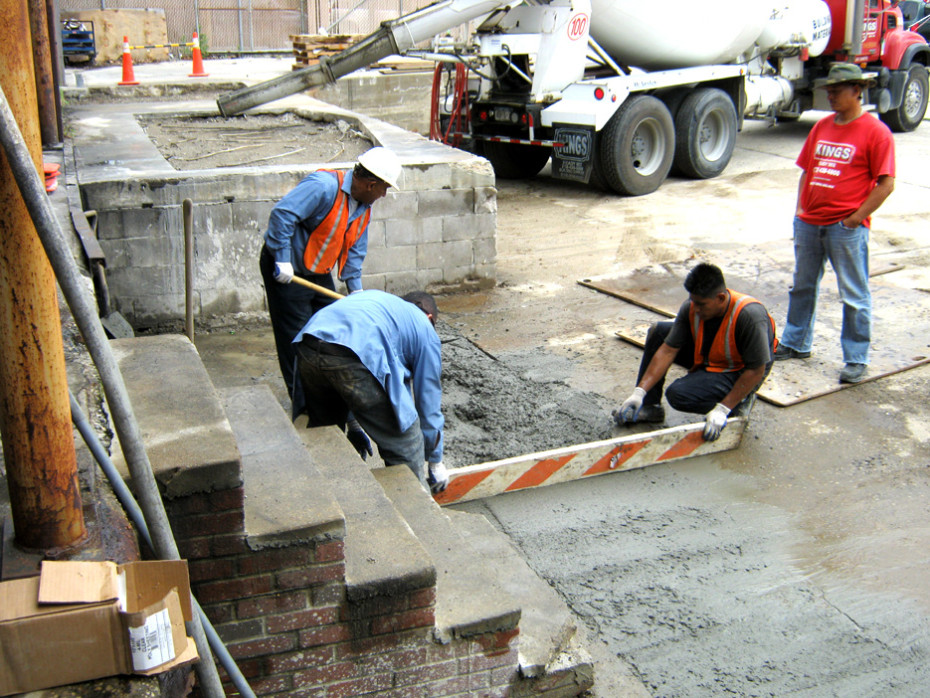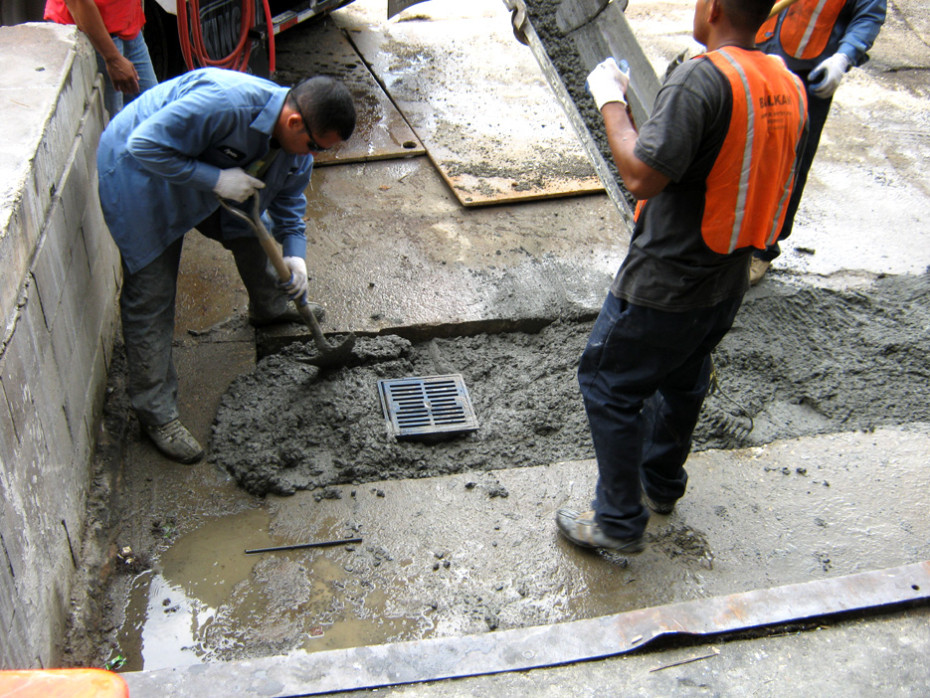 Unless disturbed areas are backfilled, compacted, and restored properly, a client may be left with a costly redo and down-time in the future. It is for those reasons that Balkan took various steps to ensure a long-lasting restoration of all disturbed areas.
All excavated material was trucked away.
Clean and dry backfill materials were trucked to the site.
The outer edge of all disturbed areas was sawcut to provide a clean and neat edge for the new concrete.
The base of the surrounding concrete area was drilled at predetermined points and rebar was inserted to provide support for the new concrete.
Specialty concrete was installed that actually NYC DOT code requirements for a roadway.
All of the above steps were done at the agreed upon price with no additional charges incurred by the client. A long-lasting and professional sewer installation is the basis for Balkan's unsurpassed reputation in the NYC plumbing industry.
The final trench drain installation has many benefits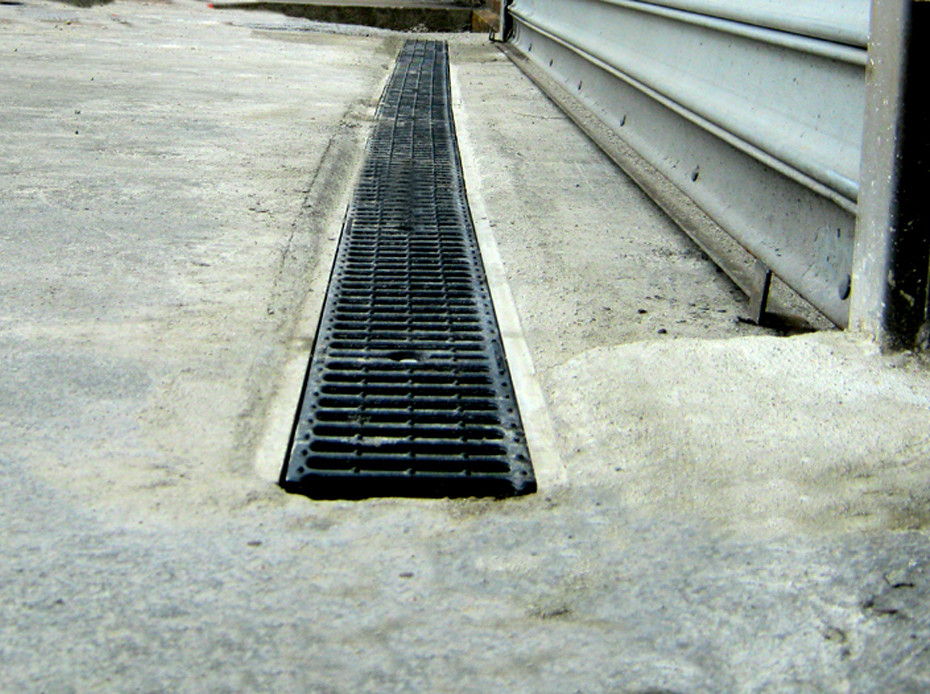 A new drainage system has so many positive aspects, yet it is frequently an installation that property owners delay for far too long. Having a more professional and safer workplace for your employees are obvious benefits. But presenting clients a clean and safe facility also has obvious benefits. The final benefit is that a new drainage system typically adds value to the property that easily exceeds the cost of the installation.
A NYC plumbing company you can trust
Most homeowners and property owners know very little about water line or sewer drain systems. Frequently the hiring decision becomes a matter of trust. After over 60 years of operation Balkan has built a well earned reputation for attending to details others may overlook and most owners would not be aware of. Quality and attention to detail do not just involve being able to stand behind a 10 year unconditional guarantee on replacements. It is a question of pride in one's work and caring about our clients on a long-term basis.
From 1952 to the present day, the Balkan family has operated under has the same company name and exact same phone number. Now doesn't that say something?