Keeping your storm drain clean is essential for a properly functioning water drainage system. Unfortunately, this important task is often overlooked until disaster strikes. Is is not advisable to try to unclog a storm drain on your own. In almost all cases, you'll need to hire an experienced professional. There are also ongoing maintenance measures you need to take. Maintenance will certainly help prevent your storm drain from clogging. This post will help you learn more about storm drain cleaning and maintenance. You should be able to take many of these steps yourself to prevent a clog.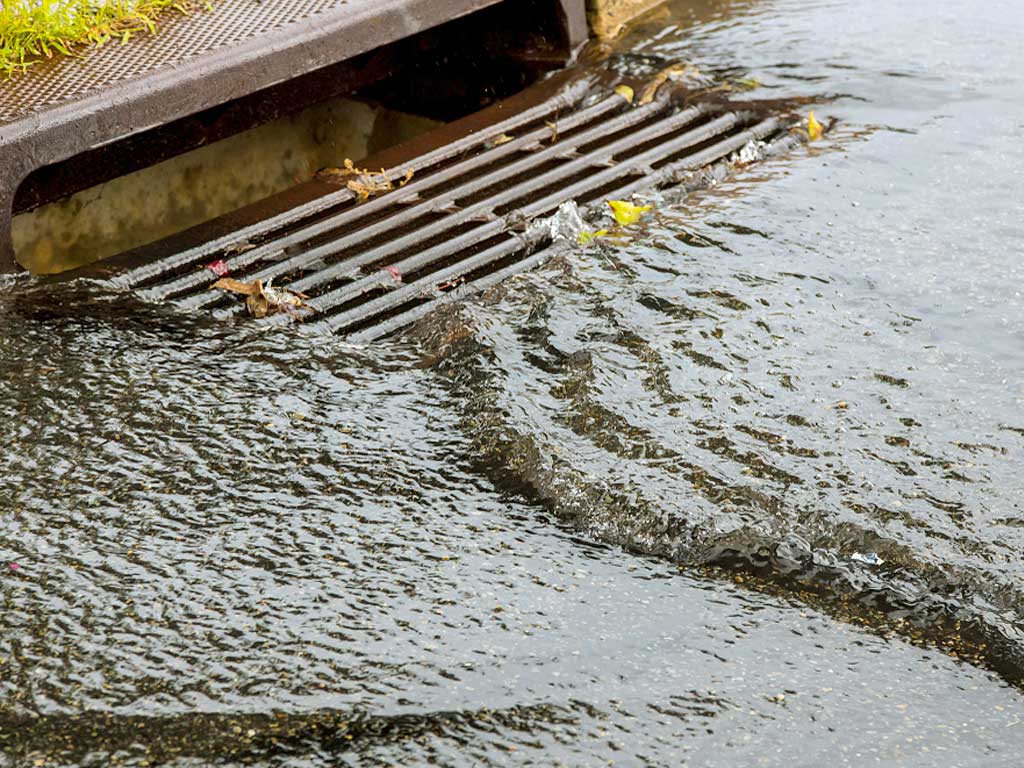 A storm drain system can be as simple as a series of drains and catch basins. In other cases it could be part of a large municipal storm water system. In either case, street gutters collect flowing water from the surrounding finished surfaces. These surfaces include pavement, sidewalks, streets, parking lots, and of course roof rain water as well. Storm drains receive the flow so that the streets and pathways do not flood.
Many people believe that water entering through a storm drain goes to the local water treatment plant to be treated. However, in reality most dedicated storm drain systems are not connected to a water treatment plant. This means the water entering into the drain goes directly into nearby streams, creeks, or rivers. Any other substance that finds its way inside the storm drain basin also goes directly to these local waterways as well. The exception to this is when the public sewer system is a combined system, accepting both sanitary and storm water. The following steps should help you to maintain a clean storm drain.
1. Inspect the top of the drain grating regularly.
Clear off the area on and around the storm drain grate. Remove debris like sticks and leaves, and anything else you find on top of the grate or in its vicinity. Disposing of it properly into a receptacle ensures it doesn't reappear in the grating. In some cases you can place a strainer on top of the grating to help keep it clear.
During the winter, check the grate area regularly for snow and ice. This ensures that after a melt the storm water can enter the drain basin freely. This way, you will keep the surrounding area from being cluttered, decreasing the likelihood that the storm drain will get blocked. On larger catch basins, do not attempt to remove the grate from the top, they are extremely heavy. It is recommended that you inspect and clear off the grate several times a month. This is especially true, before or after a storm, or before a snow melt. To learn more about yard drain maintenance read Yard Drain Maintenance And Common Problems.
2. Avoid opening and unclogging the storm drain yourself.
Unfortunately, many types of pollutants make their way into a storm drain. A clogged drain can contain antifreeze, motor oil, paints, pesticides, fertilizers, dead animals, animal excrement, toxic chemicals, and many other dangerous substances. For that reason, you should never attempt to remove the grate and clean out clogged material yourself, even with protective gloves and clothing. Especially avoid digging deep into the storm drain, where toxic materials have already settled. By doing so, you could expose yourself to harmful chemicals that pose a real health threat.
3. Call a professional to clean your storm drain lines.
It is important that you never remove the grate and try to unclog the storm drain yourself. Certified professionals have the right cleaning equipment. Professionals also follow special protocols for removing and disposing of bio-hazards and other pollutants. A variety of techniques may be used to clean the storm drain. However in many cases your plumbing professional will apply specialized equipment. This may include:
High-powered water jetting
The high-pressure jetting clears blockages from the storm drain lines and removes accumulated debris. While water jetters are is use by virtually every drain cleaner, larger jetters are frequently needed for municipal or commercial drain lines.
In some cases a vacuum truck is used to literally vacuum out the debris in a storm drain sump into the back of a vac truck. Vacuum trucks are a fairly expensive piece of equipment. Hence, they are typically owned by most residential drain cleaners.
Specialty clam shell trucks
Many municipalities and private cleaning companies own what are called clam shell bucket trucks. These are hydraulic attachments with a two part bucket known as a clam shell bucket. This bucket is inserted into catch basins and removes the sediment and debris in the bottom of a catch basin's sump.
It is recommended that you call a company to inspect and clean your storm drain at least once a year. Balkan Sewer and Water Main is the largest and most trusted plumbing company serving the NYC area. Balkan's experienced professionals provide fast, reliable service every time. In addition, Balkan is recommended by Angie's List and is accredited by the Better Business Bureau, holding an A+ rating. For more information on storm drain cleaning, contact Balkan Sewer and Water Main today.