Sometimes a tap connection for a water service line on the city main can get clogged with corrosion, sediment or a small object. A clogged tap connection or partially blocked tap connection can cut off water flow into a property or greatly restrict the flow of water. However a clogged tap can be easily cleaned and unclogged using a useful water main tool called a tap cleaner.
How does a clogged tap occur?
A connection for a water service line will usually get blocked or clogged if it is undersized or if it is an old style connection. Older style tap connections did not penetrate as deep into the city water main as modern tap connections. But even properly sized and recent tap connection can get clogged or partially blocked. In older city water mains layers of corrosion can slowly build up over the years since the pipe material generally used was cast iron. In some cases the corrosion can cover or enter the connection causing a clogged tap. In other cases a piece of the corrosion can break free and flow into the connection for a property when water is being used inside the building.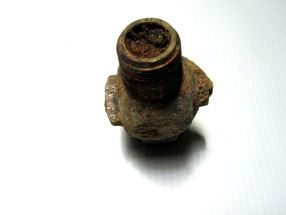 In other cases there is sediment or small pieces of various materials flowing in the water supply system that can get lodged inside the connection for a building. Many times this happens when repair or maintenance work is being done on the water supply system or an individual service line. In some cases the sediment can even be rustled up by opening or closing a fire hydrant while a water service line is also being used at the same time.It is always advisable to close the main control valve for your water service line while repair or maintenance work is being done on the public water supply system. This will greatly help avoid a piece of corrosion or some other object blocking your tap connection or entering into your plumbing system while the work outside is being performed.
What is a tap cleaner?
The term tap cleaner as used in the licensed plumbing trade is a water main tool that can be screwed on top of an exposed wet tap connection located on a city main. The tool has an inner rod that is usually threaded but sometimes the rod has a smooth finish and has a gasket around it.  Both versions of this water main tool allow the rod the be lowered into and through the connection and to push out any blockage that is the cause of the clogged tap. The important thing to note is that no foreign material or object is introduced into the drinking water supply, so there is no chance of contamination. In addition no water leaks out during the process because the tool is water tight.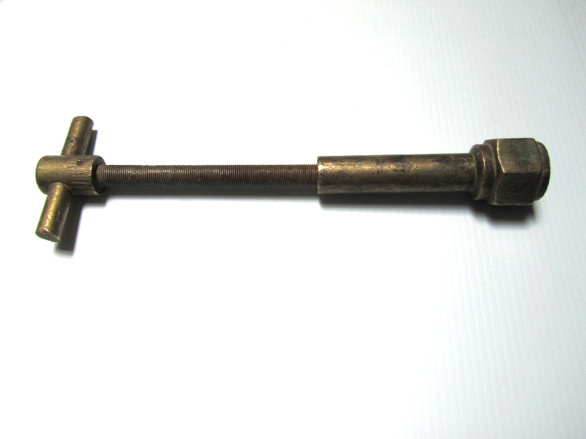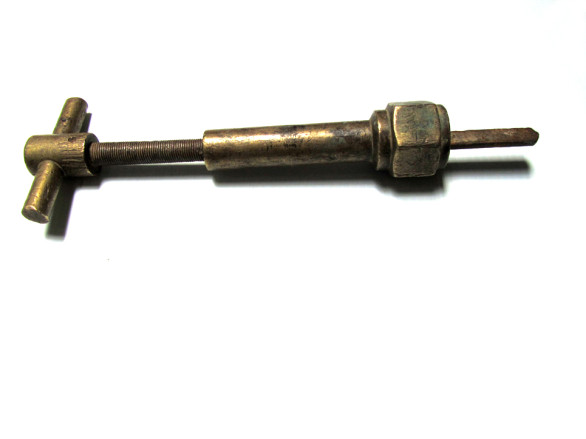 It is illegal to introduce any foreign matter into the public drinking supply. That is why the only other feasible way to clear out a clogged tap is by using air pressure. Not only is air pressure less likely to be successful but if misused excessive air pressure can actually blow apart house plumbing or the city water main itself.
The tools of the water main trade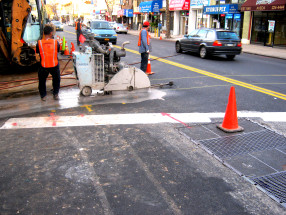 Being a water main contractor is a niche business within the traditional licensed plumbing industry. One may think that the only thing that separates a water main and sewer contractor from a regular plumber is a shovel. But a tap cleaner is one of many specialty tools used within this specialized industry. Among the many specialty water main tools used are underground pipe locators called M scopes or tap locators, sewer sondes are used to locate sewer lines. Flaring tools are used to flare the ends of K copper tubing and connect to approved brass fittings. Even in the process of passing and completing a tunnel between holes pipes are cut and connected called 'blow pipes' which compressed air are passed through. In other cases an underground piercing tool may be used to complete a tunnel when no utility lines are present. Another specialty tool is a roadway saw which is used to cut through a road without having to use jackhammers.
To be capable of performing high quality sewer and water line installations means investing in very costly excavation equipment, high powered air compressors, and a skilled work force in addition to specialty water main tools of all sorts.
A little bit about water service line connections
A wet tap refers to a connection made into a NYC or public water main for a water line for an individual property. In NYC before the advent of cast iron water main pipes a NYC water main was actually constructed out of wood. The common term 'fire plug' refers to a time before fire hydrants. When a fire erupted the firemen of the day would actually cut a hole into the wooden NYC water main in order to have access to water and attempt to put the fire out. This actually was a step up from a 'bucket brigade'. At the conclusion of the fire, and the need for water, the opening made for fire department use would be plugged. Hence a 'fire plug'. A wet connection for a main water line would be installed in like manner.
Wet Tap Connection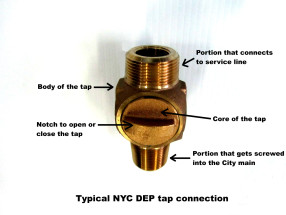 The tap, sometimes called a wet tap, is the connection from a main water line to the NYC DEP owned water main usually located in the roadway. If a connection is undersized it will not permit proper water volume to enter a premises no matter how large the water line itself is. This is even more of an issue in the old Jamaica Water territory that the NYC DEP took over in the 1990's. A new tap costs around $300.00 which is a small price to pay for ensuring a correct main water line job. [Read more about water service line connections]