When questioning some aspects of your home, the efficiency and condition of your water supply line should be amongst the things on your checklist. Water is what makes your life run smoothly. From using water it in food preparation, house cleaning, good personal hygiene, to water being an integral part of your quality of life. That's why it should be a top priority in making sure your water supply line is in sound condition. Likewise, when you require an expert in water supply line replacement, it's good to know who to count on.
Regardless of your jurisdiction, you'd be best to depend upon licensed, insured, and experienced water line experts. Only an expert will be familiar with code requirements, proper materials, and the required size. And, they should provide top-notch services that come along with long term guarantees. The only hurdle is how to find a trusted water supply line replacement expert.
Here are quick facts to finding ideal experts in your neighborhood:
Are appropriately licensed and have an ownership stake in the company
Have vast working experience, which you can check using online resources
Proven portfolios and reputation visible online and upon request
Getting a true subsurface plumbing expert into your home may seem challenging. Subsurface plumbing work is a niche field within the plumbing industry. This can intimidate many property owners when they undertake such a search. In some cases unscrupulous contractors may purport to know the plumbing craft. However, when presented with the project, they end up tarnishing the reputation of the expert plumbers who diligently accomplish the task of a water supply line replacement.
Whether you're searching for a water line repair technician or want a full replacement, contact a company New Yorkers have trusted for 70 years. Balkan Sewer And Water Main Service prides itself in offering quality services, and has integrity in all of its dealings. Our client list of around 80,000 of satisfied folks bears that out.
Here are reasons why Balkan is the renowned Water Supply Line Replacement Expert in NYC:
Quality Customer Care at Any Time of Day or Night
The first impression everyone looks for is being welcomed as a new or returning customer. And, this is what Team Balkan is devoted to acknowledging from your fist initial contact. When you make a call, send an email, or visit our centrally located offices in Queens, you will always get a warm welcome. Your very first or any following inquiry will be treated with the attention that it deserves.
Our customer care is supportive and will guide you through the inquiry until you find the required satisfaction. We are your ultimate plumbing partner for all residential and commercial properties.
Free Site Visits and Visual Inspections
The first step to assessing the type of problem in your water line is through an on-site inspection. Balkan provides site visits at no cost, and at no obligation to hire us. When you are aware of an impending problem, we reach the site to know whether you need a sewer repair, water main replacement, sewer line replacement, new installations, or line disconnections affecting your water line. As a matter of fact, Balkan has a guaranteed response time of 4 hours or less.
After an inspection, that's when our professionals show their expertise at a proper diagnosis. The free inspection is an indication that we value a solution and a correct diagnosis, above selling you a job. It's only after an evaluation that you'll be presented with an on-point estimate of the total cost of the repair or replacement. These are yet more reasons to contact Balkan for all your sewer, drain, and water supply line needs.
Expert Craftsmen
Even though many companies tout their own reputation, Balkan's reputation is based upon their client's true five star reviews. This success is a true team effort. Before, during, and after your installation we are devoted to exceeding your expectations. A team of experts who enjoy their work is what Balkan is composed of, a true company-wide commitment!
Our company technicians and representatives have constant in-house training on the latest plumbing methods, equipment use, company processes, and expectations. All of this results in our team acquiring the relevant skills to provide superior sewer and water main service. This is a vital reason why Balkan is "The Team You Trust". Making Balkan the market leader in NYC.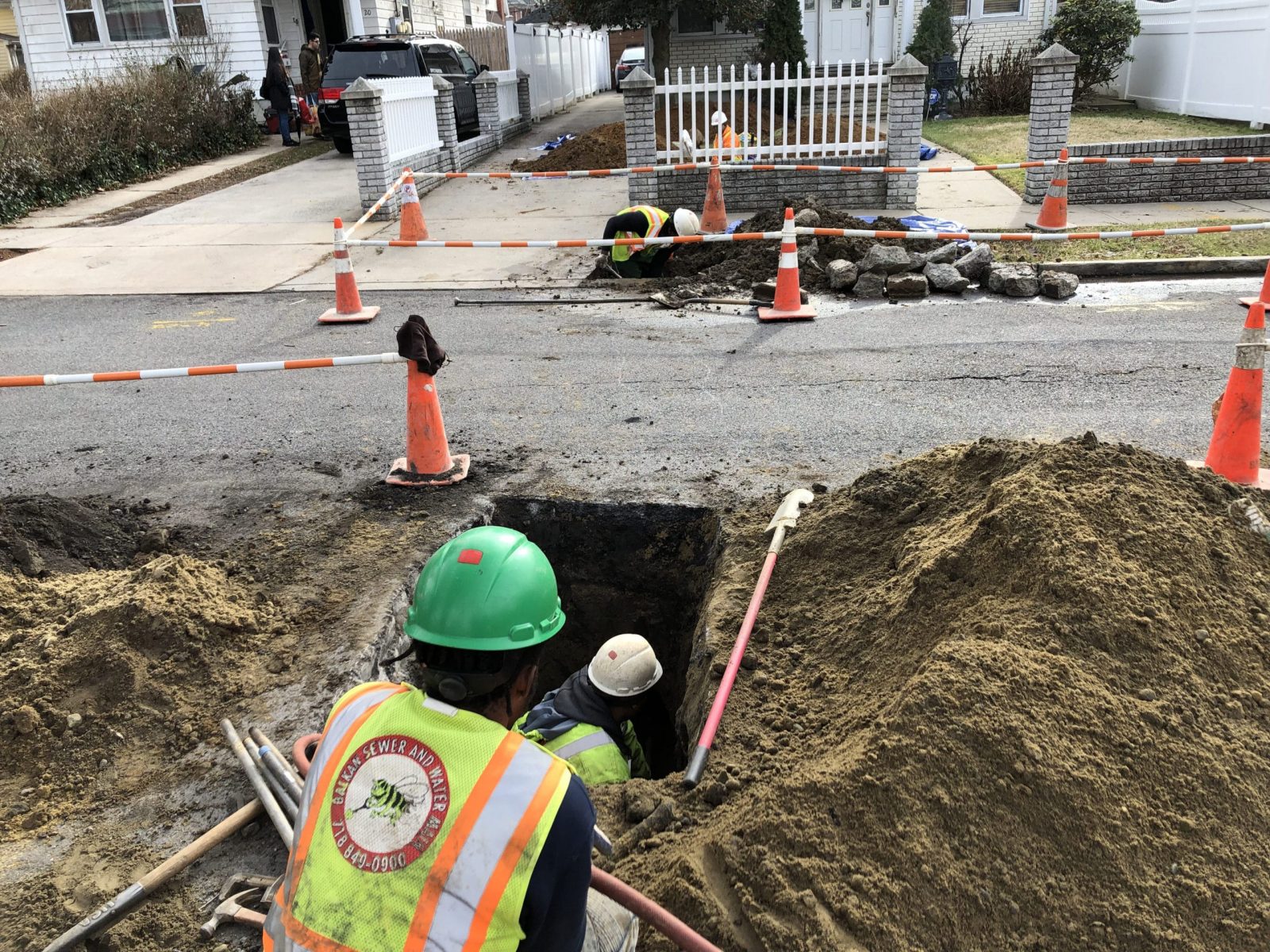 A 10 Year Unconditional Guarantee
When looking for a caring partner, a company offering an unconditional guarantee tops the list. And that is the peace of mind that Balkan offers and prides itself on. Each and every sewer and water main replacement comes with a ten-year unconditional guarantee. Our guarantee covers materials, labor, permits, and any associated restoration that may be required.
We offer a ten year guarantee because we take the utmost care and consideration when working on your project. Each task is undertaken using the best approach, and utilizing materials that meet or exceed code requirement.
Up-to-date in Plumbing and Technology Trends
Remaining competitive in any marketplace requires that a company stay on the cutting edge of available, tools, and technologies. Being a sewer and water main contractor is no different. That is why we continuously train our workforce, and upgrade our equipment and tools. Balkan has and in-depth knowledge of the latest skills, alongside with utilizing the most modern and current equipment.
This trend makes us have the integrity and proud history of serving New Yorkers in both residential and commercial properties. When you reach us for a project, we start it as agreed, finish as promised. Our quality assurance team even provide post installation follow up visits without you even asking!
Fully Licensed and Insured
Another reason to hire Balkan is that we are fully licensed and insured. That is something you might mistakenly take for granted. Balkan is not just the largest sewer and water service line company in NYC, we are the oldest such company operating under the exact same company name. Balkans offers our exemplary services at affordable price points. Superior service and performance does not have to cost more!
We are a company offering literally decades of experience in performing sewer and water line replacement services in New York. Our credentials and reputation have allowed Balkan to become trusted vendors of national and international companies as well.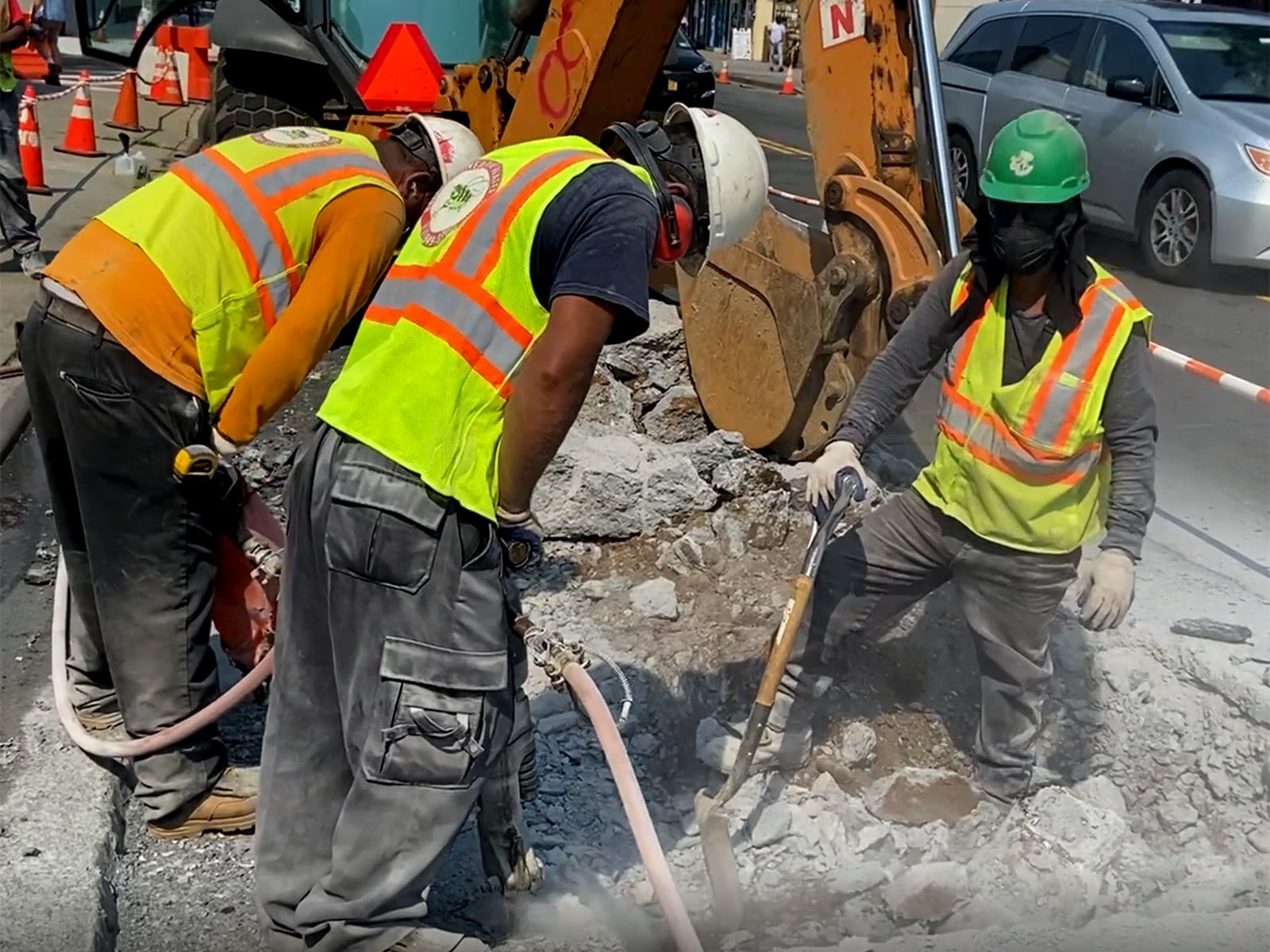 A Proven Reputation
One good way to make a hiring decision is through a company's reputation. It can be through negative reviews on social media sites, the website, or comments from former clients. And, if you have to settle on a company, this factor should be something to aid your hiring decision and give you peace of mind as well.
One of the reasons Balkan is such a trusted brand is due to its reputation within the New York City area. Homeowners, commercial property owners, building managers, and even other plumbers trust Balkan without hesitation for their sewer, drain, and water main work.
What's More?
Knowing the quality of service you require spearheads any decision. With that said, Team Balkan is your one call to make when you need a water supply line replacement expert. Regardless, of whether the need is residential, commercial, domestic use or fire protection, trust Balkan.
Balkan Sewer And Water Main Service is the partner to look for any day call us today for an inquiry or book an appointment to solve all your water line problems.
Expert Water Main Repair and Water Line Replacement
The Balkan Team provides expert home water main repair and water line replacement. We have expertise in all types of NYC underground plumbing. Balkan Sewer And Water Main Service was founded in 1952. Since its inception, the foundation of the company has been based upon integrity and honesty in all of our dealings. That solid foundation has enabled us to thrive in every economic climate. That is why guiding you through the decision of doing a sewer repair vs sewer replacement exemplifies our company culture of educating consumers. We feel the more you know, the better we'll look. The year 2020 actually marks our 68th consecutive year in business under the same family guidance. As we have grown, we have become increasingly dependent upon a "Team First" approach. What helps ensure a continuation of our high standards, overall integrity, and high company morale, is that same team approach. Complete client satisfaction has always been the number one goal at Balkan Sewer And Water Main. That is why we are NYC's largest and most trusted sewer and water main service in New York City. Simply put, if it's plumbing, and it's underground, we do it. For almost 70 years, and for over 70,000 New Yorkers to date, Balkan is "The Team You Trust".