New York, USA (MAY 4th 2010) FOR IMMEDIATE RELEASE:
The NYC Department of Environmental Protection and the NYC Department of Buildings have stated that sewer linings, often called "trenchless" sewer repairs, are "Illegal" and "Not an approved repair method". There are many very good and important reasons why pipe lining is not approved in New York City.
Some of the reasons sewer liners are illegal:
Liners coat defects without correcting them (back-pitched pipe, disjointed pipe, root intrusions, crushed pipe, etc.). Liners are NOT a repair process.
Sewer Liners cut off branch connections (area drains, rain leader lines, storm sewer connections, neighboring connections, etc.) and stop them from functioning.
Liners can intrude into the Public sewer system and cause far reaching problems.
In its over 50 years of existence Balkan Sewer and Water Main Service has never installed a liner, or trenchless sewer installation. If you have had such an installation performed, or been victimized by a contractor performing such an installation, please email us as you may be entitled to a complete refund.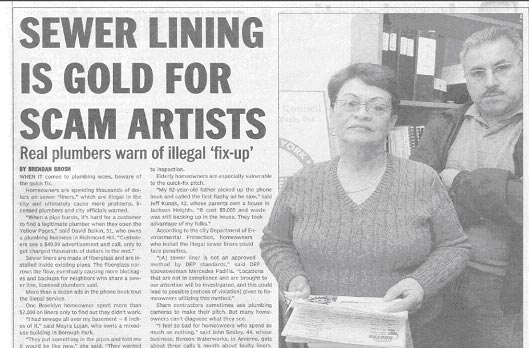 This liner was installed one day…..and ripped out the day after is was reported.
Liners for house sewers are not legal.
We Seek to Protect Homeowners From …
Unlicensed and Licensed Contractors performing illegal sewer liner installations for unsuspecting Clients. We welcome requests for further information from you, and instances where these illegal liners were installed. We hope to stop these illegal installations and aide property owners in financial recourse where these illegal liners have been installed. This web site has been instrumental in having credit card charges reversed, and having illegal liner installations removed.
The liners-r-illegal web site is no longer operational. However inquiries can be made to The Master Plumbers Council or the NYC Subsurface Plumbers Association.