Underground drain line repair work, by its very nature, routinely presents unexpected challenges. How things appear to the naked eye on the surface, have little to do with what may be encountered once excavation begins. In addition, what may seem like a simple alteration of a drain line to a home owner, can actually create a code violation and present future problems. An underground drain line repair in Brownsville Brooklyn came to illustrate all of these points.
Filled in ground affects drain line repair
In many areas of NYC fill was used to  raise the existing level of the landscape. Mill Basin, Canarsie, Howard Beach, and Battery City Park are just four such areas. Until relatively recently the fill material that was used was not monitored. Meaning that frequently the fill contained both organic and inorganic debris, and various items that could not be properly compacted.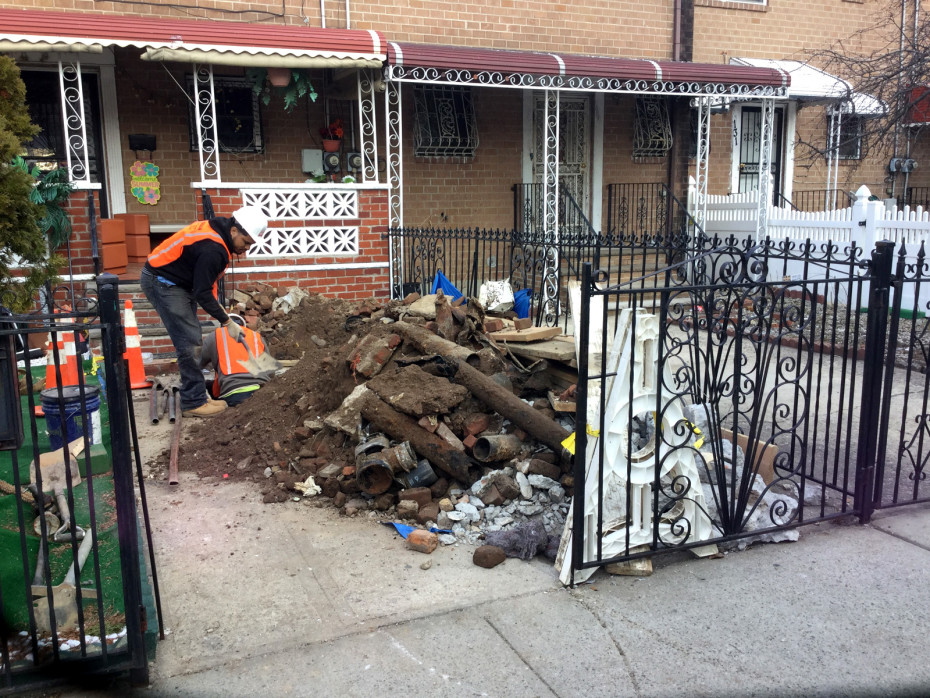 Not only does poorly monitored filled in ground result in sidewalks, roadways, and structures sinking, but drain pipes as well. Sometimes in these cases pipe hangers can be of help in supporting the pipe. But more important in preventing a future drain line repair, is making use of superior pipe materials. In the case of this home in Brownsville, no hub pipe had been used for sections of the underground drain line.
The importance of high quality drain pipe materials
Drain pipe is manufactured in various grades, materials, and styles. No hub pipe is a thin walled pipe, classified as service weight pipe. It is prone to rot out quicker; and both crush and crack quicker than extra heavy cast iron soil pipe. In addition, because as its name suggests it has no hubs, it is much more prone to separate and dislodge. That is because no hub pipe is joined together by stainless clamps. attached on each end of the joining pipes. These were all factors necessitating the underground drain line repair in Brooklyn.
If extra heavy cast iron pipe had been used at this location, the likelihood of a drain pipe failure would have been greatly reduced. Extra heavy cast iron pipe has a much thicker wall, and because it has a hub on each end, it is much less likely to dislodge when settlement occurs.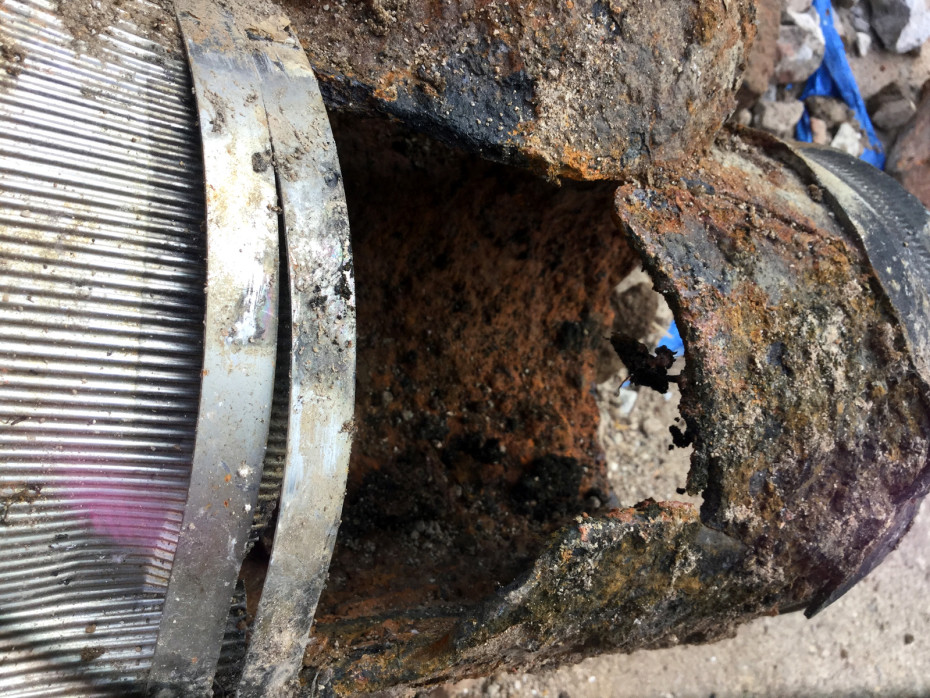 An illegal drain line connection must be removed
It is not uncommon for a handyman, or a homeowner themselves, to add a plumbing fixture drain to an existing drain line system. Unfortunately, it is also very common for the work not to conform to plumbing code or good plumbing practices. In the case of this drain line repair in Brownsville, someone had added a 2″ drain outlet to the main house drain, just inside of the foundation wall. Drain lines cannot be connected to the house drain on the street side of the house trap, and that is with good reason. The main house trap acts as a barrier to prevent sewer gases from escaping into a home. Violating that principal not only results in a potential plumbing violation, but a quality of life issue as well.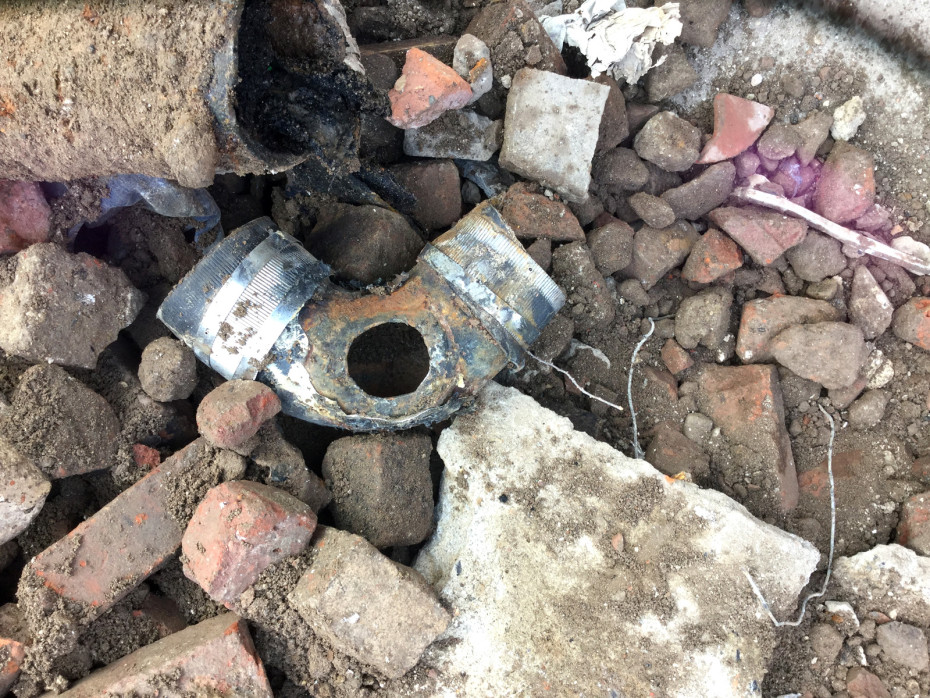 An underground drain repair done properly
When Balkan Sewer And Water Main Service performed this drain line repair, it was with diligence. Not only was the illegal drain connection removed, and a higher grade of pipe used, but the poor quality filled-in ground was removed. Re-using the poor fill can not just result in ground and pipe settlement, but possible water damage as well. As poor quality back fill fails to properly compact, voids are present.
When rainfall occurs, underground voids become a pathway for rain water to follow the excavation into a basement. This is particularly true after recent excavation work. That is why Balkan imported clean backfill material, and trucked out all of the unsuitable excavated fill. This was not required by code, but a sign of having integrity and standing behind one's work. These are two of the reasons why more New Yorkers trust Team Balkan to attend to their water and sewer line repairs than any other contractor.