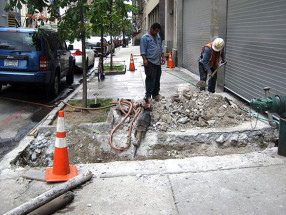 If it's underground Balkan can fix it – main water line, sewer line, oil fill line, steam line, any line at any time. One of the things that Balkan prides itself on is working seamlessly with other tradesmen. So when a potential environmental issue arose in Manhattan concerning an underground oil fill Balkan was integral in solving the problem quickly, efficiently, and safely. When an underground oil fill line becomes defective it has the potential to leach oil into the ground, not only causing a loss of valuable heating oil but a potential environmental issue as well.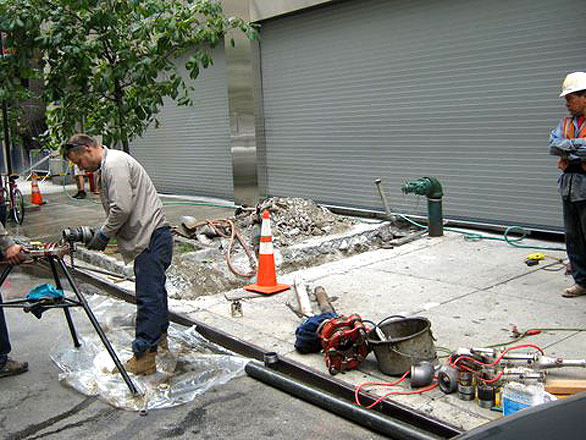 Working in conjunction with another licensed tradesman Balkan Sewer And Water Main Service completed all aspects of the underground repairs:
Securing required NYC DOT permit, which mandated weekend only work.
Complete break-out of the sidewalk affected by the damaged oil line.
Excavation exposing the entire line from the curb line into the building.
Complete installation of a new oil fill line including proper insulation.
Backfill and compaction of the excavation.
All debris removed from the site and left broom clean.
All work completed the same workday – with the sidewalk ready for pedestrian traffic Monday morning.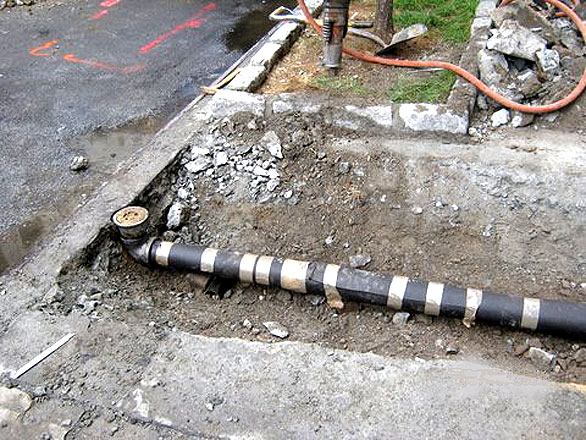 What may seem like a simple main water line, sewer line, or other service line problem can get complicated when proper coordination and expertise are not utilized. A licensed plumbing contractors job is to take the extraordinary and to make it ordinary. At Balkan there is a fully staffed office open for 12 hours a day with a principal of the company on hand at all times. After hour calls are typically responded to until 10PM and likewise monitored by a principal of the company. Even though Balkan is the largest sewer line and main water line service company in NYC we still provide personal, professional service, and cater to your particular job need – even a broken oil fill line in a NYC sidewalk.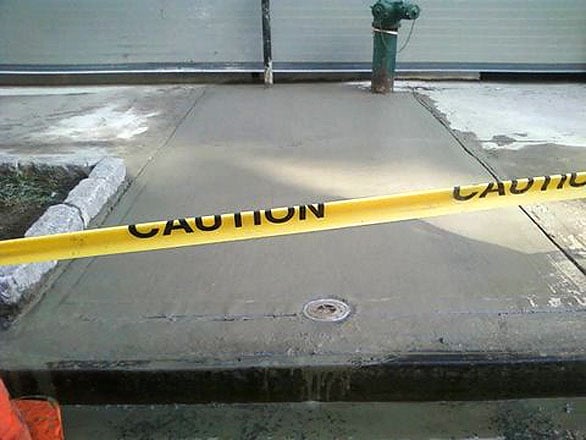 About Joseph L. Balkan, Inc.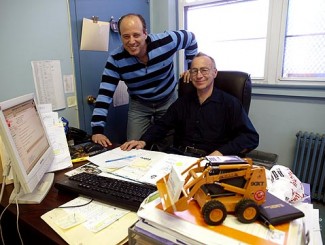 Balkan Sewer And Water Main is the largest sewer & water main replacement company in NYC. We are licensed, bonded, and insured. As a family run business in continuous operation for over 50 years. Our 10 year unconditional guarantee* on replacements means that we continue to stand by our work, long after the job is done. We are expertly equipped, from our 48,000 square foot facility to dozens of trucks, heavy moving equipment, backhoes and pneumatics. Choose Balkan Sewer And Water Main for your next sewer repair, water main installation, water repair, water line leaks, NYC DEP violations, sewer replacement, water line replacement, sewer trap, backwater valve, hydrants, manholes, specialty water main work, area drain, and trench drains. Contact Balkan Sewer And Water Main today for expert advice or a free and no-obligation site visit