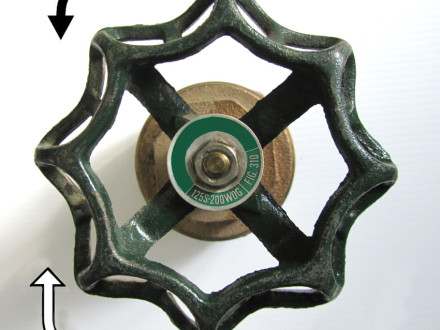 Proper water valve maintenance, and safe gate valve operation, may sound too technical and complicated for the average homeowner.  But actually it is neither. Understanding some simple principals of gate valve operation, and how to maintain this device, should be standard knowledge for a homeowner. Just like most homeowners know how to open the fuse box and switch, a fuse back on.
The main control valve on the house water service line is the most important of all the water valves inside a house. If left untouched over a long period of time, corrosion can build up inside of it or it can become frozen in place. Exercising the valve, by opening and closing it on occasion, takes only a few moments. Doing this can save costly repairs and aggravation at a later date. Water valve maintenance should be part of any property owners list of annual duties, but it rarely is. Likewise proper gate valve operation can save on costly repairs, and breaking the valve unnecessarily.
Three Rules of Water Valve Maintenance and Gate Valve Operation
1. An initial question that most people and even many licensed plumbers have is 'How many turns will it take to close a valve?'. It is generally accepted that three times the size of the valve, plus one or two turns, will fully open or close a valve. This is a very important bit of information when it comes to water valve maintenance. Below is a guide for number of complete turns, but different valves and devices from different manufacturers can vary:
Approximate number of valve turns:
1" valve = 5 to 6 turns
1 ¼" valve = 6 to 7 turns
1 ½" valve = 6 ½ to 7 ½ turns
2" valve = 8 to 9 turns
2. Even pressure or 'torque' must always be applied when turning a gate type water valve. If a valve will not completely stop water flow never increase the amount of pressure being applied. If excessive pressure is used the stem can snap leaving the gate frozen in place. In some cases the gate can drop to the bottom of the valve body and water supply to the building will be interrupted.
If the valve will not close fully or turn for the correct number of turns there is simple advice on how to deal with that without the danger of breaking it. Downstream from the valve open a faucet of some other plumbing fixture. Gently close the valve and then reopen it. This action will cause any corrosion or sediment inside the body to break free and flow out of the valve body and exit the plumbing system through the open plumbing fixture. This should be repeated a minimum of three times after the gate closes completely for proper valve maintenance. The number of turns should be counted each time so you can see if progress is being made.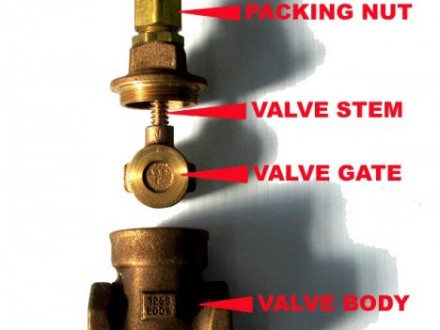 3. If the handle does not turn easily loosen the packing nut at the base of the stem of the valve that is on top of the bonnet. Loosening it a turn or two should be quite sufficient to loosen up the handle and does not pose any threat or danger. If water starts to drip out do not panic, it will stop once the packing nut is tightened back up.
Sometimes attaching a pipe wrench around the handle can supply the needed leverage to turn a frozen valve – but again never apply excessive force. The key is always to apply even pressure at all times, especially when added leverage is used.
If after proper steps are taken, the valve still will still not close fully, a water valve replacement should be performed. Even at this point, refrain from using brute force which would only make matters worse. In some cases if the existing water valve only lets a trickle of water, it can be "jumped". That is a term that means the old valve is left in place, and a new one is installed right after it. This is a minor plumbing repair and does not require any sidewalk or roadway work. If this repair can be accomplished, the handle should be removed from the defective valve so it is not mistakenly handled in the future.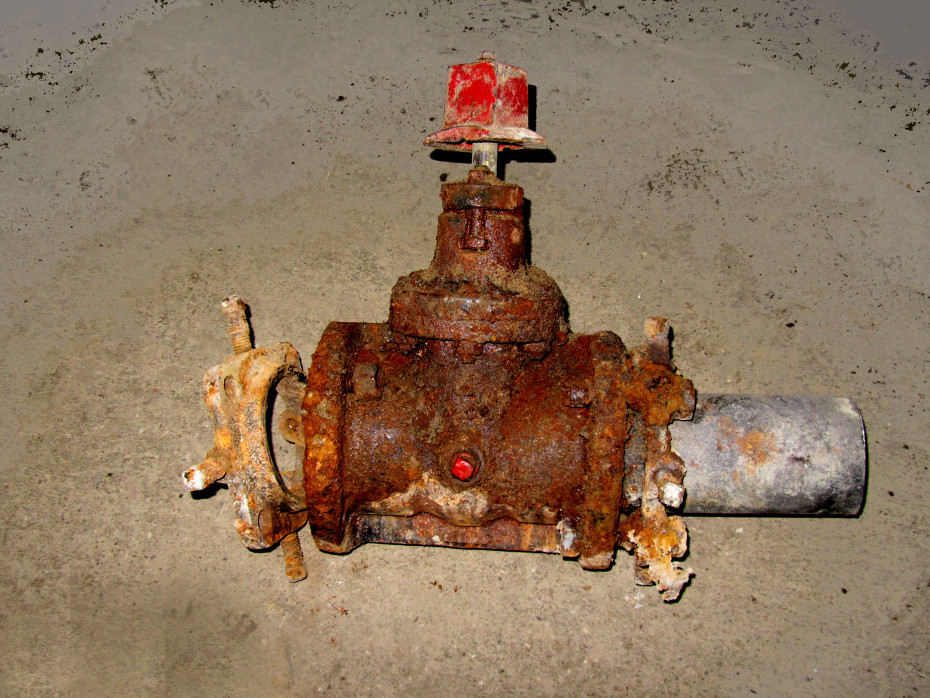 In some cases a sidewalk valve may exist, this is known in the trade as a curb valve or as curb stop. These type of valves should only be handled by a licensed plumbing company as they pose many challenges. Curb valves also require a special key in order to be operated properly. If an operational curb valve exists, a defective water valve can be more easily changed or repaired. A curb valve also comes in quite handy when water valve maintenance is required.