Water line repair cost varies from borough to borough in NYC. It also varies depending on the type and size of the water service line. However most water line repairs fall into two categories, and the costs typically fall into a certain range. Likewise, the size of the line to be repaired falls into two distinct categories that affects the price as well. Typically a water line leak can only be repaired if it is clear where the point of the leak is. If a water line leak is at the connection to the city main that is one category. If a leak is at a curb valve or next to a foundation wall is the second category.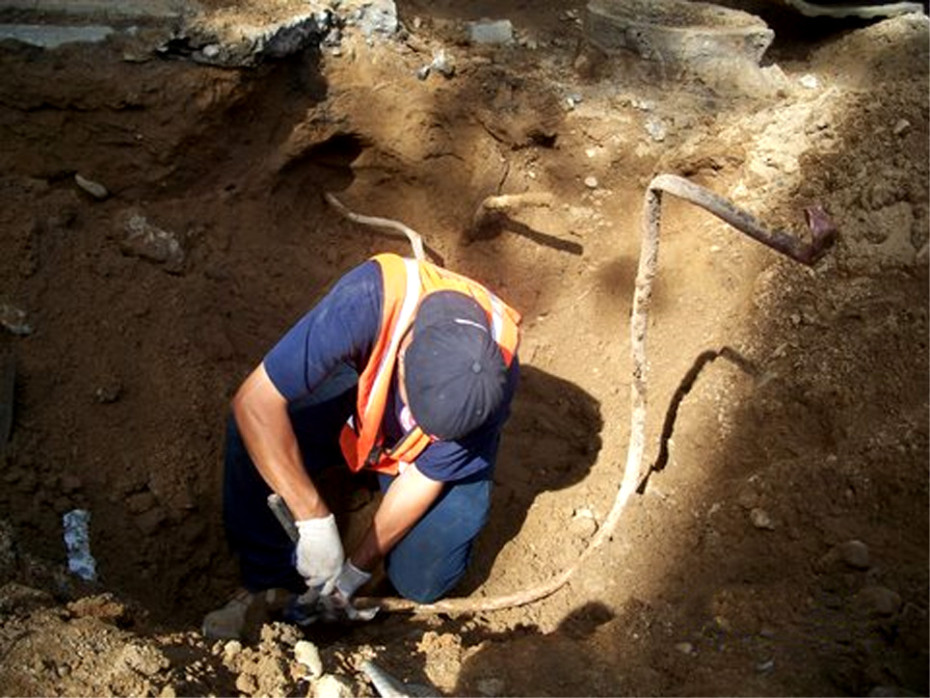 The prices and cost structure in this article have been updated to that of 2019. The original article was written in  2013. This was done to meet our end goal of providing an up to date and accurate tool for property owners.
Water line leaks at the tap or wet connection
Most repairs to an existing water line take place near the tap or wet connection on the city water main. On water lines that are leas than 40 years old a repair may make sense. This is based upon the fact that most water service lines last about 50 years or so. The reason many leaks occur at the connection is because that is a point of stress on the service line. Settlement over time may cause the line to shift or settle, and frequently leak at the point of connection to the City main. Leaks near the connection are also candidates for a repair because the point of the leak is clear, leaving little chance of making unnecessary holes.Because the point of connection to the tap is a stress point, the copper must have a swing (a turn in the line). This provides slack in case of ground settlement or shifting. .
Tap hole repairs, as they are known, typically are done in just one day by a two man crew. This applies to service lines that are up to 2″ in diameter. In the outer boroughs of NYC most tap hole repairs will cost between $2,800.00 and $3,200.00.
A water line repair cost in Manhattan is typically more expensive
Water and sewer line work in Manhattan is always more difficult and correspondingly more expensive. Underground utility obstructions, pedestrian, traffic congestion, and other factors make this so. Likewise repairs on larger sized service lines are more expensive. Larger water service lines are more frequently found in Manhattan, are also more expensive.
All water line repair costs have variables. Some of the variable can include if a roadway was be recently paved, or if the NYC DOT issues a permit with restricted work hours. In other cases the leak may have caused a roadway washout, which the NYC DOT typically holds the property owner responsible to repair. These and other factors always affect the cost.
Water line leaks around a sidewalk curb valve
A sidewalk curb valve is also a stress point on a water service line. There are two joints on each side of the valve, and the valve box may also be exposed to traffic. These are reasons why this is a point that frequently leaks. Just like a tap hole repair, this is a candidate for a water service line repair. That is because the point of the leak is easily determined. One of the cost factors of a repair is if the roadway has to be opened to turn off the water. If after closing the sidewalk curb valve the leak stops, the roadway will not have to be opened.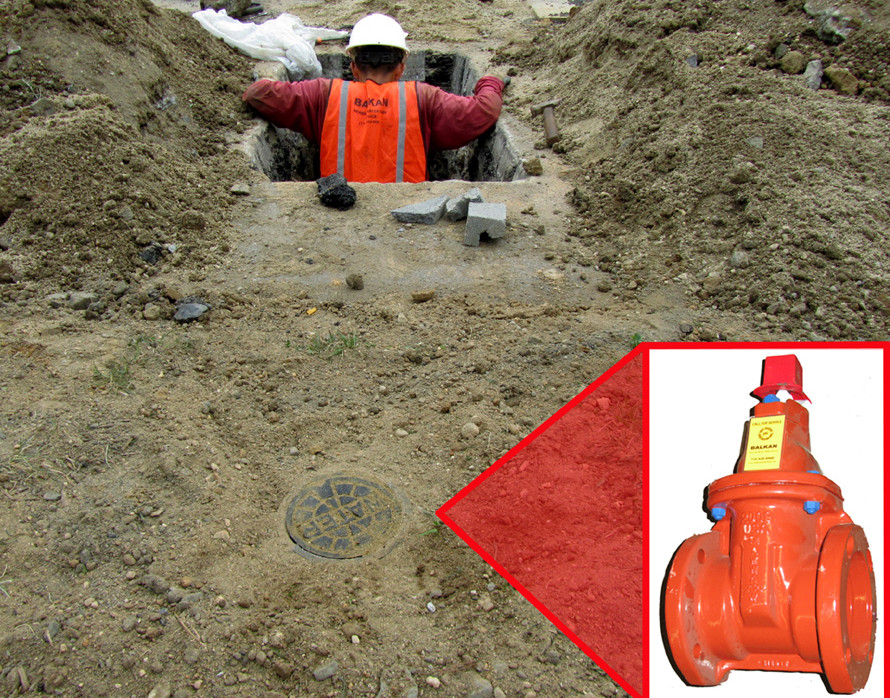 If the roadway must be opened it adds to the cost
If the roadway has to be opened to perform a repair around a curb valve the typical cost in the outer boroughs is from $3,500.00 to $4,300.00. Many factors affect this price including the amount of sidewalk cement that has to be restored. If the roadway does not have to opened to repair a sidewalk leak the typical price range is about the same as a tap hole repair. The price range would be between $2,900.00 to $3,600.00. Note that it is not legal to repair lead water lines or galvanized water lines.
Water line leaks near the foundation wall
Water line leaks near a foundation wall are also quite common. Because New York goes through freeze and thaw cycles, the ground near the foundation wall shifts during the seasons. This becomes a weak point for a water service line installed through a concrete foundation wall. As with all water service line repairs, if the line is over 40 years old, a repair should not be considered. Unless there is an operational curb valve, the roadway will have to be opened to close the water before a repair can be done.
The water line repair cost for a repair near the foundation wall will be identical to a sidewalk repair. It will require the same permits, material cost, and labor. The only savings may be that no cement typically will have to be broken. When a water line is repaired through a foundation it is a good idea the place a sleeve around the new line. A flexible plastic sleeve will protect the new line from rubbing on the concrete wall if the ground shifts or settles. Typically plastic irrigation tubing a size or two larger than the copper line is used.
Pipe size affects water line repair cost
Water line repair cost is generally affected very little by the size of the line. K copper is used for all water service lines up to 2″ in diameter. So whether a line is 3/4″ of an inch or 2″ the material price difference is less than $200.00, if that much. Lines larger than 2″ are typically ductile iron pipe, and in rare cases brass pipe. Almost all repairs on a line 2″ or smaller can be completed in one day with two or three men. That is not the case with larger lines, such as on Ductile Iron Pipe. Most repairs on Ductile Iron Pipe will take two days. In addition ductile iron pipe costs substantially more than K copper water tubing. Typical water service line material costs for a ductile iron water service line repair are around $1,500.00. Typical water line repair cost for a ductile iron line are two or three times the amount of a similar repair on a smaller sized line.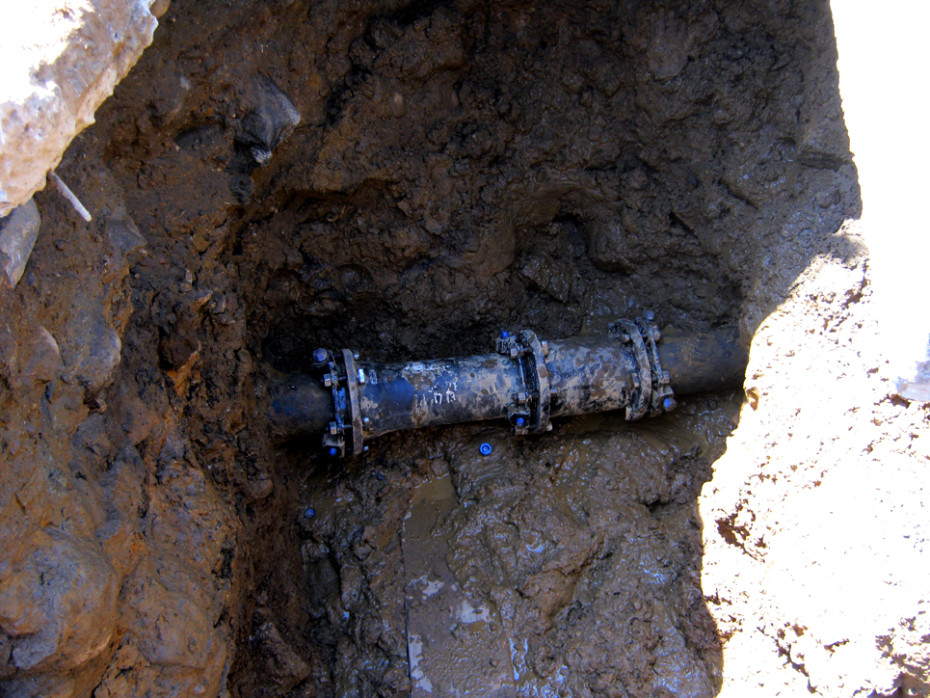 Water line repair vs. full replacement
How do you decide whether to do a water line replacement or just a water line repair? Thousands of property owners are faced with that question every year when a water main requires repair work. There are sensible guidelines to follow and some sound advice as well. This article will attempt to supply valuable information and helpful advice to the general public.
The 3 Factors Needed To Make A Wise Decision:
The material the existing water main is made out of.
The age of the existing water main.
The difference between water line repair cost and a water line replacement cost.
About Balkan Sewer And Water Main Service
Balkan Sewer And Water Main is the largest sewer line replacement and water main service company in New York City. We are licensed, bonded, and insured. As a family run sewer and water main company in operation for over 67 years, our 10-year guarantee means we continue to stand by our work after the job is done.We are expertly equipped, from our 48,000 square foot facility to dozens of trucks, heavy moving equipment, backhoes and pneumatics. For all your subsurface plumbing including; water main repair and water main replacements, sewer repair and sewer replacements, catch basins, fire hydrants, manholes, and specialty excavation work, we can help. Contact Balkan Sewer And Water Main today or visit www.balkanplumbing.com.