Recently an emergency water line repair was needed in Richmond Hill which is located in the Southern part of Queens. Late on a Friday afternoon NYC DEP field forces had just completed making three excavations to locate and determine the cause of a street leak. Unfortunately for a convenience store the water service line feeding their property was the cause of the street leak. The DEP closed off their tap connection and issued them a Ten Day Notice. A Ten Day notice from the DEP means that the water service line has already been turned off due to a leak. The notice threatens to terminate the service if repairs aren't done in ten days. A DEP Ten Day Notice threatens to terminate a leaking water service if the water line repair is not completed in ten days. The DEP shutting off water supply is stressful enough, but in this case it was a Friday afternoon and the water supply was for a 24 hour grocery store. To make matters worse water cooled refrigeration units for the store depend upon water to work and keep food from spoiling. This was not a water line repair that could wait until Monday – it needed emergency weekend service.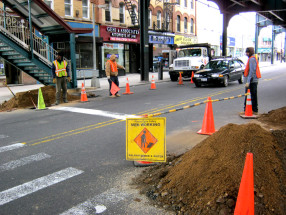 Balkan Sewer And Water Main Service is a trusted NYC water main contractor that is located in Richmond Hill, minutes from the job site. They had a representative on the site within minutes and arrangements were made for an emergency crew to come in early Saturday morning and restore water service for the store.
At around 8 AM as promised the crew arrived and got to work. because the work was on Liberty Avenue, a very busy thoroughfare, safety was important. Flagmen carefully controlled traffic in both directions while the installation crew worked as a team to install the new water line. By 2PM the new line was in, the water line repair almost complete. The last detail was that the new 1 1/4″ line, which replaced a 5/8″ lead line, needed a new tap connection. The old wet tap connection was only 1/2″ and way too small to properly service the entire building.A wet tap connection that is too small will not provide proper water pressure to a building no matter how large the size of the water line.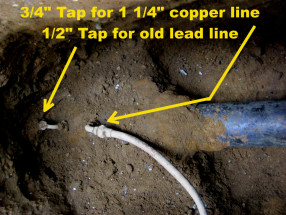 The crew foreman made a temporary connection from the 1/2″ tap to the new 1 1/4″ K copper line and restored water to the store. Mission almost accomplished. The last detail was a very important one. Connecting a larger water service line to a small tap connection would still not provide proper volume of water into the building. Balkan placed a steel plate over the tap hole and made arrangements to receive a new and properly sized tap connection from the NYC DEP on Monday. Once that was done the building had wonderful water pressure and all plumbing fixtures could be used without a drop in water pressure. Then the DOT was notified to monitor the backfill and certified compaction of the roadway excavations.
The following day a Balkan in-house paving crew arrived and permanently restored all disturbed areas leaving the job site like nothing ever happened.
What is certified compaction testing?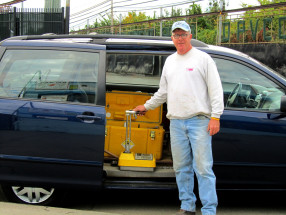 Certified compaction testing is a means to ensure that when excavations are backfilled that they do not sink or settle. If done properly sinking holes, something that many people think is normal but annoying, are eliminated. The NYC DOT mandates certified compaction and monitors the backfill on any roadway excavation when the roadway has been paved within the past five years.  On the above job location on Liberty Avenue the roadway had been paved within the last five years, so the DOT was notified by Balkan.
Balkan employs a licensed compaction testing company overseen by a highly professional and certified individual. John Lynch performs compaction testing using a nuclear density gauge whenever sewer repair and water main repair excavations are backfilled by Balkan. He is respected by DOT field inspectors for his knowledge and professionalism. [Read more about John Lynch and certified compaction testing]
A tap connection is one of many types of water valves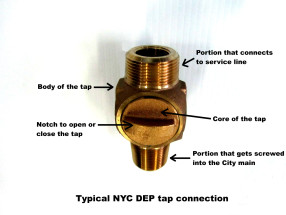 Water main valves are made with different purposes in mind. They come in different styles and a variety of sizes. Installing the incorrect style or size water valve can be a code violation, pose a fire hazard, or result in a decrease in water supply to a building. The following tutorial explains each type of valve clearly and it's primary purpose. Trust an experienced NYC water main contractor to use high quality water valves for their correct application that meet or exceed code requirements.
A tap connection is used for connection size requirements up to 2″. In NYC dedicated DEP tapping crews expertly install these connections in about 20 minutes, losing only about 2 quarts of water in the process. It is installed by drilling a hole into the city main. A proper size tap connection is vital to obtain proper water pressure and volume for a building. [Read the entire article about water valves]