The NYC DEP arrived to determine the cause of a Queens water main problem. At first they excavated in numerous locations down the block to figure out who needed a water line repair , or if it was a City water main break. Eventually they started to make an ever increasing excavation in front of a particular homeowners property.
As is often the case with a water line repair, locating the exact point of the water main problem can be more work than actually performing the actual water line replacement. When all was said and done, the NYC DEP excavated and back-filled four large holes in the roadway to determine the water line repair problem.

When they found the break in this Queens water main it was inside a 6′ wide by 17′ long 'L' shaped excavation they had made. As is policy the last one in an excavation for a water line replacement or water line repair becomes responsible for that excavation, even if they did not make the excavation. Therefore the homeowner would not only have to pay for a water line replacement, they would have to restore a 6′ wide by 17′ area of the roadway. Another major issue was that because of the emergency condition the NYC DEP had shut down the water main for this homeowners property. Not only did they need a water line replacement, but it demanded timely service and extensive roadway restoration.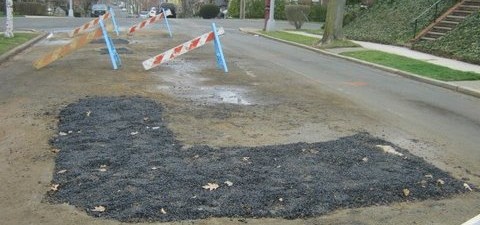 Balkan Sewer And Water Main Service was contacted to handle this Queens water main. The homeowner was promised that all work would be completed within 24 hours. What does that mean?
All proper permits filed and approved.
A crew mobilized and on site.
Complete removal of all excavated soil and broken roadway that was unsuitable for back-fill due to the leak.
A complete new K copper water line replacement.
Trucking in clean NYC DOT approved back-fill material.
Careful back-fill and compaction of all excavations.
Complete roadway restoration to NYC DOT specifications.
A ten year unconditional guarantee on the water line replacement.
A water main job site left broom clean, with water service restored.
All work completed within 24 hours.