How do you decide whether to do a water line repair vs  water line replacement? Thousands of property owners are faced with that question every year when their water service line requires repair work. A typical property owner will not know whether doing a partial repair is a sensible possibility, or if the entire water line should be replaced. However there are sensible guidelines to follow, and some sound advice as well. This article will supply the valuable information, helpful advice, through the four key factors involved in making the correct hiring decision. With this information in hand, you can be sure to  make the correct decision. Spending money unwisely can be painful, but needlessly performing  repair work for a second time is far worse.
The Four Factors To Making A Water Line Repair Decision
The material the existing water main is made out of.
The age of the existing water main.
Was the water line ever repaired before?
The price difference between a water line repair vs water line replacement.
1. Water Main Service Line Materials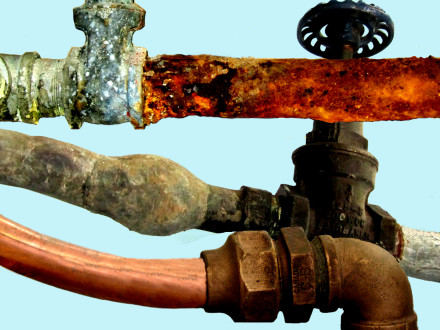 There are three materials presently legal for a water main service line in NYC. They are copper, brass, and ductile iron pipe. For water service lines up to 2″ (which includes the vast majority of all water service lines throughout NYC) K copper is used. In the past lead and galvanized pipe were also legal, and also used to install water service lines. For many years both materials are no longer permitted by NYC plumbing code.
For a larger water main such as required for a fire sprinkler main, or for an apartment building, ductile iron pipe is generally used. Brass is usually only used for 2 1/2″ service lines or on special request, but this does not occur frequently.
Lead And Galvanized Water Lines Are Not legal To Repair In NYC
In NYC it is not legal to do a repair on a lead or a galvanized water main regardless of the condition or age of the water main. So right off the bat, if your water service line is lead or galvanized pipe, a repair is eliminated from being one of your options.
Typically galvanized water services provide very low water pressure and are prone to rupture without any warning. This is because galvanized pipe rusts and corrodes when it come into contact with water. So therefore, just in terms of good plumbing practices, attempting to repair a galvanized water service line is a very poor idea. For more detailed information read the informative article A Water Main Materials Guide.
[button link="/contact-balkan-plumbing/" bg_color="#EA6E24″ window="yes" size="xl"]Get expert advice today[/button]
2. The Age Of The Existing Water Service Line
The useful life of a typical water service line just over 50 years. Therefore any water service line over 50 years old is not a sensible candidate for a water line repair job. A water line replacement should be the only sensible option to consider. Lead water lines and galvanized service lines have not been installed in approximately 60 years, and as stated are not legal to repair in NYC. This is another reason to never consider a doing a repair of these materials.
Another thing to consider is that metal become brittle as it ages, and connecting to an existing water service is always a chancy proposition. For the above reasons a water line replacement is typically the job of choice unless the water line is only a few years old or there is a very substantial cost difference.
3. Was Your Water Line Ever Repaired Before?
Whether the water service line has had a previous repair or not should be a major factor in making the correct hiring decision. Along with the other three factors, knowing if the line was been worked on already is a major factor. Once an old water line has been tampered with, it is much more prone to break again. It is also indicative that the overall condition of the line is not very good. Therefore it is strongly suggested not to perform a water line repair if one has been done already in the past. Many times DEP records will clearly indicate if work was done on the line in the past. Frequently there will also be a record of what exactly was done. These are key factors in making a smart hiring decision.
Repairing your water service line on two separate occasions will almost always cost you more money than if you had done a complete water line replacement the first time a leak occurred. It is strongly advised to take the time to check records, and to do your due diligence to discover the past repair history of your water service line. This can frequently eliminate the risk of performing multiple water line repairs, only to eventually replace the complete line anyway.
4. Cost Comparisons Of Water Line Repair vs. Water Line Replacement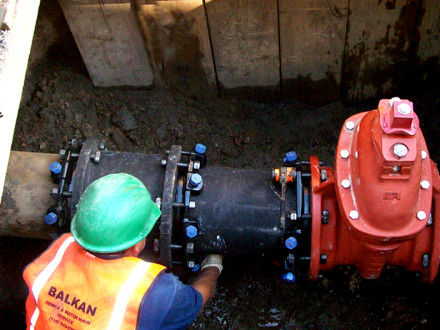 An important thing to consider is that many of the costs in performing either a water line repair or a water line replacement are set and uniform, regardless of the scope of work. Permit fees, restoration costs, much of the labor, required tools, trucks, and equipment, are all required regardless of the scope of work.
Material costs comprise only around 20% or so of the cost of a water main job. Therefore there is typically not a tremendous difference in the material cost of a water line repair and a water line replacement. A general rule of thumb is that if a repair costs 50% or more of the cost of a replacement to just do the replacement. This rule of thumb can be applied to other purchasing decisions as well. Such as when deciding whether to buy a variety of items "new" or "used".
It is a company-wide policy and strong belief of the ownership of Balkan Sewer And Water Main Service that an educated and knowledgeable Client is our very best customer. At Balkan doing the right job the first time is always the priority. If you need expert advice or service, we provide free site visits 7 days a week, so contact Team Balkan today!
Expert Water Main Repair and Water Line Replacement
The Balkan Team provides expert home water main repair and water line replacement. We have expertise in all types of NYC underground plumbing. Balkan Sewer And Water Main Service was founded in 1952. Since its inception, the foundation of the company has been based upon integrity and honesty in all of our dealings. That solid foundation has enabled us to thrive in every economic climate. That is why guiding you through the decision of doing a sewer repair vs sewer replacement exemplifies our company culture of educating consumers. We feel the more you know, the better we'll look. The year 2020 actually marks our 68th consecutive year in business under the same family guidance. As we have grown, we have become increasingly dependent upon a "Team First" approach. What helps ensure a continuation of our high standards, overall integrity, and high company morale, is that same team approach. Complete client satisfaction has always been the number one goal at Balkan Sewer And Water Main. That is why we are NYC's largest and most trusted sewer and water main service in New York City. Simply put, if it's plumbing, and it's underground, we do it. For almost 70 years, and for over 70,000 New Yorkers to date, Balkan is "The Team You Trust".