Water line replacements can be needed at any time. Recently in Flushing Queens a homeowner suffered a complete loss of gas service and water service when Hurricane Sandy ripped a tremendous tree from out of the ground and dropped it in front of their home. The weight of the tree caused the gas line and water line to be completely crushed. A sudden loss of heat and water can be devastating to a homeowner anytime – but during a full-fledged hurricane it is most distressing.
When a hurricane hits homeowners need a prompt response and vital services restored. That means even with a gas shortage, blocked roadways, and mass transit shut down – a homeowner in distress needs answers and solutions, not excuses.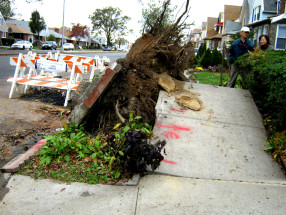 The Balkan Team routinely can be depended on to provide prompt and professional service 7 days a week, day or night, no matter the conditions or situation. The day after the hurricane occurred Balkan was back at work restoring water and sewer services to the property owners of New York City. Unlike many service providers Balkan stockpiled gasoline and diesel fuel, and had taken other preventive measure as well in order to maintain the ability to service it's clientele. As always a Uniform Price Policy was kept in place to provide the fairest of prices no matter the circumstances or conditions.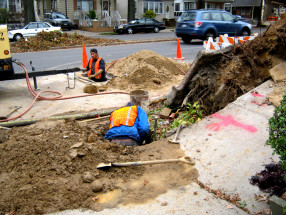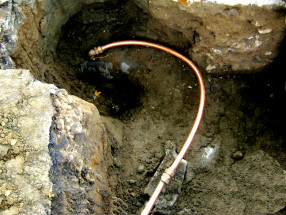 In the case of this water line replacement in Flushing Queens, the work was commenced within hours of the approval from the owner. Like all Balkan work sites, this site was set up safely and the work order carefully thought out. The new water main was installed with great care to ensure that once the new replacement tree was planted the main would not be disturbed once again. In addition all utility lines were carefully marked out and exposed by hand to avoid any further damage. Because careful installation procedures are followed, backed by top-notch materials, Balkan unconditionally guarantees a sewer line or a water line replacement for ten years.
There is a reason why more New Yorkers trust Balkan Sewer And Water Main Service than any other water main or sewer contractor. From 1952 to 2012 Balkan provides answers, not excuses.
Hurricane Sandy
Hurricane Sandy spread varying degrees of death and devastation across New York City. Some areas suffered little or no damage and just had to deal with a temporary gas shortage. Others areas lost loved ones and neighbors to death under terrible and horrendous circumstances. Many thousands of residents are suffered through severe damage or the complete loss of their homes and autos altogether.
It was a storm that will take many months to physically recover from, but years to come to grips with mentally. It was a 'perfect storm' unprecedented in our lifetimes and had to be personally witnessed in order for it's presence and devastation to be fully understood.  The hurricane also presented an opportunity for many residents and civil servants to rise to the occasion in a truly admirable fashion. Thanks go out to the people that gave of themselves emotionally, physically, and financially to provide assistance of all sorts to those who were in need.
A little bit about Flushing, Queens
courtesy of wikipedia
Flushing, founded in 1645, is a neighborhood in the north central part of the New York City borough of Queens.

Flushing was one of the first Dutch settlements on Long Island. Flushing's diversity is reflected by the numerous ethnic groups that reside there, including people of Asian, Hispanic, Middle Eastern, European, African American ancestry and Jewish peoples. It is part of the Fifth Congressional District, which encompasses the entire northeastern shore of Queens County, and extends into neighboring Nassau County. Flushing is served by five railroad stations on the Long Island Rail Road Port Washington Branch, and the New York City Subway Number 7 subway line has its terminus at Main Street. The intersection of Main Street and Roosevelt Avenue is the third busiest intersection in New York City, behind only Times Square and Herald Square.

Flushing is part of Queens Community Board 7 and is bounded by Flushing Meadows-Corona Park to the West, Francis Lewis Boulevard to the East, Long Island Expressway (LIE) to the South and Willets Point Boulevard to the North.

Demographics

Flushing is among the most religiously diverse communities in America. There are "over 200 places of worship in a small urban neighborhood about 2.5 square miles (6.5 square kilometers).""Flushing has become a model for religious pluralism in America, says R. Scott Hanson, a visiting assistant professor of history at the State University of New York at Binghamton and an affiliate of the Pluralism Project at Harvard University."

Chinatown, Flushing

The Flushing Chinatown is one of the largest and fastest growing ethnic Chinese enclaves outside of Asia, as well as within New York City itself. Main Street and the area to its west, particularly along Roosevelt Avenue, have become the primary nexus of Flushing Chinatown. However, Chinatown continues to expand southeastward along Kissena Boulevard and northward beyond Northern Boulevard. In the 1970s, a Chinese community established a foothold in the neighborhood of Flushing, whose demographic constituency had been predominantly non-Hispanic white and Japanese. Taiwanese began the surge of immigration, followed by other groups of Chinese. By 1990, Asians constituted 41% of the population of the core area of Flushing, with Chinese in turn representing 41% of the Asian population. However, ethnic Chinese are constituting an increasingly dominant proportion of the Asian population as well as of the overall population in Flushing and its Chinatown. A 1986 estimate by the Flushing Chinese Business Association approximated 60,000 Chinese in Flushing alone.