A water main emergency occurred late in the evening this past Friday at a Jewish Center in Jackson Heights Queens. The Jewish Center had noticed an accumulation of fresh water during the day and received a Three Day Notice to repair their water main from the NYC DEP. However late Friday night the leak worsened – their basement was filling with water and their elevator shaft was filling up as well. They called for emergency plumbing service around 10 P.M. on Friday – and hoped for the best!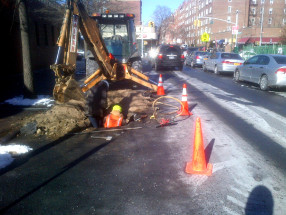 Little did they expect a full crew on site the next morning on a Saturday – but that is the service they received from Balkan Sewer And Water Main Service. In just a couple of hours Balkan closed both the wet connection for the fire sprinkler main and the tap connection for the domestic water service line. One would think 'problem solved' – but water lines running underground frequently present unexpected issues. In this case the water leak did not lessen, even after some time had passed. It soon became apparent that the leak was from another source which was most likely the city water main itself. It seems that when there is great temperature change the larger mains crack more frequently than at other times of the year. The smaller service lines are less affected by changes in weather.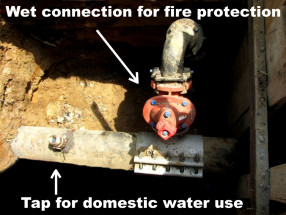 When the DEP issues a Three Day Notice they are usually extremely accurate, over 95% accurate. But no one can see through the ground, and a small percent of notices are given in error. When that happens, like in this case, the 311 system is utilized to notify the DEP. The 311 system allows for filing a detailed complaint report and receiving a complaint number. The NYC DEP typically responds in a timely manner. At this job location in Jackson Heights they  responded in a little over a half hour, no one could expect better than that. They quickly determined that the city main was broken and dispatched a repair crew. The DEP also noted in their records that the water service line for the building was not broken.
When a Three Day Notice is issued in error there is a claim process for the property owner to attempt to recoup the expense. Balkan provides claim forms and clearly itemized bills free of charge to help their clients expedite the process. Even when a notice is issued in error timely and professional response by a Queens water main contractor is vitally important. Any delays would have resulted in extensive damage to the Jewish Center including their elevator system.
A little bit about the Jewish Center of Jackson Heights
courtesy of interfaithharmonyworldpeace.com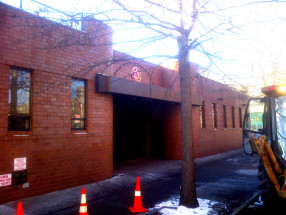 Since 1920, the Jewish Center of Jackson Heights has been committed to providing all members of the Jackson Heights community with opportunities for spiritual, intellectual, social and interfaith growth. The President of the Jewish Center Jackson Heights, Steve Knobel, a well-known member of the community, is very friendly and hospitable. The Jewish Center, Jackson Heights always encourages all communities of Jackson Heights to participate in all our programs, classes and activities.
The center covers 6,000 square feet. It is a one-story structure with curving masonry walls throughout. The sanctuary seats 200 plus and serves as a dual-purpose room for religious ceremonies and center activities such as dinners, meetings and dances. Other features of the this facility include a modern kitchen, classrooms and additional meeting space. With beautiful and magnificent skylights together with 10 stained-glass windows brought over from the original synagogue the center is a masterpiece and one of its kind.
What is a wet connection?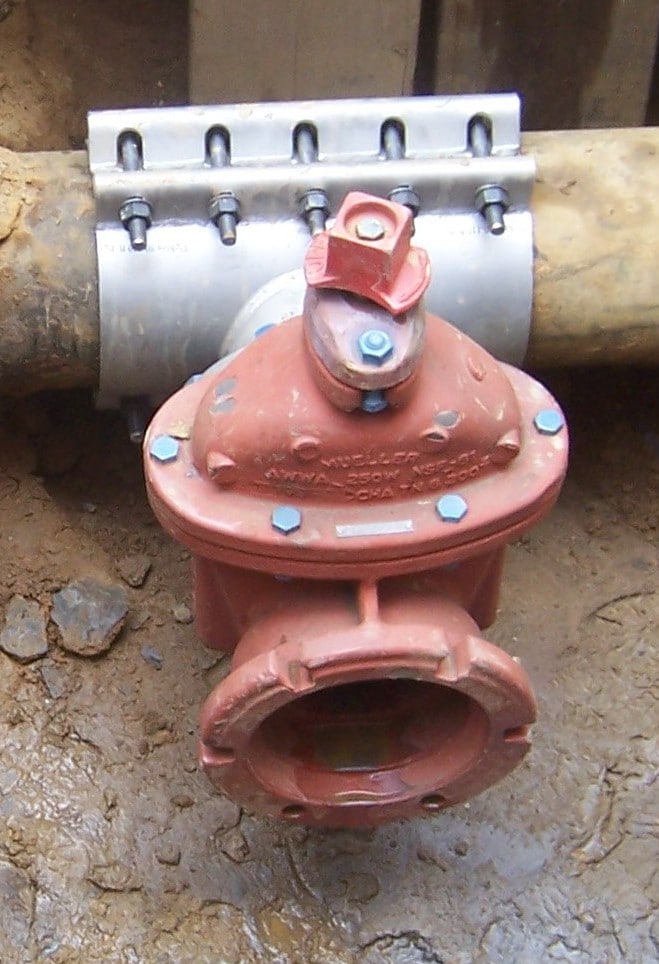 A wet connection is for a larger sized main water line and is installed in a different manner than a wet tap. A wet connection is for connections whose size exceeds 2″, typically for apartment buildings or when fire sprinkler protection is required. In NYC there is an increasing demand that various types of residential and commercial buildings must have a fire sprinkler system installed.
Unlike a tap connection, which is drilled into the NYC water main, a wet connection is actually a 'core drill'. This means that instead of drilling the main water line, like someone would drill a piece of wood for instance, a section of the main water line is actually cored drilled out of the City water main that is equivalent in size to the needed connection. For wet connections a specialized NYC DEP crew is trained that is sometimes still referred to as 'the caulkers'. The term 'caulkers' refers back to the day when lead joint wet connections were installed. These wet connections had their joints sealed with molten lead that were caulked in place. [Read more about water service line connections]