New York, USA (JUNE 14th 2010) FOR IMMEDIATE RELEASE:

Water main replacement for fire protection needed by the New York Chinese Baptist Church, Joseph L. Balkan Inc. is hired. With over 50 years of sewer and water main replacement experience, the Chinese Baptist Church felt secure in their hiring decision.
Doing a water main replacementwork in downtown Manhattan poses special challenges:
The NYC DOT restricted work to weekends only.
There were many Public utilities in the roadway.
Due to heavy pedestrian and vehicular traffic the water main replacement job site had to safe when attended and unattended.
The City water main was very old, the new connection had to be installed in a particular location.
Due to a very narrow sidewalk there had to be no chance of a trip hazard.
The new fire sprinkler service installation had to meet DEP code and pass inspection.
Balkan Sewer and Water Main Service carefully addressed all of the above issues:
Balkan mobilized and provided water mainservice on weekends until all work was completed.
Balkan notified the One Call Center to ensure that all utilities were marked out.
Electronic traffic control, barricades, and traffic cones were placed to proper safety. The site was maintained broom clean when the site was attended and unattended.
Balkan performed additional excavation at no additional charge to find a safe location for the new connection into the City water main.
Special sidewalk plates were used, with "ramping" to prevent any chance of danger to Pedestrians.
All permits, inspections, and sign-offs were secured and arranged by experienced Balkan personnel.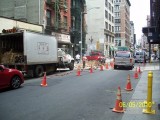 When Property owners choose to hire Balkan Sewer and Water Main Service they receive a complete customer care package that includes no interruption to the daily operation of their property. That is why Joseph L. Balkan Inc. routinely receives five star reviews on Google for water main replacements and sewer work.
About the New York Chinese Baptist Church

New York Chinese Baptist Church is a bilingual Baptist church, dedicated to spreading the good news of Jesus Christ.Located in the heart of New York City, NYCBC has been serving the Chinatown community for over 55 years.
84 Walker Street, New York NY 10013
Tel :212.431.0377
www.nycbc.org