If you suspect you have a water main leak on your house water service line, there is some very basic information that will come in handy. Before you make a hiring decision to perform water main repair work, use this information to help yourself. It may help you to avoid unnecessary repairs, or an inaccurate assessment of the problem.
Loss Of Water Pressure From A Water Main Leak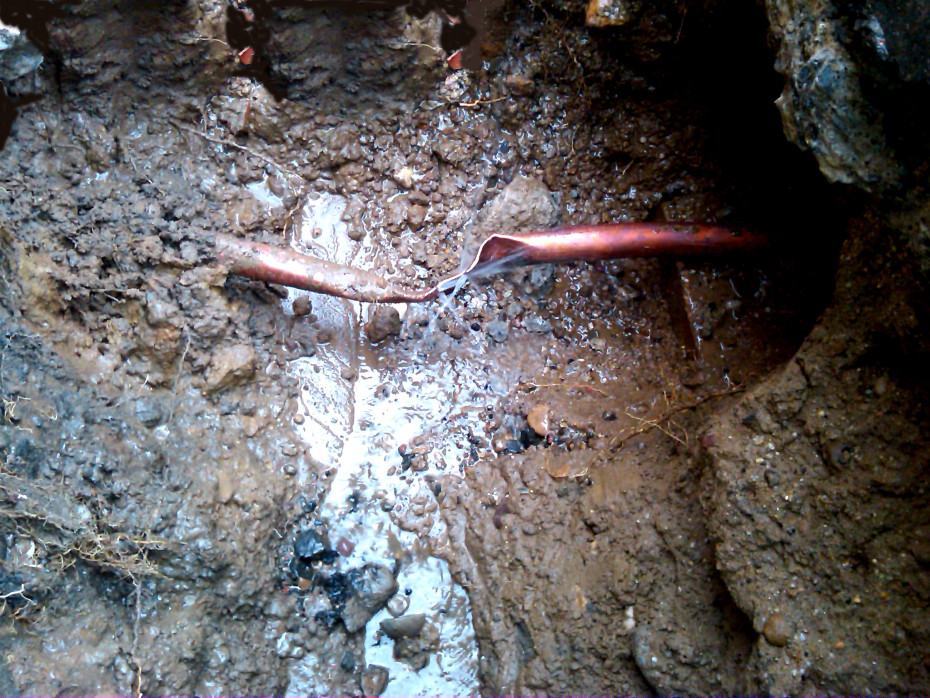 A frequent misconception is that every main water line leak will result in a corresponding loss of water pressure. Actually even if a water main repair is needed, it is quite unusual to have a loss of pressure. Having a leak on a  service line is no different than having a sink or other plumbing fixture running in your house. It typically does NOT result in a loss of pressure. Only in extreme cases, such as a ruptured service line or the actual tap connection becoming dislodged from the city main, will there be a drop in pressure.  Typically the first sign of a leak is the sound of running water, or a humming sound in the pipes. A leak will create a vibrating sound on your pipes and frequently be audible long before the leak is visible. It is typically most evident at night, when activity quiets down inside the house.
Call 311 for verification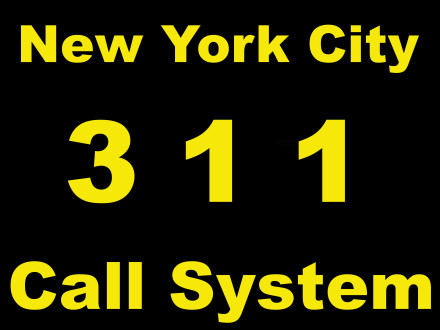 Many people are reluctant to notify the authorities when they suspect a water main break or leak. However the NYC DEP will respond in a timely and professional manner when an inquiry is made through the 311 system regarding a line leak.
When speaking to the 311 operator of the DEP it is important to clearly state that the call is not regarding a sewer issue,  and is specifically regarding a main water line leak issue. The DEP will send out a highly trained individual and the site visit is free. There is never any fine or cost involved for a NYC DEP water main leak investigation. It is important to know that you cannot, and will not, be charged for any water leaking from the service line that leads to the street. In NYC you will only be billed for water that runs through your meter, and actually enters your property.
Testing For A Main Water Line Leak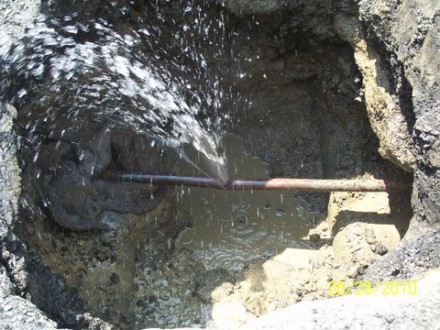 Testing accurately for a main water line leak is usually fairly simple, and it involves no special skills or tools. On almost all buildings in NYC there is a water meter that has a valve on the street side and the house side of the meter, as that is the code.
The 1st step in testing for a water main leak is to close the valve on the house side of the meter. If all the dials on the meter completely stop moving that means that there is no longer any water running through the meter.
The 2nd step to take is to drain out the house plumbing. This ensures that water is not leaking inside the house from another source, such as a toilet, or an underground pipe.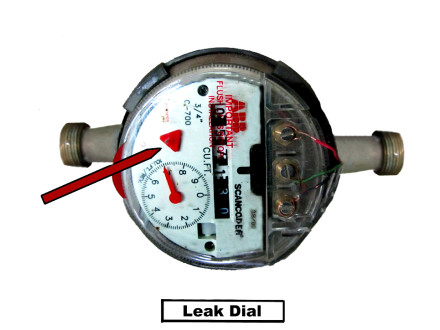 The next step is to simply listen to the water main by placing your ear on the actual pipe. You can also use a metal rod between your ear and the pipe, if the  line is not directly accessible to place your ear on it.
If you hear the sound of running water, unfortunately you have a water main leak on the service line to the street. You will in fact require a water main repair, or a full replacement.
If there is no sound on the line after closing the main valve, and draining your plumbing system, then the leak is not on your main water line to the street. It is important to note that when turning the valve back on it should be done slowly, and with other plumbing fixtures open to let the air out of the system. This will avoid 'water hammer' and possible damage to your pipes from water rushing back into the plumbing system too abruptly.
There may be a leak on the house plumbing, or a running toilet inside the house. If no water is being used in the house and the dials on the meter are moving, you do in fact have a plumbing leak inside the house. A simple way to check for a running toilet is to close the valve under the toilet and see if the water meter stops moving.
Another simple way to check for a running toilet is to place some food or clothing dye inside the toilet tank. Then see if the dye appears inside the bowl itself after a few minutes. Another common source of a water leak inside the house that may not be visible is from piping that runs under a slab or basement floor. That is why it is so important to drain out the house plumbing and 'sound out' the pipes before jumping to a conclusion.
How Much To Pay For A Water Main Leak Site Visit

In the NYC sewer and water main industry it is customary to provide free and no-obligation site visit and estimates. People are frequently hesitant to have a professional come to their house. They fear that somehow they will be obligated in some way, or incur a bill. This is simply not the case. Balkan Sewer And Water Main, as an example, always provides free and no-obligation site visits and estimates for sewer and water main repair work 7 days a week.
What About Insurance Coverage?
There is a two part answer to this question, the first refers to typical homeowners insurance. The second refers to insurance that is increasingly provided on the water main service line itself.
Each and every insurance carrier has variations on what items they cover of the cost of a water main repair or line replacement. Typically only a few of the components of the cost are covered and there may be a deductible. It is important that you look over your individual policy. Joseph L. Balkan Inc will at no charge and without delay supply a detailed breakdown of all the items that comprise the cost of a water main repair or full water line replacement.
Water Main Insurance (also called service line protection)
In more and more areas of the country water main insurance is being offered for homeowners service lines. The NYC DEP recently initiated steps to look into the possibility of this type of insurance for NYC property owners, but there has been no update as of this time. When offered this type of water main insurance costs around $4.00 to $6.00 a month. Some policies cover up to around $3,000.00 of the expense, others have no limit or deductible.
Each service provider has their own unique coverage and implementation plans and generally specialize in this type of service line insurance. If there is any update on this type of insurance being offered in NYC we will keep our clients and readers posted.
If you have any further questions please contact us with any NYC sewer and water main issue you may have. All sewer and water main repair inquiries are responded to within 24 hours if received during normal work hours. Frequently inquiries are answered even if received after normal work hours. Joseph L. Balkan Inc strives to provide answers and helpful information for property owners in distressful situations.
About Joseph L. Balkan Inc.
Balkan Sewer And Water Main Service is the largest house sewer & water service line replacement company in NYC. Balkan is licensed, bonded, and fully insured. As a family run business in continuous operation for well over 60 years, a Balkan 10 year unconditional guarantee on replacements means that they continue to stand by their work years after the installation has been completed.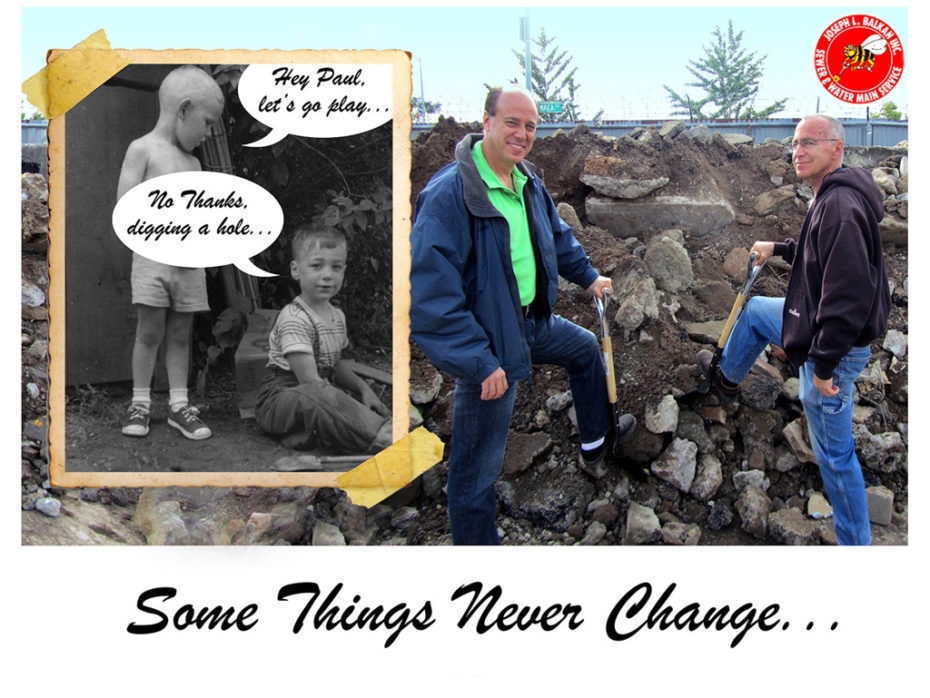 Being expertly equipped from a 48,000 square foot facility, having dozens of trucks, heavy moving equipment, backhoes and pneumatics ensures prompt and professional service every time. Having a highly trained, skilled, and dedicated team ensures long lasting installations.
Choose Team Balkan for your next sewer repair or replacement, water main installation, water line leak, NYC DEP violation, sewer trap, backwater valve, new hydrant, hydrant relocation, new manhole, specialty water line work, and area or trench drains. Contact Balkan Sewer And Water Main today for an accurate assessment of any sewer or water line issue and prompt, professional service. Balkan provides free and no-obligation site visits 7 days a week, and even after hours.