Sometimes a water line leak is so bad that the DEP has to shut down and close off the connection to prevent damage or a roadway washout. Recently in Ozone Park, which is near JFK airport in Queens, just such a situation occurred. Apparently during the day a water line leak erupted and was flowing heavily down Lefferts Boulevard, which is a main thoroughfare in southeast Queens. The NYC DEP responded promptly and began to excavate to determine the source of the leak. Unfortunately for one homeowner the leak was from their water service line. A DEP Three Day Notice gives a person 3 days to hire a plumber and to start repair work on the water line.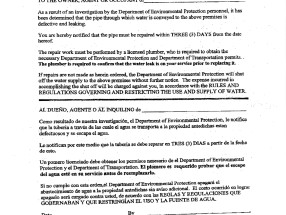 Typically when there is a leak on a water service line the DEP will give three days for the owner to respond. However when an emergency situation is being created they can turn off the water without notice. In this case the leak was bad, the owner was not home, and a snow storm was scheduled within the next 24 hours. With all those factors in place the tap connection was shut to stop the leak. A DEP Ten Day Notice means that the DEP has already dug up the connection and turned off the tap to stop the leak.
When the owner got home they discovered  they had no water and a Ten Day Notice from the DEP was left in their mail box. Of course they started calling plumbers and hoped for a prompt response. Only one company responded right away and assured them their water main could be completely replaced the very next day – Joseph L. Balkan Inc. Sure enough at 6AM a representative was at their front door ready to explain all aspects of the job and to provide a written quote complete with a ten year unconditional guarantee.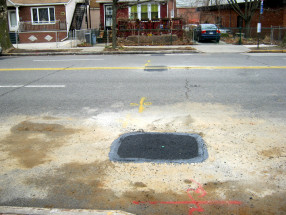 By 8AM work was already underway by an experienced installation crew that was led by a foreman with over 20 years of experience. Not too many NYC water main contractors can start and complete the installation of a new copper water service line that is 90′ long and crosses Lefferts Boulevard in just one workday. By the days end water was restored and the entire work site was swept broom clean. The very next morning the holes made in Lefferts Boulevard were permanently restored with hot asphalt by a Balkan in-house paving crew.Queens water main replacement work needs a prompt response and an experienced expert. Balkan has been trusted by Queens residents for over 60 years.
Get prompt response to a NYC DEP violation or notice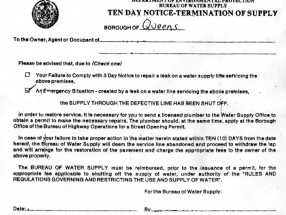 Emergency service on NYC DEP Violations and DEP notifications is available 24/7/365. If you require a rapid and experienced response to any City issued violation for your sewer or water main service, we are there for you. After-hours calls or weekend calls receive the same level of service at no additional charges. Site visits and estimates are given FREE of charge and at no obligation.
We are known for our competency and experience operating underneath the streets and sidewalks of the NYC metro area. Get the quality of service you need, the courtesy you expect and the price you desire. Balkan utilizes a uniform pricing policy and guarantees your assurance of the best possible price and quality. [Read more about NYC DEP notices]
Who to trust with Queens water main repair work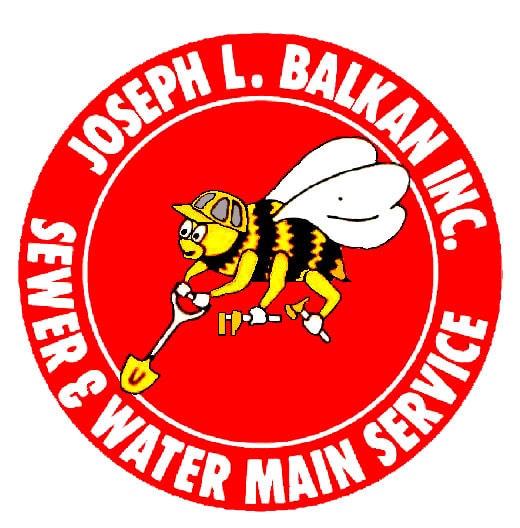 When the property owners of Queens in New York City require sewer line and water main repair or replacement work they trust one company more than any other. That company is Balkan Sewer And Water Main Service – This NYC plumbing firm is family owned and centrally located in  Queens for over 60 years. When a 60 year old company offers 10 guarantees on replacement work it really means something.
When Queens homeowners have a sewer or water problem Balkan provides free same day site visits and most work orders are commenced the very next day. All work is carefully coordinated in-house without any subcontracting. This keeps costs down, but raises the level of quality and service. [Read more about expert Queens plumbing service]
A little bit about Lefferts Boulevard
courtesy of Kew Gardens Civic Association
Lefferts Boulevard (originally, Lefferts Avenue) was named for John Lefferts, the owner of 200 acres of Queens farmland. In 1868, Lefferts sold his land to the developers of Richmond Hill for $59,944.80. The name "Lefferts" survived a 1930's proposal to rename the street Richmond Hill Boulevard. You are on Lefferts Boulevard looking north toward Metropolitan Avenue less than one half block away. Even 100 years later, Lefferts Boulevard is still lined with trees.