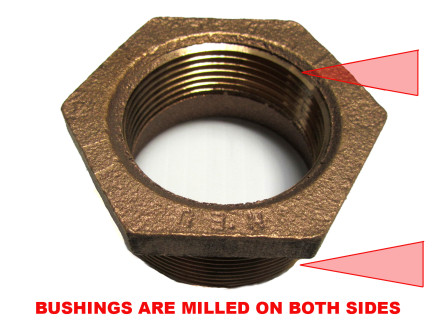 Water line repair and replacement cost is comprised of only a few different items. What may come a surprise to many people is that the water main material cost is a relatively small component of the total price. The material only comprises between 10% to 15% of the total cost of a water line repair or replacement. With material being such a low cost factor, it is always surprising when a water main contractor cuts corners to save a couple of dollars on material.
In a recent case a contractor pocketed around $5.00 by using a meter coupling, and connected to a bushing. This cost a property owner over $2,000.00 down the road. In another case a plumber saving literally $1.00 on the cost of a proper gasket. That $1.00 savings cost a property owner almost $5,000.00 in repairs.
These two job locations will addressed in further detail later in this article. They serve as fine examples of why you should trust your water main work to none but reputable and licensed contractors.
What factors make up water line repair cost?
There are only a handful of items that comprise the total cost for water service line repairs and replacements. Costs and pricing can vary from contractor to contractor, but not by a wide range. The 5 primary items comprising water line repair cost are as follows:
1. Labor, tools, and equipment
Labor is comprised of a complete installation crew. Included is the crews associated service truck, tools and equipment.  As a percent of the total water line repair cost, this item amounts to between 55% and 65% of the total cost. Labor is by far the costliest item associated with a water main repair or replacement job.
2. Material: brass fittings, copper, water valves
Water main material cost is indeed a factor in water line repair cost. However, it pales in comparison to labor. On a typical K copper water service line repair or replacement material typically amounts to from as little as $250.00 to as much as around $800.00.
Material costs vary depending upon the length of the run and the size of the K copper required. For water lines that are 2″ or larger, the material costs tend to get much more costly.Regardless, material typically comprises 15% or less of the total of any particular water service line job.
3. Permits: NYC DOT and DEP permits
In NYC any NYC DEP water service line repair or replacement permit is issued free of charge from the DEP. Only permits for new water service lines have a fee attached to them.
On the other hand, all NYC DOT permits have a fee attached to them. A DOT permit ranges in cost fr0m $135.00 to just over $400.00.  As a percent of water line repair costs this item is only amounts to around 5% of the total.
4. Restoring finished asphalt and concrete surfaces
Restoration costs vary depending on the surface that is disturbed in order to do the work.  But typically restoration of disturbed surfaces amounts to 5% to 10% of the total of the job. Of course there are jobs that involve more restoration, such as running a line down a concrete driveway
5. Trucking fees for clean fill and debris removal
Frequently excavated material has to be carted away from a job site because it is unsuitable as backfill material. Excavated material may be too moist, or have too high a content of clay or rocks. In that case it must be replaced with backfill material that meets NYC DOT specifications. This ensures that the excavation does not sink in the future.
As percent of the total water line repair cost, trucking amounts to around 5% or so. In dollar terms that would be from $250.00 to around $350.00.  Or around 5% of the total cost of the job.
[button link="/contact-balkan-plumbing/" bg_color="#EA6E24″ window="yes" size="xl"]Get free expert advice today[/button]
When plumbers cut costs disaster frequently follows
What follows are two separate and distinct stories involving water service line work. Whether through ignorance, or an attempt to save on water main material cost, both had the same end result. In both cases plumbers saved a total of about $6.00 in material, but the resulting inferior work cost two property owners a total of nearly $7,000.00.
Improper fittings and material used to connect to a tap
On a recent water line repair job Balkan Sewer And Water Main found a 3/4″ meter coupling connecting into a brass bushing. This was then screwed into a brass elbow. Meter couplings are designed to connect to water meters, which are located above ground.
Meter couplings are light weight fittings and specifically not designed for the stress present underground.  Nor are meter couplings legal for connecting to a water service line tap connection.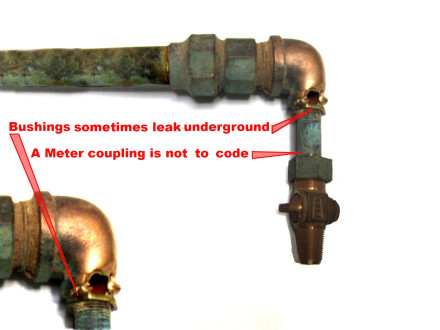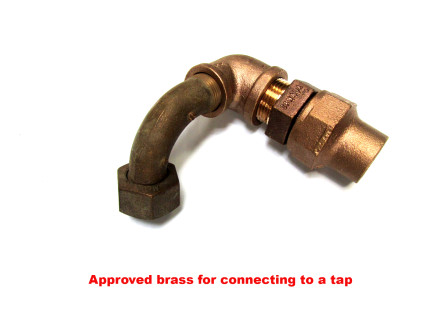 Bushings are brass fittings that are milled on both sides of the fitting. Because of the milling process on both sides the wall of the bushing is thin. That makes a brass bushing not ideally suited to withstand the stress present underground.
By spending about $5.00 more in water main material cost, a water line leak would have been prevented. A goose-neck or a brass elbow is specifically designed for connecting to a tap connection. A plumber spending $5.00 more in material would have saved a property owner from over $2,000.00 in water line repair cost.
Improper gasket used to connect to a 4″ water service line
Gaskets are perhaps the least expensive of all plumbing materials. One gasket can cost as little as $1.00 more than another. In terms of water line repair cost they are inconsequential. In terms of choosing the correct gasket to use, it makes all the difference in the world.
Balkan Sewer And Water Main Service recently was hired to repair water service line that had just been repaired about two months prior. Upon excavating it was discovered that the repair that had been performed failed.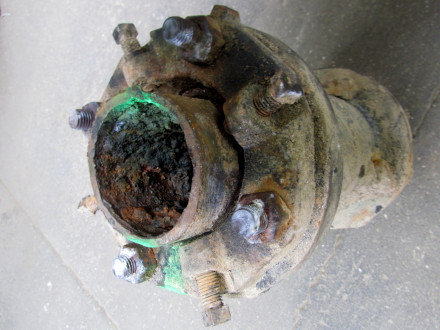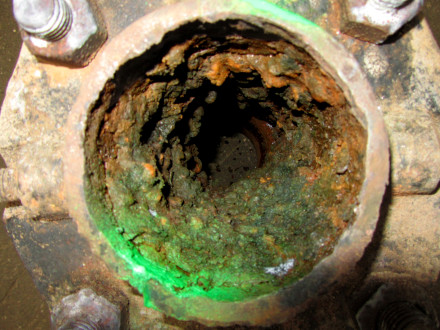 Because the new 4″ pipe material was different than what was existing, the outside circumference of each type of pipe was slightly different. The actual difference in the outside diameter of each pipe was only 3/10″. In this case a transition gasket is required to properly connect each pipe using an approved sleeve. The water main material cost of a transition gasket is about $1.00 more than a typical gasket.
Repairs on 4″ water lines are more expensive than working on K copper tubing. So in this particular case a plumber saving $1.00 on gasket material cost a property owner under $5,000.00.
A final word about water line repairs
A repair on an existing water service line is only as good as the line itself. Although a repair itself may be done properly and to code, the condition of the existing pipe will dictate the lifespan of the repair.
Always get a price on a complete replacement prior to doing a repair. This is for two reasons. Firstly the cost difference between a water line repair and replacement may not be as great as anticipated. Secondly it is best to be prepared if a repair cannot be accomplished and a full replacement must be done.
[button link="/contact-balkan-plumbing/" bg_color="#EA6E24″ window="yes" size="xl"]Get a free on site visit today[/button]