A new fire sprinkler water main was needed in East New York, which is located in Brooklyn. East New York is located between the Belt Parkway and Atlantic Avenue on the eastern portion of Brooklyn. This building in Brooklyn was a large residential building that needed to add fire sprinkler heads to the building to meet certain code requirements. Whenever Brooklyn water main replacement work like this is required plans must be drawn up by an Engineer and approved by both the NYC Department of Buildings and the NYC DEP. In this particular case the new water service line was approved as a combined water line. There are three basic classifications for water service lines in New York City:
A domestic water line means that the purpose of the water supply is strictly for domestic use. That means for drinking, bathing, or sanitary purposes.
A dedicated fire sprinkler main is strictly for fire protection and not meant for domestic use. A fire main is meant to supply fire sprinkler heads or a standpipe.
A combined water service line, like in this case, means it is designed for both domestic use and to adequately service a fire suppression system, such as one the feeds sprinkler heads.
Upgrading an existing Brooklyn water main line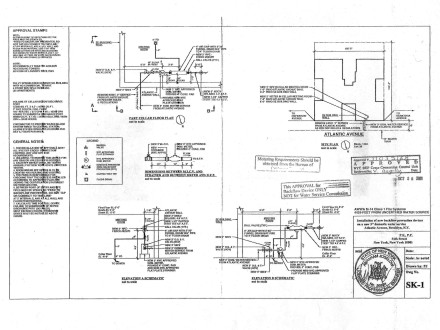 When a water service line is upgraded to provide fire protection and also adequately supply water for a building it must be carefully designed. The new connection size must equal the size of the actual service line. In addition there must be a curb valve installed in the sidewalk area 2′ back from the curb line. The main control valve must be an OS&Y valve, which is specifically designed for fire sprinkler mains. An OS&Y valve has a rising stem that easily shows whether the valve is open or closed this is vital when fire protection is involved. Unless extreme field conditions exist all three valves, the main control valve, curb valve, and connection must all line up in a straight line when the water main replacement is done.
[button link="/contact-balkan-plumbing/" bg_color="#EA6E24″ window="yes" size="xl"]Get a FREE 0n-site visit today![/button]
In the case of this installation in East New York, or any Brooklyn water line that supplies fire protection, a DEP field inspector must go to the site and personally witness the completed installation. The inspector must view:
The connection to the wet tap or wet connection to ensure it meets code.
The curb valve to ensure it is installed, is accessible, and operates properly.
The main control valve inside the building to make sure it is the correct style and size valve. It must also be properly rated.
The service line itself must also be inspected that it is at least 3 1/2′ deep, which is below the frost line in New York City. If a water line is shallow due to field conditions it must be wrapped in insulation and made waterproof with plastic wrap. In some cases it must covered with steel plates to protect against damage and vibration.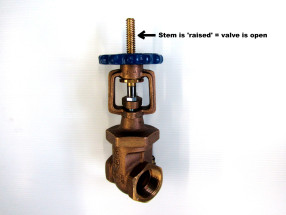 The items that are part of a mandatory DEP inspection process are uniform throughout the five Boroughs of New York City. The reason the inspection process is so important is that the most vital document a property owner needs is the sign-off from the NYC DEP. In the plumbing trade it is known as a tap letter. It is in a clients best interest to withhold a pre-determined retainer amount until the tap letter can be produced. A water service line that provides fire protection can be exactly to code, but without proper inspection and a tap letter the scope of work will never be signed off by the Department of Buildings.
Balkans Connection With East New York In Brooklyn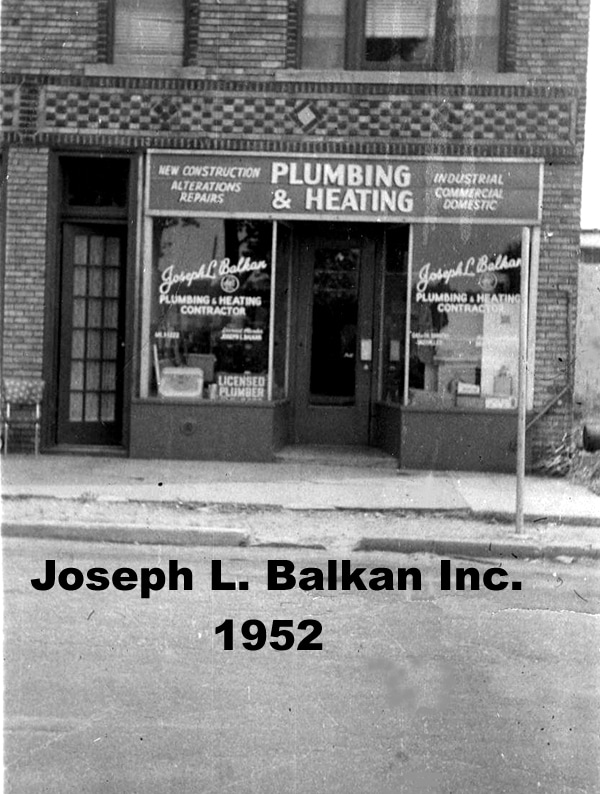 Joseph L. Balkan, the founder of Balkan Sewer And Water Main Service, was raised in East New York Brooklyn on Linwood Street. The Balkan family suffered through the Great Depression in the 1930s like many American families. When Joseph left the Brooklyn navy yard to embark on a plumbing career his first plumbing shop was on Blake Avenue in East New York. That was way back in 1952.
From Joe's humble beginnings he slowly grew his plumbing business and eventually moved to Howard Beach in Queens later in the 19509s. Howard Beach at that time was mostly empty lots and an awful lot of mosquitos. Throughout his life Joe Balkan was a pioneer unafraid of any type challenge. No matter the business climate or personal hardships that life brings along, he was man who stood by his principals. A testament to that fact is that today, over 60 years since its founding, Joseph L. Balkan Inc. is New York City's largest and most reputable sewer and water main contractor. Joe's sons Paul and David knew from their first entry into their fathers business that if the company's founding principals were rock solid there was no reason to change them.
At present Balkan operates out of a 48,000 square foot facility centrally located in Richmond Hill in Queens. They remain minutes away from their original home in East New York Brooklyn. And for that matter the Balkan fleet is minutes away from any sewer line of water main issue in any of the Boroughs of Brooklyn, Queens, Manhattan, or the Bronx.
[button link="/contact-balkan-plumbing/" bg_color="#EA6E24″ window="yes" size="xl"]Get a FREE 0n-site visit today![/button]