Water main replacement in NYC – When a property in NYC needs a water main replacement due to a NYC DEP "Three Day Notice" to repair their water main service line there are many factors to consider. Not only must the water main replacement be performed in a timely manner, but the proper size water main service line must be installed. This is something that might be taken for granted, but should not be as it is very important.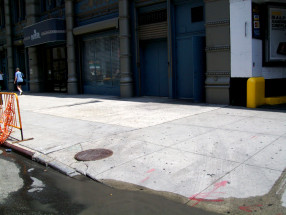 In this case the existing water main service that was serving the building was undersized that caused a pump and pressure tank to be in use. Joseph L. Balkan Inc. carefully calculated the plumbing fixtures and determined that a water main replacement two sizes larger was required and a larger tap connection into the City main as well. By installing a properly sized water main Balkan created a situation where the pump and tank could be eliminated or at the very least barely necessary.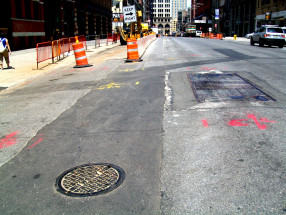 Other factors to consider are safely setting up a job site for a water main replacement which includes careful traffic control, pedestrian safety, proper utility mark outs, and roadway plates placed to leave all excavations in a safe and roadworthy manner. In addition the site must be maintained broom-clean during and after each work day. Hiring a water main contractor that pays attention to detail, keeps a safe work site, and safely runs a fleet of sewer and water main service trucks benefits everyone. That is why Balkan Sewer and Water Main Service has been a trusted name for over 60 years whenever property owners in NYC reqiure a water main replacement.Whether in Manhattan, Queens, Brooklyn, or the Bronx, Balkan provides same-day and next-day sewer and water main replacement service by the most highly skilled field forces in the sewer and water main industry.