When a water line replacement or a water line repair is needed Balkan provides specialty tools can frequently save Clients money. Whether responding to a NYC DEP notice to perform a water line repair or for upgrades or even a new water line there are often cost saving tools that can come in quite handy that are not common knowledge. That is where depending on a water main contractor for a water repair that is experienced and invests in new tools and technologies such as Balkan can really pay off for a Client. Here is just one example:
The Problem: Extremely Poor Ground Conditions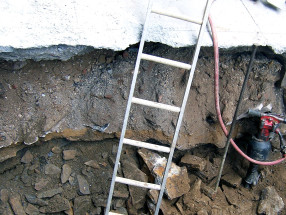 Frequently when performing water line replacement or a water line repair extremely poor ground conditions are encountered such as filled in ground, a rock condition, or extremely hard ground. For water line work this would normally pose a big problem because water repair work is typically done by hand with the aid of some pneumatic tools. In this way disturbance to a Clients property is kept to a minimum. If a backhoe is brought in large areas containing valuable landscaping and concreted areas are prone to be disturbed adding cost to the water line replacement. The other option when encountering rough ground is to use additional labor by hand which likewise will add considerable cost to the water repair job.
The Solution: Underground Piercing Tool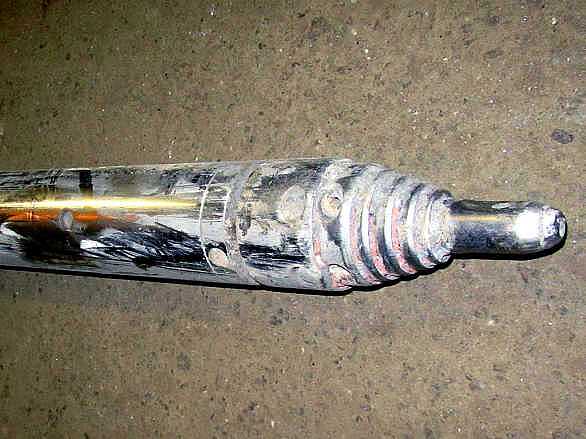 By investing in an underground piercing tool and carefully training select Field Personnel Balkan found a cost saving solution for its valued Clients that also eliminates or greatly reduces disturbance to valuable landscaping and finished concrete areas. Furthermore labor is also reduced enabling a water line replacement or water line repair to be completed on schedule and at the most reasonable price possible. This is just one of a list of water repair specialty tools that Balkan utilizes that also includes specialty metal detectors and pipe location equipment.
How it works: By hydraulically driving a counter-weight back and forth inside a cylinder the tool is pushed forward through the ground. As the weight inside the cylinder moves forward it applies pressure to the body of the cylinder to hold it in place. Once the weight strikes the front of the tool it pushes the tool forward a little bit at a time and can usually push any obstacles such as rocks out of the way. One vital thing is to make sure no underground utilities are in front of or right next to the path of the tool. Saving time on a water line repair or water line replacement installation cannot come at the expense of utility damage.
Coupling the right tool with the most highly trained personnel in the NYC water main and sewer industry enables Balkan to provide the most professional water line repair service at the most reasonable of costs. For over 60 years Balkan provides quality water line repair and replacement work with unconditional long-term guarantees.
Balkan Sewer And Water Main specialty sewer and water main tools
Sewer replacement, sewer repair, and water line replacement work all involves accurately locating buried service lines. In many cases the NYC DEP does not have accurate records indicating exact an location for a sewer or water main connection. Another factor is that in many cases regarding a sewer replacement, sewer repair, or water line replacement the service line does not run in a straight line and can offset in an unexpected way. In other cases it is hard to determine the location of the defect in a house drain or water line.

Instead of having its Clients incur costs for unneeded excavations or for excavating in an incorrect location Joseph L. Balkan Inc. has invested in superior water line and various other underground specialty tools. While performing a sewer repair, a sewer replacement, or a water main these tools routinely save our valued Clients thousands of dollars. [More examples of Balkan specialty sewer and water main tools]
About Joseph L. Balkan, Inc.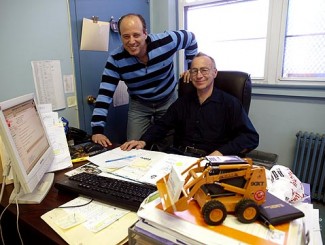 Balkan Sewer And Water Main is the largest sewer & water main replacement company in NYC. We are licensed master plumbers who are fully bonded and insured. As a family run business in continuous operation for over 60 years our 10 year unconditional guarantee* on replacements means that we continue to stand by our work, long after the job is done. We are expertly equipped, from our 48,000 square foot facility to dozens of trucks, heavy moving equipment, backhoes and pneumatics.
Choose Balkan Sewer And Water Main for your next sewer repair, water main installation, water line repair, water line leaks, NYC DEP violations, sewer replacement, water line replacement, sewer trap, backwater valve, hydrants, manholes, specialty water main work, area drain, and trench drains. Contact Balkan Sewer And Water Main Service today.

[button link="/contact-balkan-plumbing/" bg_color="#EA6E24″ window="yes" size="xl"]Get a free on-site visit today![/button]