Water service line work in New York City frequently relies on what is called a tap card, which is available from each local Borough office of the NYC DEP. A tap card is also very useful to the general plumbing industry and property owners as well. It contains an array of useful information about each properties water service line and the connection for the line itself on the city water main. The information supplied on a tap card is supplied by either the Licensed Master Plumber who performed the installation or a DEP field inspector. This information is relied on heavily and is important in making decisions involving whether plumbing work is required and the actual scope of the work itself. Whoever fills out a tap affidavit card must sign it to verify that the information is accurate and correct.
How tap information for a water service line originates
Tap card information can change over time as work is done on a water service line. Such is the case with the tap card used as an example for this post – a new city water main was installed and 4′ of service line was added to the original lead water line. In most cases it is updated when the water service line is replaced.
However the original affidavit for a property is derived from when the new water service line was first installed when the building was built. There are many tap card affidavits dating back from the turn of the 20th century. Up until the early 1990's a NYC DEP inspector or taper witnessed all new installations and filled out the necessary information that became a part of the permanent DEP and public records. Nowadays most information is provided by the Licensed Master Plumber who performs the installation. The exception is when the water line provides fire protection or any line larger than 2″ in diameter, in which case a DEP inspection is mandatory.
The information contained on a tap card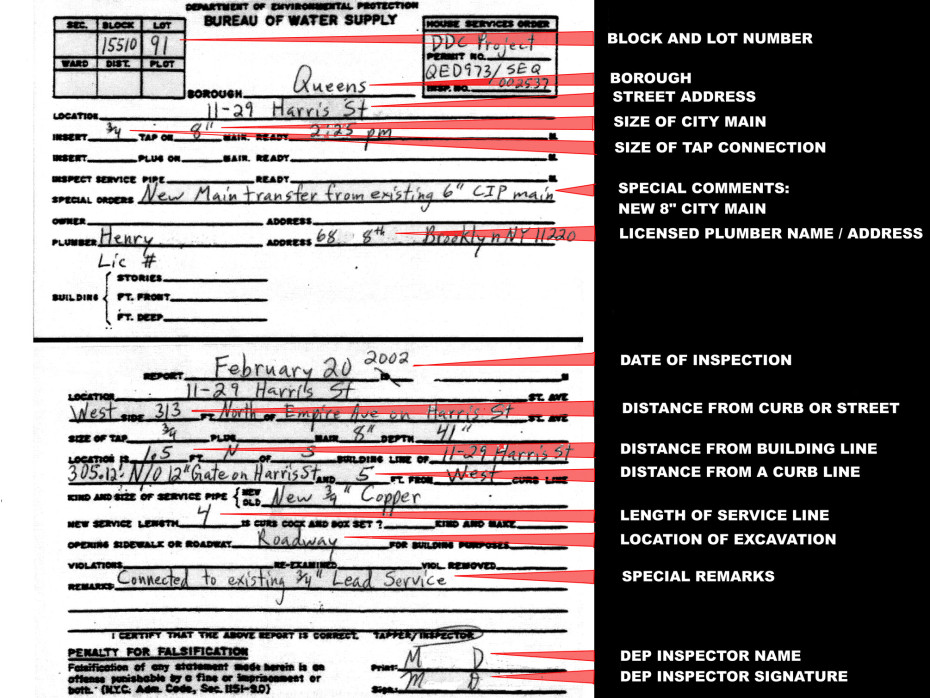 A very large amount of information is contained in a relatively small form called a tap card. The information is also very to easy to understand. Basic information such as the age and material of the water line and the depth is clearly stated. By providing a distance from the actual building line and the curb line the two locations can be cross connected to pinpoint the exact location of the connection on the city water main. While in most cases the date listed is when the line was originally installed or most recently replaced, in some cases it may only list the date it was most recently repaired.
Other information is listed such as the name and address of the Licensed Master Plumber who secured the permit, and the name of the DEP inspector if an inspection was provided.
How tap information is useful for water service line work
This is very useful information for a number of reasons. As an example, even though city water mains are typically 3 1/2′ to 4′ deep some city roadways have been raised over the years leaving city water mains up to 13′ deep. Another instance is when a property owner is suffering with a low water pressure problem knowing the tap connection size and water service line size enables them to better pinpoint the origin of the problem. In addition knowing the Licensed Master Plumber and the date of the work can be useful if a defect in the water line arises, particularly if a new and recent owner now resides in the property.
How DEP information looks in reality
In terms of what all of this information actually looks like in reality a photo is provided below. It should be readily apparent that having this data on hand when excavation work is needed is most helpful. Even in this day and age of high-tech underground pipe locators, having hard information at one's fingertips is a big help.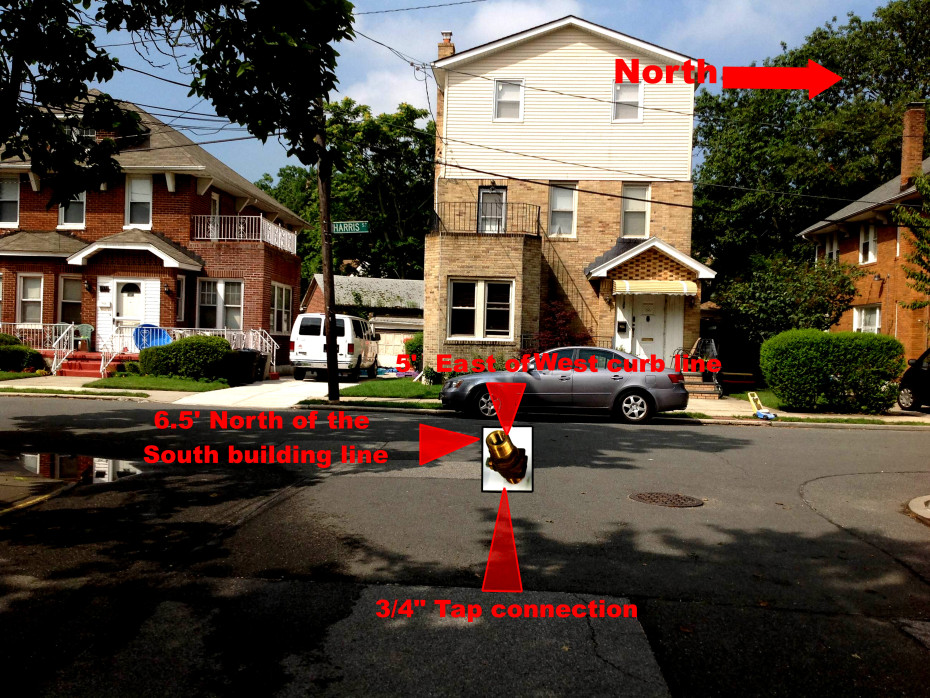 Understanding and properly using tap information can sometimes be a little bit complicated. For instance some streets run on an angle and not directly North and South or East and West. So information on those affidavits can be difficult to understand. In Queens the key to understanding the tap location in those cases is that streets are always considered to run North and South, avenues are always considered to run East and West. To complicate matters a little bit more, in Brooklyn the exact opposite is true. In Brooklyn avenues are always considered to run North and South. Streets are considered to run East and West.
Although tap information for a water service line is typically requested by the licensed plumbing trade it is actually public information and free for any individual to request and to view. Although not complete at the time of this post, the NYC DEP is in the midst of a major project to make city sewer, city water main, and house service line information available online.