Water service line replacement work naturally takes place primarily underground. So there can always be some surprises and unique situations. More than their fair share of the surprises seem to take place in the former Jamaica Water Supply and Woodhaven Water Supply territories. That is because these privately operated water supply companies were unmonitored by the NYC DEP field inspection division. Many times what was convenient and less costly for these private water supply companies did not meet local code compliance.
A case in point: An atypical water service line replacement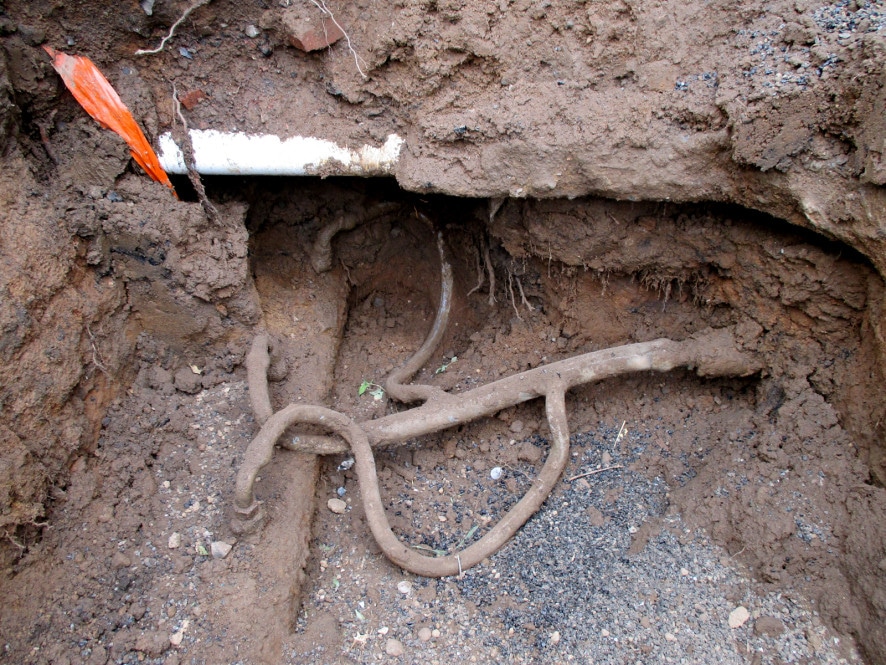 Every water service line is supposed to have a dedicated connection to the public water main. These are either tap connections, or wet connections for larger water service lines. Many times the existing tap connection is too small, and has to be upgraded. However in the case of this water service line replacement, the existing connection for a 3″ water service was actually three 1″ tap connections tied together to feed the one 3″ line. This not only does not meet code, and has never been legal. It likewise dumbfounded the installation crew. As Balkan's water service line replacement crew closed the tap connection, then closed a second tap connection, they could not understand why the water leak still didn't stop. Only after further exploration did they uncover yet a third tap connection, which once closed stopped the water leak. All of these connections were made with lead pipe. They were joined together with what is referred to as wiped joints, using molten lead.
This job became a clear case of no matter how experienced the crew or the company, unexpected things can always be encountered in the subsurface plumbing industry. The private water supply company, in this case Woodhaven Water, was responsible for installing the connection for the water service line originally. They chose to take the easy route, and installed multiple smaller tap connections. Tap connections are much easier to install than wet connections. In this case Balkan filed the necessary paperwork, and legalized the line with a 3″ wet connection. They also completely replaced the line, and arranged for a DEP field inspection. To learn more about tap and wet connections for a water service line read: Wet tap connections explained.
Private water supply companies in Queens, NY
The Woodhaven Water Supply Company was organized in 1888. It was one a small number of private water supply companies servicing Queens, a borough of New York City. They were organized to supply fresh potable water to residents of various areas of Queens that were not being serviced by the NYC DEP at that time. The Woodhaven Water Supply company supplied water through two reservoirs and a number of wells.
Another of these companies was the Jamaica Water Supply company, which operated until the early 1990's, when it was bought out by the NYC Water Board. JWS (as it was referred to) supplied potable water to its customers through wells exclusively for almost all of its operating history. The quality of it's drinking water did come into question from time to time.
Property owners in the territory of JWS and Woodhaven Water were only responsible for their water service line from the outside of their buildings to the property border. The private water supply would perform repairs and replacements outside the of property border. The quality of that maintenance varied. many times water service liens that should have been replaced were spot repaired. Private water supply rates were typically extremely high – much higher than the comparable rates of the NYC Water Board.
There were a number of private water supply companies operating in Queens at one time. None are still in operation at this time. Some of the private water supply companies included:
Citizen's Water Supply Company
Jamaica Water Supply
Woodhaven Water Company
Wyckoff Heights Water Company
Queens County Water Company
Expert service for any water service line issue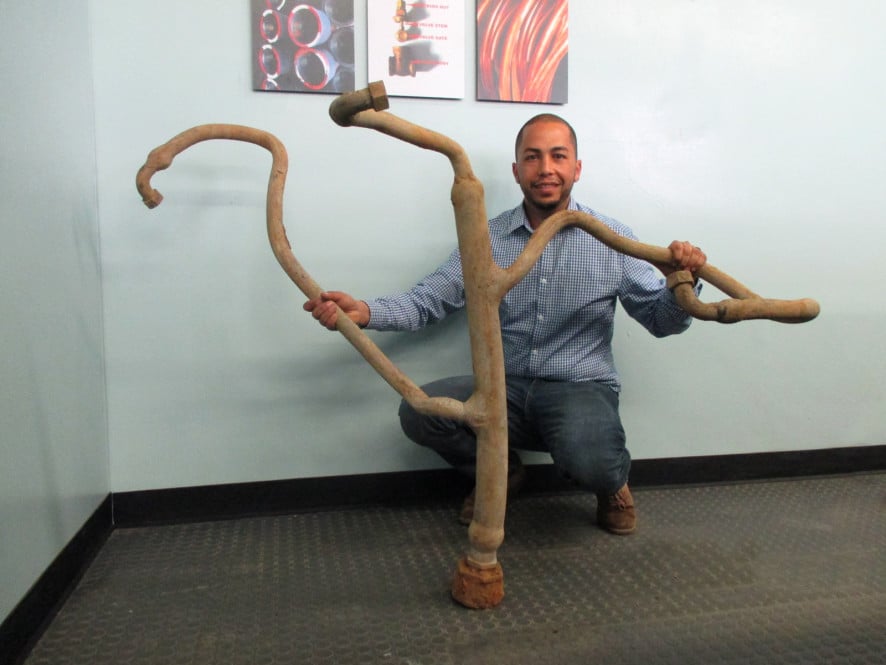 New Yorkers have counted on Joseph L. Balkan Inc. to resolve their water service line replacement and repair issues for well over sixty years. That has enabled Balkan to maintain its position as New York City's largest sewer and water service line company for well over 25 years running. Team Balkan prides itself on providing dedicated professionals, such as Frank Marte pictured above. Frank is amongst a team of customer care specialists that you can count on for prompt and professional service, and on-point after care as well.
Whenever you have a sewer line, drain, or water service line issue count on Balkan. Free and no obligation site visits are provided seven days a week. And live operators and field technicians are available after hours as well.
[button link="/contact-balkan-plumbing/" bg_color="#EA6E24″ window="yes" size="xl"]Get advice from an expert today[/button]