Water and sewer line work frequently means that tree roots are encountered. This will be even more true in the future than it is now. This is due to NYC tree planting programs, such as Million Trees NYC. For water and sewer contractors in NYC it means working with ever more regard for trees and their root structure. It also means a higher degree of coordination due to Parks Permits being required, and an Arborist to be on site.
3 Cases Require an Arborist for water main and sewer work
There are three basic conditions that impact if an Arborist and a Parks Department Permit are required prior to starting water and sewer line work in NYC.
1. If a tree exists between the property line of a lot and the curb line. In the outer Boroughs of NYC the property line is typically 15′ back from the curb line. That means in some cases a tree may exist inside a front yard, yet technically be outside the property line. In cases like these an Arborist will be required even though the tree is inside someone's front yard.
2. If a tree does exist, as mentioned above, and excavation is to be performed under the drip line of the tree. The drip line of a tree is considered under the outermost reaching branch.
3. If a tree does exist as mentioned above, an Arborist may be needed in one additional instance. If excavation for water and sewer line work is within a certain distance of the trunk of the tree. The formula used for calculating if an Arborist is required is as follows: 1′ Of distance from the tree trunk for every 1″ of diameter of the tree trunk. The width of the tree trunk is measured about 4′ above ground level. That can mean that an excavation is not under the drip line, but nonetheless requires a Parks Department Permit and an Arborist.The actual Parks Department 'letter of the law' involving work on or near trees is much more stringent than generally realized, and supersedes what is noted above. The NYC Parks Department actually states that a permit is required when work is performed within 50′ of a city tree. Work in the roadway, past the curb line, is excluded from this requirement. For a more exact precise listing of rules and regulations visit working near a tree in NYC.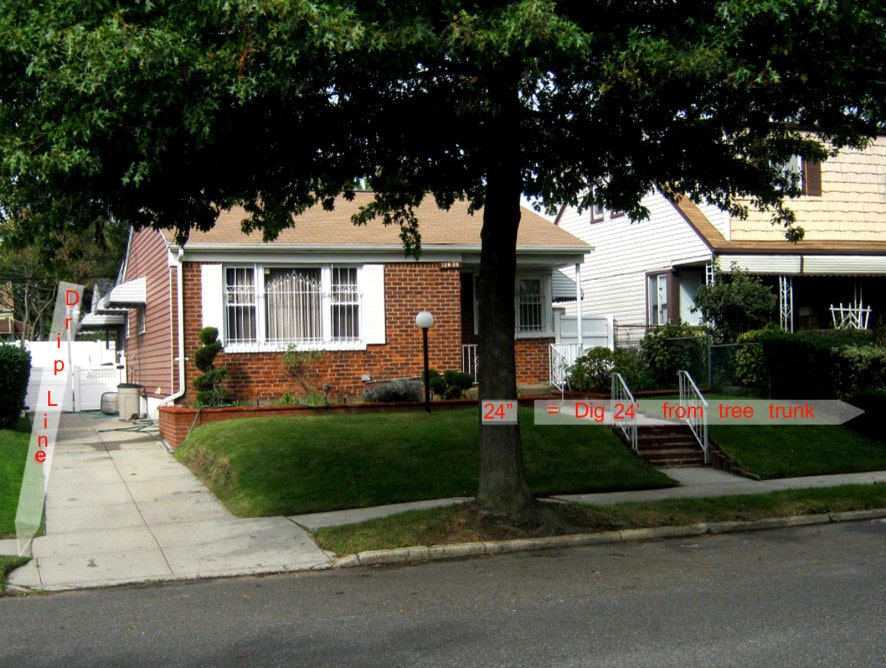 What the NYC Parks Department has to say:
Through the Tree Work Permit process, our Parks Forestry staff will work with you to review all proposed site work and, in line with our Tree Protection Protocol, design a plan for all affected City trees. Along with a Tree Work Permit, we may also require you to hire a Certified Arborist (CA) to be onsite for all work and serve as a liaison to Parks concerning site work.

Any damage done to a City tree will lead to substantial fines and may prevent you from receiving permits from Parks in the future. Careful planning and protective measures can prevent injury and destruction of City-owned trees and help avoid costly project delays, fines or litigation.
To initiate legally working by a tree the permit process has to be followed. The Tree Work Permit process begins when you file a Parks Department Forestry Application with the appropriate Borough Forestry Office. All work must follow applicable rules and regulations. All compliance including Arborist fees and permit fees are at the property owners expense.
What kind of damage can tree roots do to water and sewer lines?
Root damage can be as slight as hair roots in a sewer line. Or as severe as causing a complete failure of underground water and sewer lines. In the case of hair roots a stoppage might not even occur. In the case of large roots, or extensive root infestation, a water and sewer service line can fail or rupture.
On a recent job in Bayside, a neighborhood in the Borough of Queens, a most unusual event occurred. After a water service line was tapped into the city main, a tree was planted over the tap connection. Over the years this particular tree grew to quite some size. It's root structure grew as well. Eventually a large root grew around a portion of the water line and the tap itself.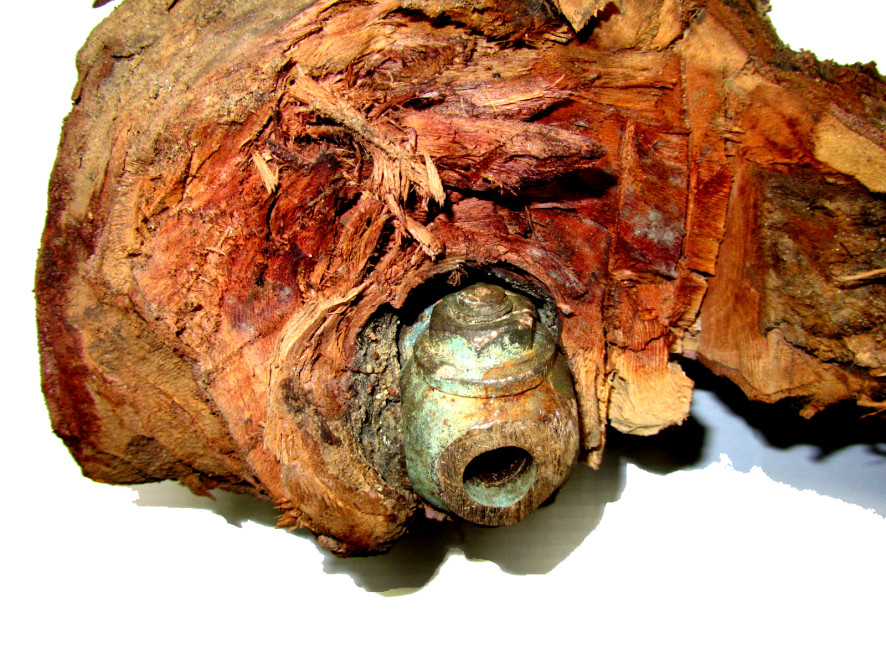 The root was so large the connection and the line were completely covered. At some point the root actually caused the water tap connection to snap out of the city main line. In order to stop the leak an Arborist was needed on an emergency basis to oversee the excavation.
However even with an Arborist present the tree had to eventually be taken down by the NYC Parks Department. This was because in order to remove the defective tap, a main root to the tree had to be cut. This was a unique case where, even with extreme care taken, the Parks Department agreed that a tree had to come down.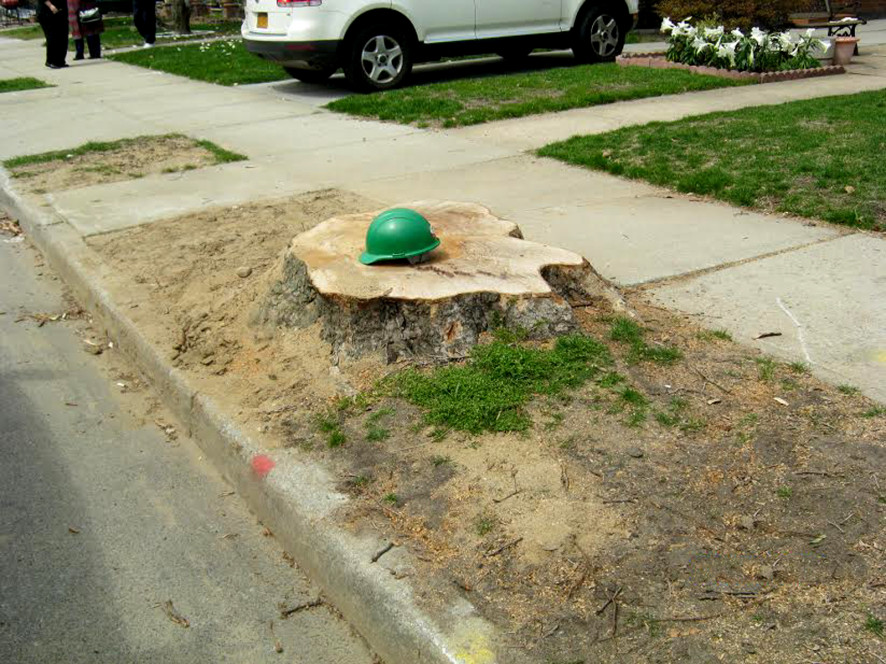 Water lines are not typically damaged by roots. But water and sewer line work in NYC tends to bring up new and unique situations. That is why only licensed, bonded, and insured plumbers should be trusted for this type of work.
Root damage to house sewer lines
If left untreated tree roots can completely inundate a house sewer. Once completely blocked with tree roots over the length of the run, a house sewer must be replaced. Typically root damage that severe cannot be cleared. If root damage that severe is cleared it will re-occur at a later date.
If addressed in a timely manner roots growth inside a house sewer can usually be addressed at a low cost. Learn more about controlling roots in a sewer.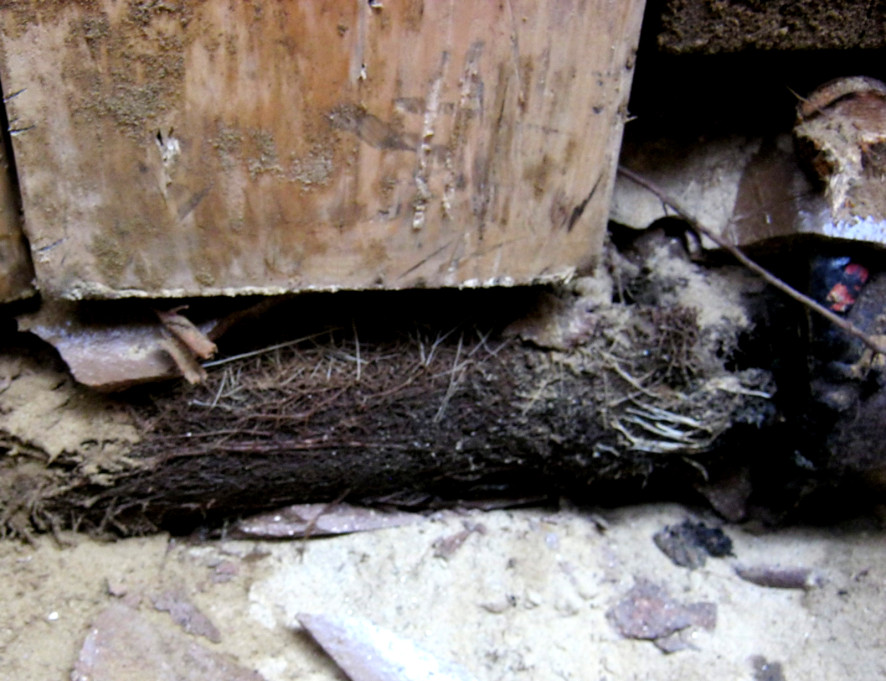 Vitrified clay sewer pipe can last for hundreds of years. It is impervious to acids and other chemicals that can destroy cast iron pipe. However it is much more prone to root infiltration, and having porous joints.
How are tree roots protected during water and sewer work?
The easiest way to protect tree roots during water and sewer line work is to not dig under the drip line. Frequently that can be accomplished with careful job planning, and coordinating ahead of time with city inspectors. Sometimes the location of a curb valve for a water line can be altered to avoid root damage. At other times tunneling may be permitted to avoid digging close to a tree.
In NYC tunneling is typically frowned upon for a house sewer installation. But when the survival of a tree is at stake, short tunnels are sometimes allowed with careful oversight. On water line work the excavations can usually be planned to avoid the need for an Arborist.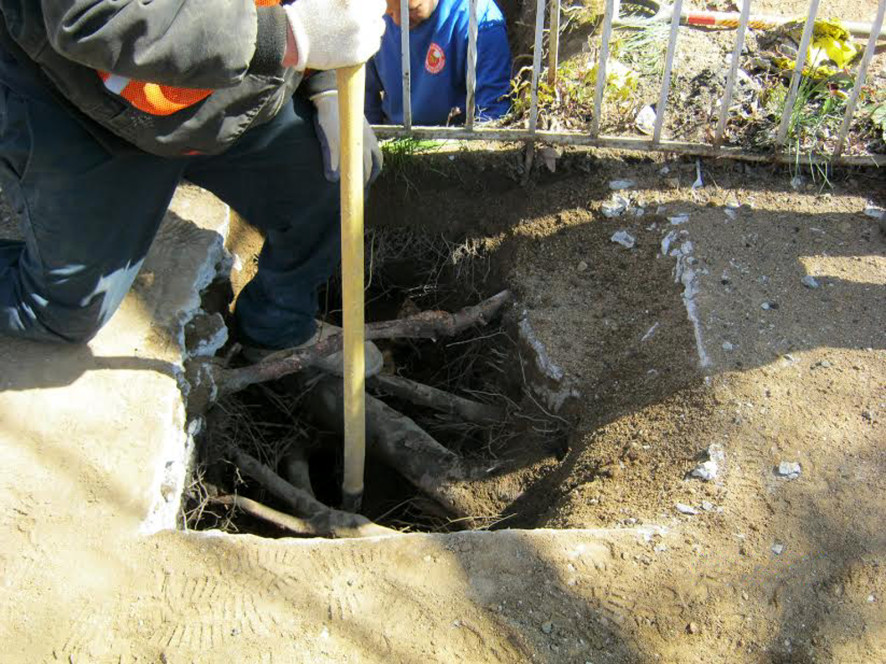 When excavating near a tree or under the drip line cannot be avoided great care must be taken. Typically digging by a tree demands excavating carefully by hand without using a backhoe. Roots must be carefully exposed, with none but hair roots being damaged. Performing work this way is time consuming, and adds to the cost of a job. But still much less than the cost of tree damage.
What are the repercussions for damaging tree roots in NYC?
Even at the low end of the fine structure, root damage results in fines costing hundreds of dollars. But severe root damage can result in fines and penalties of over six figures. Obviously the fines can exceed the actual cost of any underground water and sewer work.
The NYC Parks Department issues Environmental Control Board summons' to violators. These fines can range from a few hundred dollars to well over a thousand dollars. But that is only the beginning of the cost to violators.
The Parks Department bills violators using a formula based upon the type and size of the tree. These fines can easily be tens of thousands of dollars.
If a tree is deemed damaged to the point it will die the offender is also billed the cost of taking the tree down. This in itself can be thousands of dollars.
Most licensed water and sewer contractors in NYC have come to realize that when trees are involved, it is best to abide by Parks Department regulations. The risk far outweighs the rewards of doing otherwise.
Only trust a licensed professional for water and sewer line work
Water and sewer line work in NYC is a specialty within the Licensed Plumbing trade. The vast majority of NYC Licensed Master Plumbers do not perform this type of work. Specialty liability insurance is required, in addition to being bonded with the NYC DOT.
In addition there are many factors that have to dealt with that a typical plumber with be quite unfamiliar with. Besides protecting against damaging trees, a vast array of underground utility lines must be protected from damage as well. Before making a hiring decision check with a local Plumbing trade association, the Better Business Bureau, or other reputable review sites.
[button link="/contact-balkan-plumbing/" bg_color="#EA6E24″ window="yes" size="xl"]Get free expert advice today![/button]