New York, USA (NOVEMBER 27th 2015) FOR IMMEDIATE RELEASE:
A water supply line leak occurs literally thousands of times a year in New York City. Only about 10% of all leaks are found to be from a city water main. All the other instances are attributable to a water supply line leak. Recently a homeowner in Howard Beach suffered just such a leak. Fortunately for them one of their neighbors on the block was an owner of Joseph L. Balkan Inc., New York City's largest and most respected water service line contractor. In this case, to receive a prompt assessment and fast service they just had to ring the doorbell a couple of doors down! Who better to contact for a Queens water supply line leak than a lifelong resident of the Borough, and a neighbor?
Handling a Howard Beach water supply line leak properly
Being familiar with Queens in general, and Howard Beach in particular, has its advantages to a contractor and to their clients as well. When a water supply line leak occurs a decision has to be made on whether to do a repair or a replacement. An experienced contractor will help their client make the correct decision. But other factors come into play. Howard Beach was developed in stages, and much of it is built upon filled in ground with varying ground conditions. The Balkan family is quite knowledgeable with the soil conditions. This enables them to bid Howard Beach water main repair jobs accurately, and coordinate them seamlessly.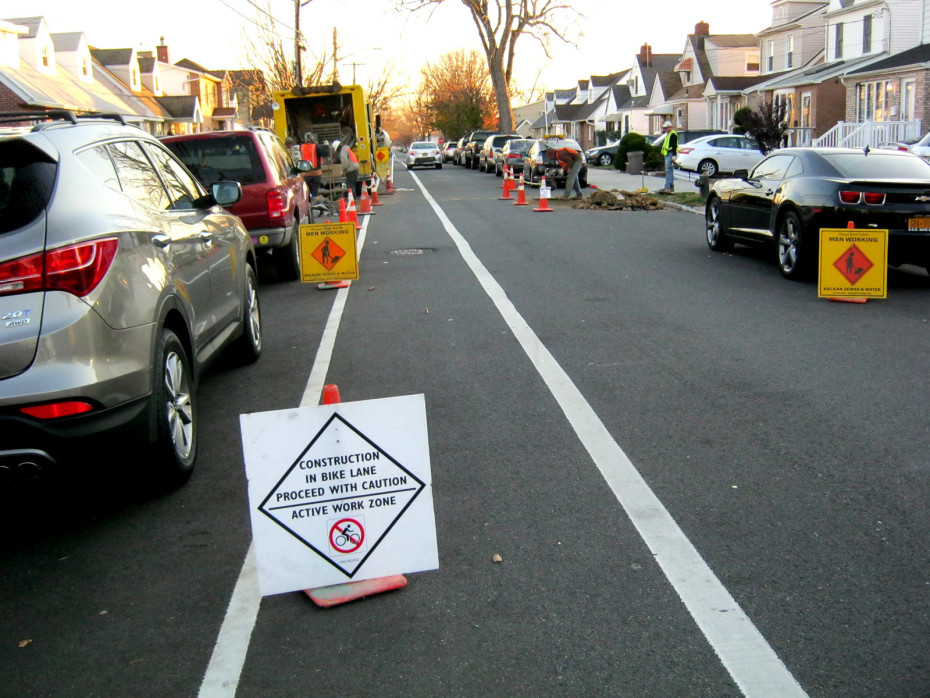 In this particular case all work was scheduled for a day chosen by the homeowner, and completed that very day. Balkan pays particular attention to important details such as job site safety, and proper compaction of all excavations. These are things that a homeowner in distress may not consider at first. But rest assured, just as in the case of this job, all Balkan job sits will be set up safely. In addition certified compaction testing will be performed to assure long lasting and level finished surfaces for years to come. Balkan actually guarantees all cement and asphalt for a minimum of three years from any defect.
There are many reasons why Team Balkan is the largest and most trusted water service line contractor in NYC. Being a neighbor to many of their clients is just one. If you ever suffer a water supply line leak in Queens, or any other Borough, count on Team Balkan for a free on-site visit, and no obligation expert advice. Our reputation is built on over 60 years of integrity, honesty, and courteous service.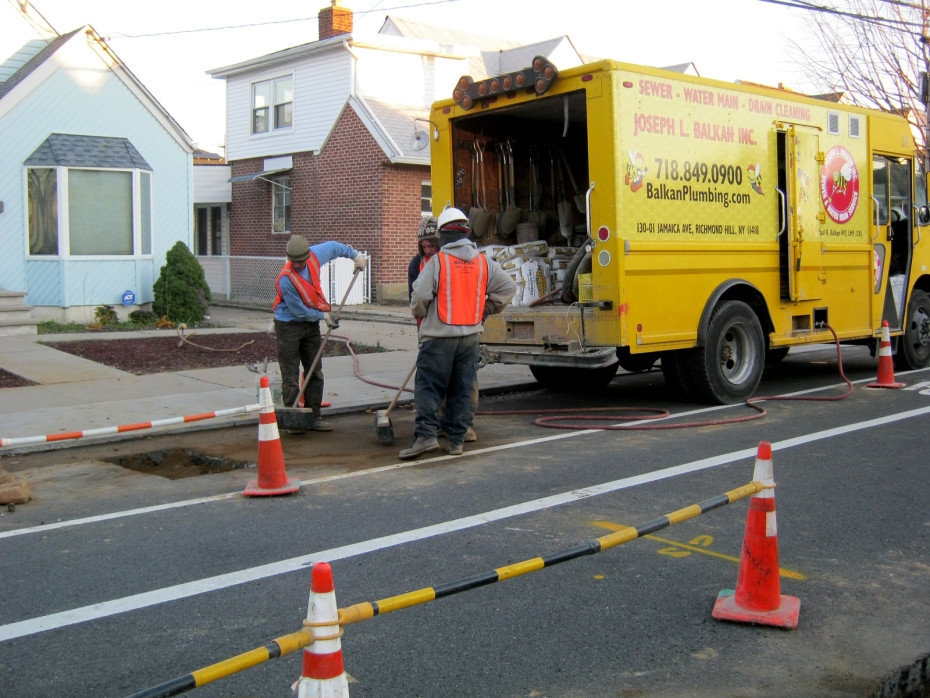 A little history about Howard Beach in Queens
Howard Beach is presently an upper middle class neighborhood located in the New York City's borough of Queens. It is bordered on the north by Conduit Avenue and the Belt Parkway, and on the south by Jamaica Bay. On the west Howard Beach is bordered by Shellbank Basin, and on the east by Hawtree Creek. The neighborhood is home to a large Italian-American population.
It is located only about 3.5 miles from JFK International Airport. In fact, Howard Beach has a station called Howard Beach – JFK Airport (previously known as the Long Island Rail Road station before it was purchased by the New York City Transit Authority). It is now part of the New York City Subway system. It acts as the main public transportation line between Howard Beach, JFK International Airport, and the Rockaways as well. It is served without interruption via the A train (New York City Subway Service), and the Air Train.
Similar to many other neighborhoods in New York City, Howard Beach is composed of smaller individual neighborhoods including:
• Howard Beach
• Old Howard Beach
• Hamilton Beach
• Ramblersville
• Spring Park
• Rockwood Park
• Lindenwood
• Howard Park
Many areas including Old Howard Beach, Howard Park, Ramblersville, and Hamilton Beach are often referred to as simply Old Howard Beach instead of as separate neighborhoods. Old Howard Beach and New Howard Beach are separated by an inlet from Jamaica Bay, and were developed at different points in time.
Howard Beach has a long history that can be traced back to the beginning of the 19th century, which began with Hawtree Creek, a small saltwater creek that runs across Jamaica Bay. The arrival of William J. Howard late in the 1800's brought significant changes to the area, particularly with his purchase of 37 acres of marsh to the west of Hawtree Creek. He was actually an owner of a glove manufacturer, who also operated a 150-acre goat farm on a meadow land located near the present site of Aqueduct Racetrack. The goat farm actually served to provide the skin for the gloves.
Mr. Howard developed the land that he bought by building hotels, cottages, and even laying out several streets, as well as gas main and water mains. He had 35 houses, which at that time were priced from $2,500 to $5,000. He continued to buy more land, and established the Howard Estates Development Company in 1904. This was just 7 years after his arrival in Hawtree Creek. He dredged the land until he was able to accumulate a property of 500 acres by 1914. Hawtree Creek became a quickly growing area which eventually absorbed the surrounding areas including Ramblersville, South Aqueduct, and Hamilton Beach (both the west and south sides). The name Howard Beach was derived from the man who successfully developed the area.
About Joseph L. Balkan Inc.
Balkan Sewer And Water Main is the largest sewer line replacement and water main service company in New York City. We are licensed, bonded, and insured. As a family run sewer and water main company in operation for over 50 years, our 10-year guarantee means we continue to stand by our work after the job is done.We are expertly equipped, from our 48,000 square foot facility to dozens of trucks, heavy moving equipment, backhoes and pneumatics. For all your subsurface plumbing including; water main repair and water main replacements, sewer repair and sewer replacements, catch basins, fire hydrants, manholes, and specialty excavation work, we can help. Contact Balkan Sewer And Water Main today or visit www.balkanplumbing.com.