When plumbers talk about a belly in sewer line issue, they are referring to a pipe that does not properly slope underground. This type of plumbing issue is also called a sag, a dip, or a backpitch problem. Bellies can occur in any type of pipe, but they occur most commonly in PVC pipe. This is because PVC is less rigid than typical iron pipe, and can deflect or bend. When a sewer line has a belly, stagnant water and waste can become trapped in a low area of the pipe. This can lead to clogs in your sewer line and headaches for you, the building's owner.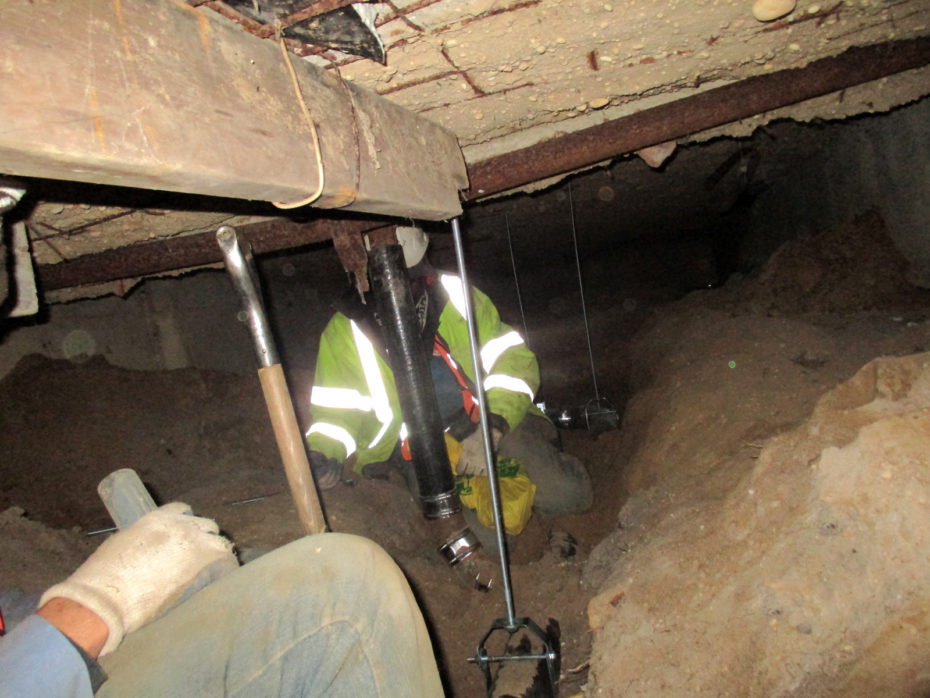 The typical causes of belly in sewer line systems
There are several reasons why bellies occur in sewer lines. One of the most obvious is poor planning. When your house was first built, the original plumbing company may not have bedded the line properly. The plumbing company should have used crushed stone or sand underneath the pipe to protect it from settling. Without proper bedding, your pipes can sag and bellies can form. In many municipalities a crushed stone bed is required by plumbing code.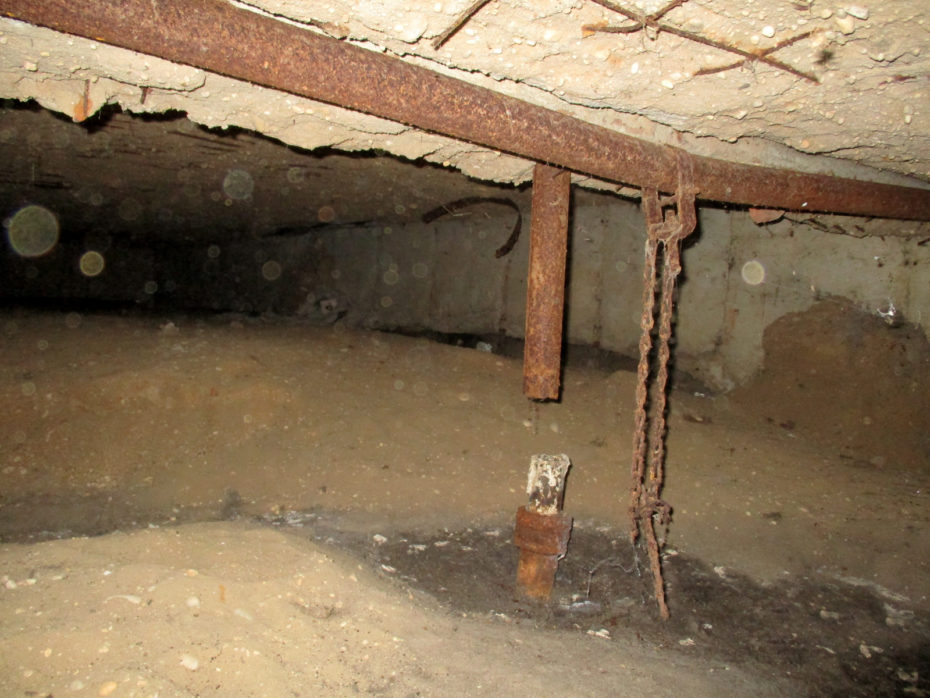 A failure to follow plumbing plans can cause a belly in sewer lines
Another reason a belly in a sewer line system can occur is if the original plumber failed to check the finished grade, or to follow sewer pipe plans. Grade is important to your sewer lines, because lines need to slope downwards in order to use gravity. If the slope is not great enough, the pipe cannot properly remove waste from the home. Planning is an important part of successful plumbing design and installation. When unprofessional plumbers fail to follow plans, problems like this arise. Line levels, torpedo levels, or laser levels, are some of the tools used to prevent this problem during drain pipe installation.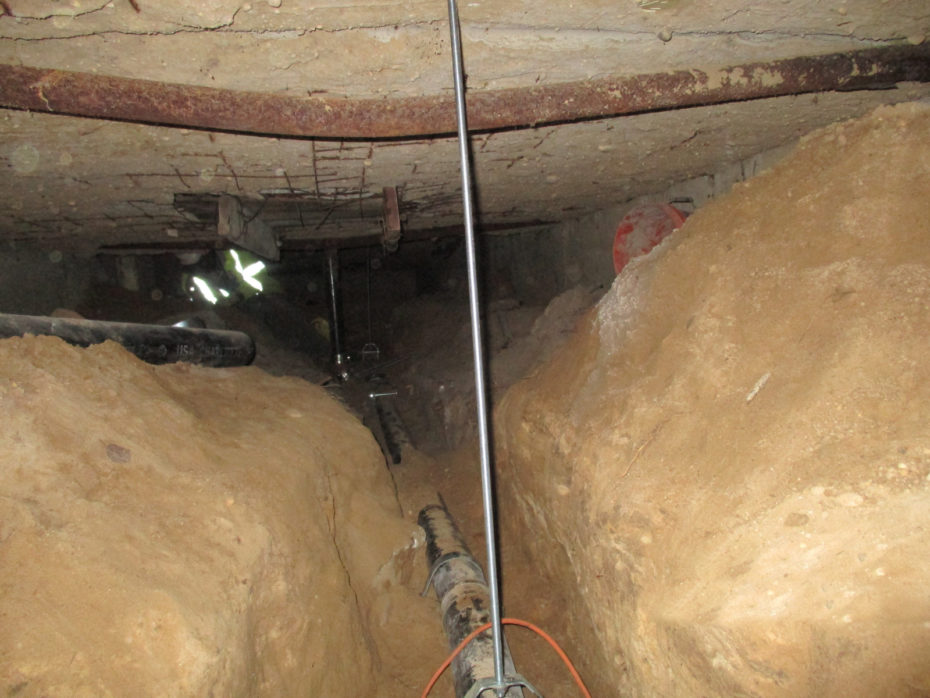 Unstable ground causes belly in sewer line installations
A 3rd common belly in sewer line issue is caused by improper pipe support. That was the case noted in the photos used for this post from an actual Balkan job site. If your drain pipe is laid on unstable ground, or filled in ground, even proper support under the pipe will not prevent a belly in a sewer line system from forming. When placed on unstable ground, your drain pipe system must be hung from pipe hangers which are professional grade, and attached properly to a firm and unmovable structure. In this particular case, Balkan attached the pipe hangers to the structural slab and cross-members of the actual clients house.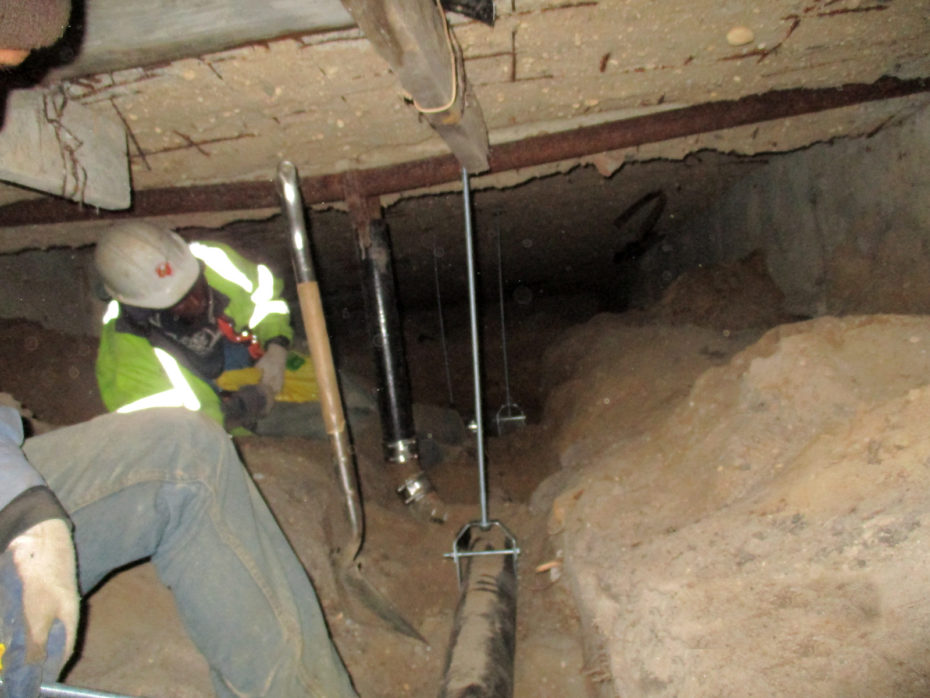 Cure belly in sewer line systems by calling a professional
As you can see, it is extremely important to hire a professional sewer contractor. Balkan Sewer and Water Main Service is a professional sewer contractor. Their installation teams know how to properly install sewer lines and avoid potential problems, like a belly in the sewer line. They are also up-to-date on all plumbing regulations in NYC. Balkan Sewer And Water Main is licensed, bonded, insured, and provides long-term guarantees.
A Balkan guarantee has true meaning for you, being in continuous operation for over 65 years has that effect. Balkan's full scope of services include sewer replacement for homes and businesses, water service line repair and replacement, and drain cleaning as well. If you have any sort of issue with your water service line, or sewer system, contact Joseph L. Balkan Inc. to help. Balkan offers free and no-obligation site visits seven days a week, and after hours as well.