An underground water line leak can be difficult to diagnose. When it is slowly moving across the floor of your finished basement floor it can be stressful as well. That was the predicament for a homeowner in Middle Village, which is located in Queens, NY. To add to the stress, the situation came about late on a Friday afternoon.
The source of the underground water line leak was actually from the water service line leading to the street. But different conditions dictate where a water leak will surface. In this case the leak was bubbling out of various places under a finished floor. Because the floor was level and ceramic tiled, there was not one clear direction for the water to take in order to drain out. This meant that immediate service was needed to replace the underground water line leading to the street.
Ground conditions can affect where a water leak will appear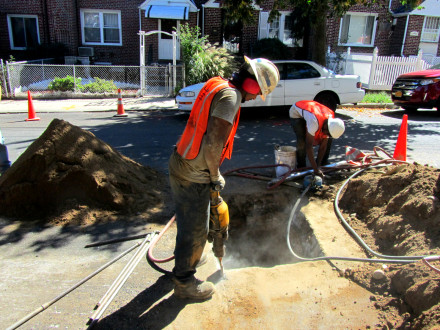 Typically in sandy ground a water leak will surface directly over where the defect in the line exists. However in hard ground, or with ground with a high clay content, leaking water may travel to a point of least resistance before surfacing. Sometimes this can be quite a distance away from where the point of the leak actually is located.
In the case of the above water line leak the water service line traveled alongside the side of a front porch. Because the ground at this location was very hard, and had a high clay content, this gave an easy point of entry into the basement. This resulted in the need for emergency weekend water line replacement service. Some roadways have a great number of underground utility lines and transits to carry these lines. Frequently when an underground water line leaks it will travel through another utility lines transit, or follow the other utility lines themselves. In these cases a water leak can surface a distance away from the actual point of the leak, or even surface inside someone else's building .
Do trees affect an underground water line or sewer installation?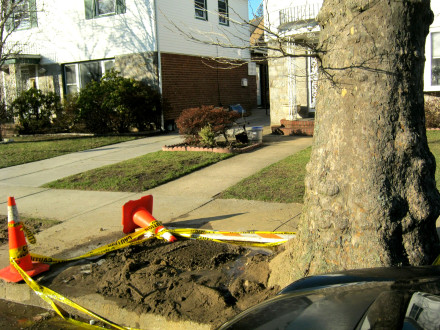 Trees present in the sidewalk area can have a major affect on either an underground water line or sewer line installation. There are two main reasons for this:
Tree roots literally suck all of the moisture out of the ground in order to feed the tree. In the case of this job location it made the ground extremely hard to both excavate and to make tunnels.
When a tree is present in the sidewalk area strict Parks Department rules govern how and where excavations can be made. In the case of this underground water line replacement, the tree prevented any excavation from being made in the public sidewalk area. All excavations were limited to inside the property line, and in the roadway.
Both of these issues came into play for this job and made it more difficult to complete. This became a job where expertise and specialty water main tools helped to complete the job the very same as planned.
[button link="/contact-balkan-plumbing/" bg_color="#EA6E24″ window="yes" size="xl"]Get advice from an expert today![/button]
A specialty water main tool saves the day
In response to the situation a Balkan water main installation crew mobilized on Saturday morning and arrived on the site around 8am. Even though this was a highly experienced crew and had good oversight, work was moving along slowly. By 12:30pm only the holes had been dug. No tunnels had even been started yet.
Extremely dry ground and hard ground made hand digging difficult. In addition there were many rocks and underground tree roots, making the job move ahead even more slowly. What saved the day and allowed for a same-day completion was the use of an underground piercing tool.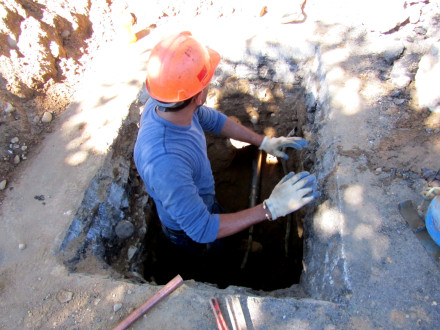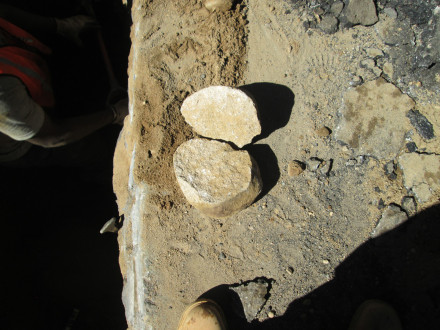 An underground piercing tool is a specialty tool that should only be used by a highly skilled technician. This tool is so powerful that it can actually split solid rock. So naturally is must be used with extreme care and diligence to avoid damaging underground utility lines.  In this case the piercing tool allowed for a tunnel to be completed that otherwise would have delayed the job completion to a 2nd work day.
Underground water line replaced within 24 hours
By around 4pm on Saturday, the same day work was started, the complete new K copper water service line was installed. By 5:30pm all excavations were backfilled and the site was broom clean. Hiring the right water main contractor means that even when unexpected conditions arise or an emergency arises, they can accommodate your needs and address the condition.
What may result in an extra charge from another water main contractor, is simply addressed by the Balkan Team. Having specialty tools and around a dozen installation crews available enables Balkan to handle almost any underground water line or sewer condition seamlessly. This  job site case study is another example of why more New Yorkers trust Joseph L. Balkan Inc. than any other water main or sewer contractor.
[button link="/contact-balkan-plumbing/" bg_color="#EA6E24″ window="yes" size="xl"]Get a free on-site visit today![/button]