When an emergency blasts into your consciousness, you want fast curative action. The need for speed escalates when the problem sources from an underground water line, and you are the owner of a busy and vibrant restaurant. This condition recently manifested in a city world-renowned for its "busy" profile. Recently, an incident occurred that culminated in the need for an underground water line repair beneath MacDougal Street in Manhattan.
This Manhattan underground water line repair work shows our persistent motto in action: Do the job. Do it quickly. Do it with skilled craftsmanship. In short, we have a company-wide focus on doing what we do in a way that exceeds your expectations.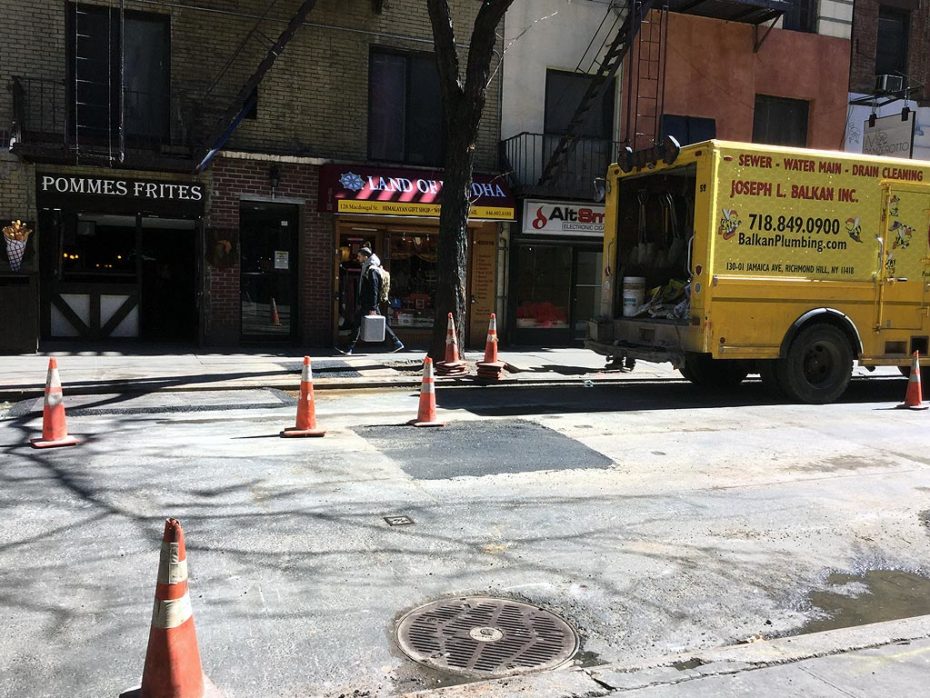 Underground water line repair in Manhattan handled expertly
A Monday morning call alerted our team to a vexing leaky condition. Not only was a well known restaurant in jeopardy of losing business, but its basement was flooding as well. Without a quick response, inventory would be lost, property damage would occur, in addition to lost business. Responding promptly, our investigation revealed the cause. After arresting the leak, we moved on to Phase Two of the repair.
We returned on Tuesday to perform a vital upgrade. The water service mandated 2-inch service, which we implemented. This would add efficiency to the operation of the restaurant, and allow for all of the occupants to enjoy the benefits of proper water pressure.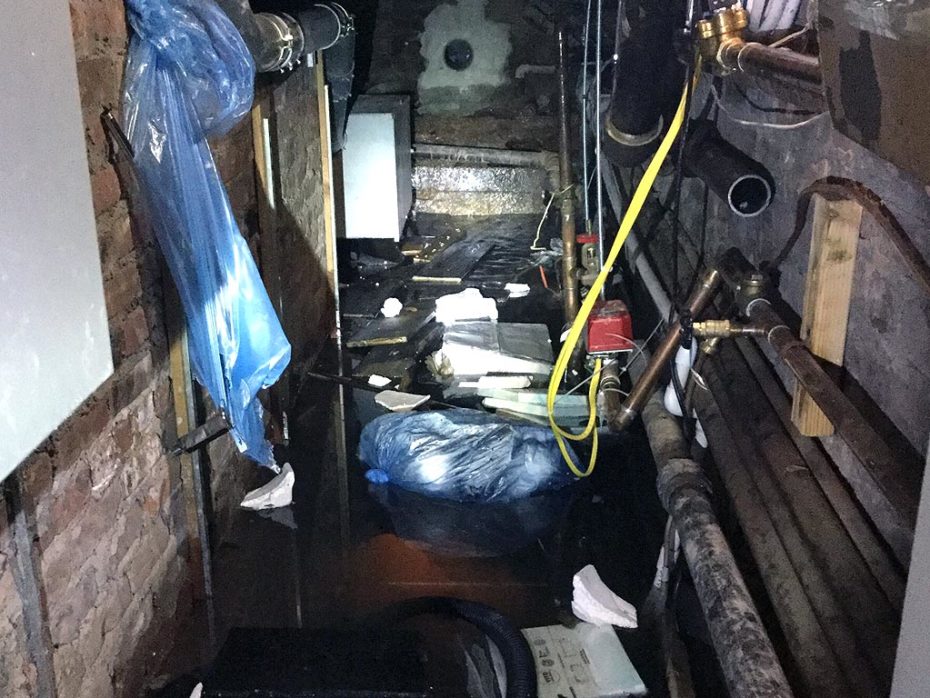 A properly sized tap connection ensures an all-inclusive solution
We could not perform Phase Three without the services of the NYC Department of Environmental Protection (DEP). Interactions with government agencies can present problems. The concept of "speed" can sometimes be a stubborn stranger to the vocabulary of some government agencies. Like most, we are familiar with the dilemma. However, that perception is not always the reality, and it never compromises our commitment to superb customer service. In this particular case the NYC DEP gave exemplary service, and was a vital part of a happy conclusion.
We pushed for, and secured, "emergency" status with the DEP. That empowered us to complete our task. We then conquered the third and final phase of this repair project, arranging with the DEP for a new 1½ " tap connection. Individuals and businesses delight in such stellar customer service. This explains our recent "People Love Us on Yelp" 2017 award. The commentary, flowing throughout the Yelp entries, confirms our commitment:
Standard fast response —refusing confinement to business hours
Integrity —precluding unnecessary repairs/costs
Respect for the premises —e.g., honoring the beauty of recent landscaping work
Information conveyed throughout the repair process —eliminating typical "what" and "why" stress-filled questions
A company-wide focus on excellence leads to a loyal following
To be successful in any business, there has to be a clear cut focus. The focus of Balkan Sewer And Water Main Specialists is underground water line repair and sewer sewer repair in the general New York City area. Through that focus, we enjoy a decades-long reputation for trustworthiness. That universal trust has powered our growth. We stand as the largest sewer and water main contractor in the area.
If you experience a related water main or sewer problem or question, contact Balkan Sewer And Water Main. Our underground water line repair professionals remain dedicated to resolving your issue. Our dedication and focus allows you to stay focused on what you do best. In this particular case, that means making the darn best Belgian fries in all of NYC! By the way, we are also familiar with Murphy's Law. That is why our "free and no-obligation site visit" offer ignores the clock. We are available seven days a week, even after hours.
A little bit about Pommes Frites at 128 MacDougal Street

Pommes Frites isn't an ordinary shop, but a specialty shop serving authentic Belgian fries, or as the Belgians call them, "pommes frites." You won't find many seats here, but you will find the tastiest treat in town. Pommes Frites means premium fresh fried potatoes, crunchy on the outside, and soft inside: self-indulgent and pleasurable.

         The atmosphere is intimate and warm, the packaging and signage unique. Pommes Frites isn't only selling affordable food, but excitement and an experience, too. There is no fancy skill involved, but there is a trick. The potatoes are fried twice. The first time they are cooked through. The second time provides a golden color and makes them deliciously crisp.

          Europeans have been eating their fries with everything but ketchup for many years, and now Americans may also have the best crispy fried potatoes with their choice of sauce. Americans (those who have experienced Pommes Frites) seem to be extremely pleased that fries can be prepared differently and served with a variety of goodies, other than ketchup. For example, you can eat them with exotic mustards and mayonnaise, or drowned in vinegar, curry sauce, or even with a peanut satay sauce. All are for sale at Pommes Frites. The selection of toppings for your frites includes everything from the familiar to the exotic, and is limited only by imagination.

           Pommes Frites sales' policies include allowing the customer to sample the frites and taste any and every sauce until satisfied. With the help of the amazing potato, Pommes Frites will continue to join the ranks of other famous street foods and become a part of American culture.